Today I am going to review one of the most beautiful watches from Vincero, the Vinvero Chrono S and together we will examine it closely whether this watch is really worth your money or not?
If you too have been impressed by the beauty of Vincero watches, then this question must have come to your mind "Are Vincero Watches Good or Bad?"
If you want the answer to this question, then you can read our Vincero Chrono S watch review in which I have shared a detailed analysis about Vincero.
So let's come to the point and let me tell you what you will get to know about this watch in this review:
Vincero Chrono S Special Features.
Looks:
Quality Analysis of the watch.
Alternatives of Vincero Chrono S
Review of users of this watch.
Where Are Vincero Watches Made?
Pros & Cons.
Final Verdict.
Vincero Chrono S Features:
The 43mm watch case is made with Surgical Grade Stainless Steel.
Sapphire Coated Mineral Crystal is used for scratch protection.
The top grain Italian leather is used for durability and comfort.
Watch is powered by Citizen Miyota Quartz Movement.
5 ATM Water Resistant.
Vincero Chrono S Looks: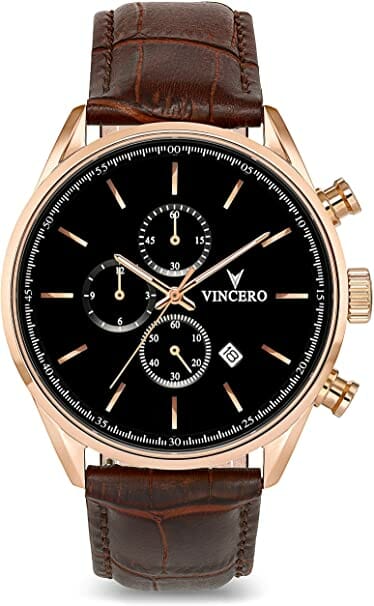 [wptb id=2401]
A good-looking watch makes your looks look more elegant while a cheap-looking watch spoils your overall look. So it is very important to understand how Vincero Chrono S looks?
First of all the watch has amazingly sharp edges that make it look very sleek & luxurious. Looking at this watch, you cannot say that it is a mid-range watch. It looks quite premium.
You get a total of 12 colors in the Chrono S model but the most trending colors are Black Rose Gold and Matte Black. Its white rose gold is also quite attractive.
The dial is the main attraction of this watch, first of all, the edges are already very sharp and the color combination of black & rose gold makes it look sharper. Its beautiful rose gold bezel looks very catchy on black dial.
As far as the subdials are concerned, I found it to be a bit clumped, while the overall look of the watch is very superb. I will say Vincero has not at all compromised with the looks.
Vincero Chrono S Quality: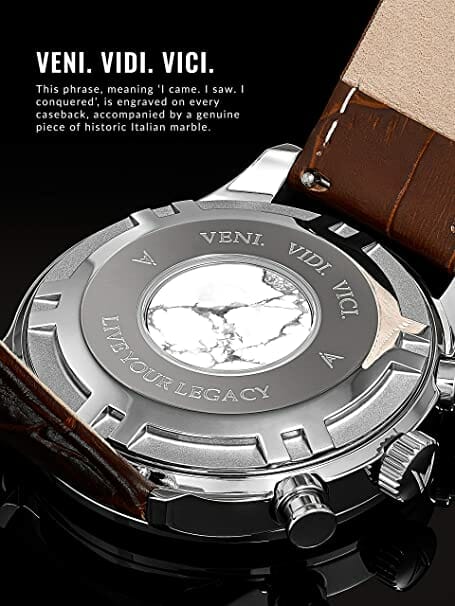 If you want to analyze the quality of any watch, then we can check it on five parameters.
1. the material used, 2. type of glass, 3. strap material, 4. movement, and 5. the history of the brand.
The Material:
Vincero Chrono S case is built with 316L Surgical grade stainless steel. This kind of steel is used in biomedical applications and it is the most corrosion-resistant steel. It is also the most expensive type of stainless steel. You can take this reference to understand it better stainless steel vs surgical stainless steel.
Type of Glass: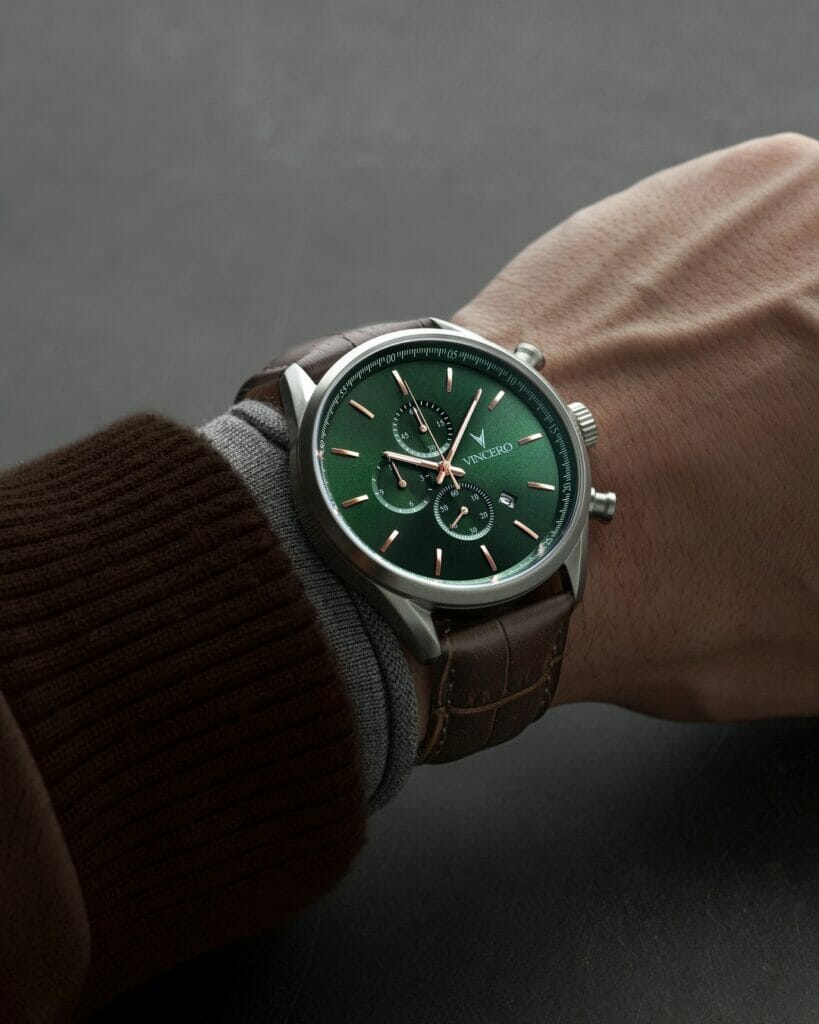 [wptb id=2402]
Here Vincero has shown a lot of cleverness to bring down the cost without losing the trust. The watch glass is made from sapphire coated mineral crystal. It consists of a layer coated by sapphire lamination over a mineral glass. This type of glass is also used by Seiko, which named Supphlex.
Although this glass is not as strong as sapphire glass but it is better than mineral crystal. There are very few cases where it has been observed that due to the low quantity sapphire coating, this layer separates from the glass. for more understanding you can go through this article Types Of Watch Glass.
Strap Material:
The best thing that I liked about this watch is its Italian top grain leather strap. Italian lather is considered the best because it uses full grain hides. This kind of leather is very soft and resilient. Also, it is considered the best long lasting leather.
Movement:
Chrono S is powered by Citizen Miyota H800. It claims to be as accurate as 1 second in 1,00,000 years as it uses Atomic time synchronization. Still I will not say it is the best movement.
I will definitely count it among the average movements. As I have read many reviews on various forums people are facing problem with the chronograph functionality when it gets old. You can take a reference of this forum H800 watchuseek.
History of Vincero:
Vincero's history goes back a decade, it was started by three friends, Tim Aaron & Sean. The goal of the them was to sell good quality watches at affordable prices to the people.
I don't know how much Vincero has achieved it's goal, but I will say that it will take a long time for Vincero to earn a good fame. Since there are only a few models out of many models of Vincero, which impressed me with their quality, I am reviewing one of them now. About Vincero
Alternatives of Vincero Chrono S:
Actually it is difficult to find out the best alternatives of Chrono S because the top grain leather which this model has is not provided by any other brand in this price range. However, I would recommend you two alternatives that give a tough competition to the Vincero Chrono S.
1. Rotary Swiss Made Sapphire Glass Watch:
Rotary has been awarded as the superbrand of UK. It makes great quality Swiss watches. And this is most affordable and beautiful Swiss watch that is almost equal in price of Vincero Chrono S.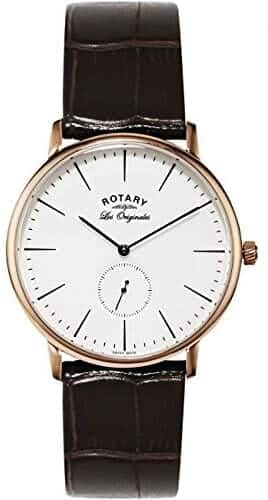 [wptb id=1539]
This watch is not only Swiss made but also has strong sapphire crystal protection. The Swiss leather quality is top notch in this watch. The movement is also better than Vincero Chrono S.
Read full article: Are Rotary Watches Any Good? Unbiased Review
2. Bering Men's Titanium Sapphire Glass Watch:
Both the brands have almost same time history Bering came into existence in 2008 while Vincero came in 2010. But the Bering seems to be more promising as the quality of their watches is top notch.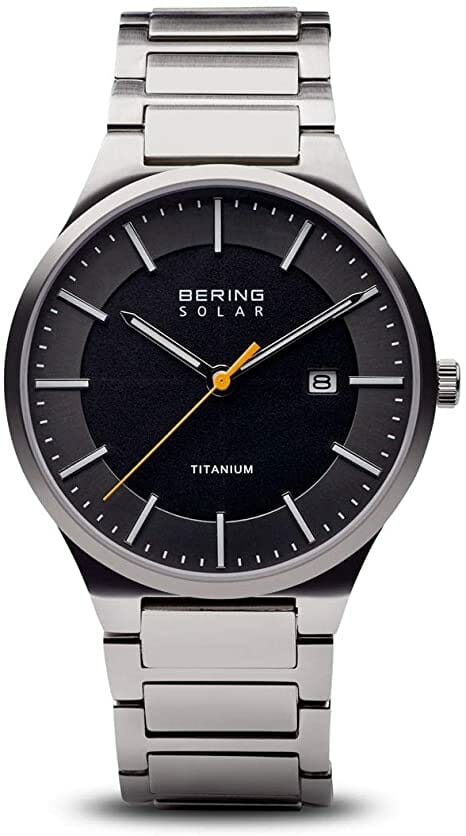 [wptb id=1628]
This Bering watch holds amazing looks with a sapphire glass protection and amazing titanium bracelet that is too at affordable price. This is a best alternative of Vincero Chrono S.
You can read more about Bering: Bering Watch Brand Review 2021- Is it Worth Buying?
Vincero Chrono S User Experience:
I always seek for Amazon when I want to know the experience of people regarding any watch. I found people have rated 79% as 5 stars and 10% people have rated 4 stars. It simply means the watch performance is above average. However the remaining users have complained regarding quality and chronograph functionality of the watch. Check Review on Amazon.
Where is Vincero Chrono S Made?
Many people states that it is a watch that is made in China while Vincero says that all the parts are sourced from all over the world and assembled in China. For example they used Italian leather in Vincero Chrono S which is not made in China.
I would say no matter where it is produced the quality does not seem cheap of Vincero Chrono S. I am not counting other models of Vincero but this model seems to be built of promising quality.
Pros & Cons of Vincero Chrono S:
Now let's take a look at some pros and cons of this watch.
Pros:
Watch has amazingly sharp edges that make it look very elegant & luxurious.
The dial is very catchy and easy to read.
Top grain Italian leather which is considered the best leather in watch industry.
The watch is quite slim and sleek.
The case is built with Surgical 316L stainless steel which is best corrosion resistant.
The sapphire coated mineral crystal that protects the dial better than mineral one.
Despite being the best material, the price of the watch is quite affordable.
Cons:
The Chronograph functionality is not smooth.
It is claimed that it is water resistant up to 5 ATM but actually it is not. It is just splash proof.
The lume is very low and makes no sense.
The buckle seems to be made of poor quality.
Final Verdict/ Is Vincero Chrono S Worth Buying?
I would say yes it is worth buying because of only two things first is the looks as it looks quite luxurious second is the top grain Italian leather which is really amazing in quality. The accuracy is average and chronograph functionality is poor. As more as the watch gets old it loses its accuracy. Overall the watch worth the money but it is not as exceptional as Vincero states.
I hope all your questions are answered in this review. Please let me know what is your opinion regarding Vincero Chrono S.
Other Trending Articles: