Timex Men's Easy Reader Review
Friends, after doing a lot of research and testing on Timex Easy Reader, We came to know a lot of things about this watch which we will reveal in this Review. We will also find out whether it is really worth buying or not.
Timex Easy Reader 38mm( TW2P75900)- Is This a Quality Watch?
Friends, the Timex brand is best known for two reasons. First for Affordable Watches and second for Quality and Durability.
With a lot of its watches, Timex has proved that this is a brand that gives you quality at affordable prices which makes Timex a Valuable Brand.
Let's now talk about the quality of the Timex Easy Reader 38mm Leather Strap Watch. Friends, as we tested this watch, we found 4 factors that make this watch a quality watch.
2. Readability & Looks
3. Durability
4. 40th Anniversary Indiglo Feature
Friends, we will talk about these factors in more detail. Let us first see some of the looks of this watch.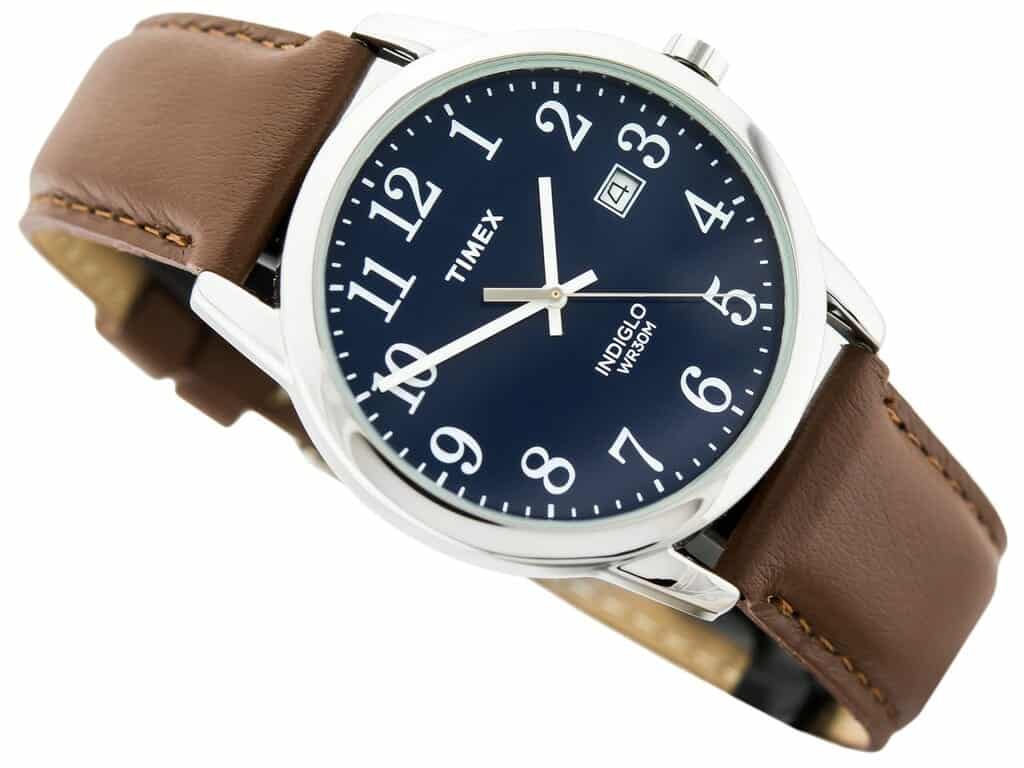 This watch is available in many color variants in the market. Today we will also give you information about its variants. Let's first start with Straps Quality.
Looking for a cheap but quality watch, check this out: [11 Best Cheap Watches Under $50-Quality Brands]
Timex Easy Reader Strap
Friends, as Timex has claimed, for Genuine Leather Straps in this watch. We will reveal here about the following things in regards to straps:
Quality and Material of Strap
Size, Fits, and Adjustments
Feel on the wrist and comfort
Replacement of Strap
Quality and Material of Strap
The cowhide leather has been used in this watch. Lets find out whether it's real leather or fake leather.
Is cowhide considered leather? So its answer is yes it is considered to be leather but it is not as effective as top grain leather. But its durability is between 2-4 years.
Cowhide is heavier than sheepskin leather, taken from the cow and processed to the extent that it turns into the leather to manufacture wearable items.
Here is the article on Quora you can read: How can you spot the difference between fake and real leather?
As we tested, we found that a very good quality of Cowhide Leather has been used in the straps. Which is durable, waterproof, and stainproof and looks classy and luxurious.
You can also check: [Timex Weekender Chronograph Review- The Best Affordable Watch]
Size, Fits, and Adjustments of Strap
The size of the strap is 20mm adjustable size which can fit up to 5.9 inches – 8 inches wrist circumference. The length is men's standard.
The maximum circumference is 8-1/4. You would have to make a new hole at the tip of the leather band for a bigger wrist size. You might get 8-3/4 inches by doing that.
On the small and thin wrist, the watch fits perfectly fine and looks very cool.
Strap Feel and Comfort on the Wrist
Friends, the leather quality of this watch is very good. It gives a very soft and comfortable feel on the wrist.
Since cow high leather has been used in it, it does not cause any damage to the skin even in extreme weather conditions.
It is quite a lightweight watch, it weighs 1.6 ounces. Which does not feel heavy on the wrist. Sometimes you can't even feel it.
Replacement of The Strap
You can also swap the strap in this watch. It has retractable pins so you can easily install a new band if you are fairly handy. Otherwise, you could just have a jeweler do it for a few $.
You can replace it with any kind of strap whether it is slip thru strap or a metal band. Which is really good about this watch.
Timex easy Reader 40th Anniversary Indiglo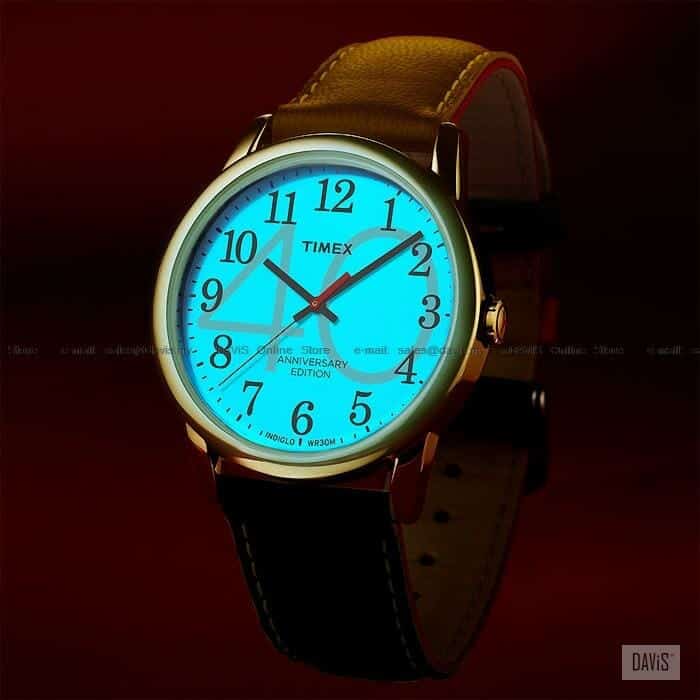 [wptb id=118]
Friends, we are most troubled when we have to look at the time in the dark, but the Indiglo feature that Timex has given in its watches completely eliminates your problem.
The best feature of this watch is its Indiglo feature which is very impressive. Which helps you to see time in the dark or in low light conditions.
In this watch, when you use the Indiglo function, you see a shadow of the "number 40" in the background of the dial which represents the 40th anniversary of the Timex Easy Reader Series. This is a very unique feature.
People who have weak eyesight may find its 40th-anniversary feature a little annoying because sometimes you may feel difficutly in reading the time while this 40 shadow shines in the background.
To use the Indiglo you just need to push the stem and the whole dial lights up. Once you release the button it automatically gets off.
But according to the price of this watch, we will give this watch's Indiglo feature 5 out of 5 because it works very well compared to the rest of the watches.
Do You Know Timex Also Sell Affordable Solar Watches? Check this out: [4 Best Timex Solar Watches of 2021- Under $50 Only]
Readability of The Watch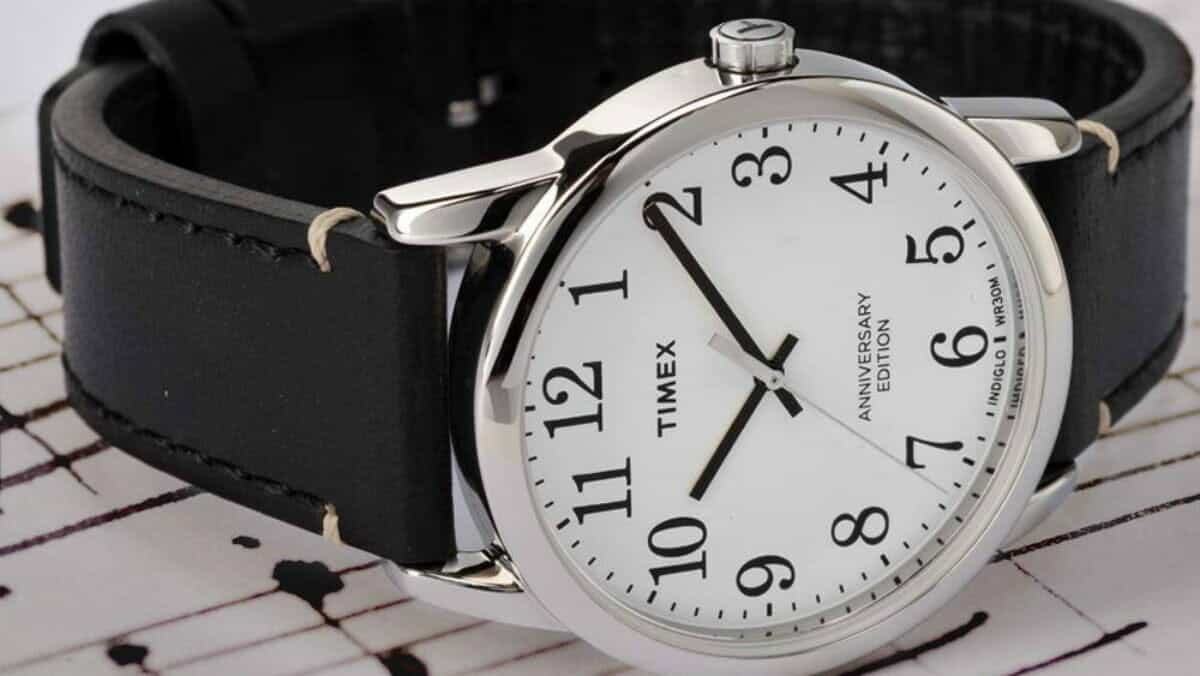 Friends, this is a watch that people of all ages can wear, because of its easy readability. Even kids of age 8-10 years can wear this.
Friends, this entire watch is designed in such a way that its readability is very tremendous. The diameter of the face is 1.5 inches and the case thickness is 9mm.
In this watch, a 38mm silver-tone brass case has been used. Which is very attractive in appearance and its large Arabic numbers on dial seem to be easily readable.
If you look closely at the watch dial, you will feel that the numbers are given at a proper distance. Even from a distance of 3 feet, you can easily read the numbers.
If we compare the readability according to dial colors, then readability is slightly better in the white dial watch with black colored numerals.
Are You Looking for A Swiss Watch but at an Affordable Price? Check this Article: [Rotary Watches-The Affordable Swiss Brand]
Dial and Movement (Timex Men's Easy Reader Review)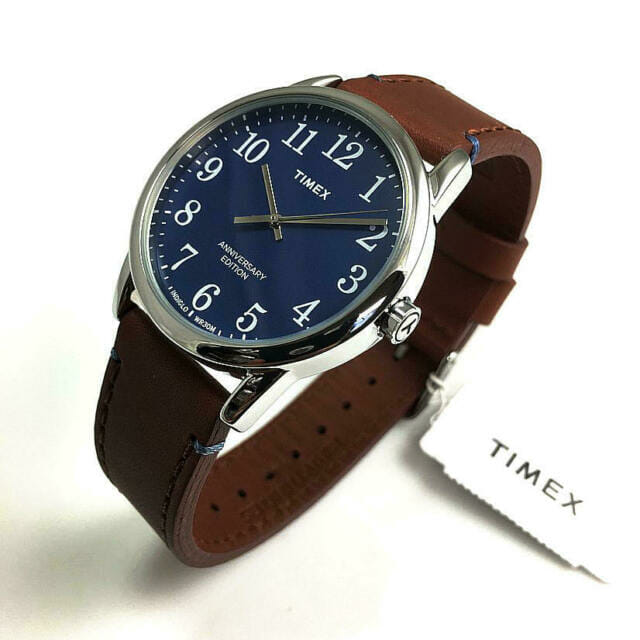 Friends, if we talk about the dial of this watch, the diameter of the dial is 1.25 inches and the complete face is 1.5 inches. Wherein the case diameter is 38mm large and polished with shiny silver-tone on brass material.
Friends, a mineral glass window has been used on the dial, as you all know, the mineral glass protects the watch from scratch and makes it an excellent everyday wear watch.
The look of the dial is very simple and elegant. And its dial looks very rich on casuals as well as on formal wear. You can also wear this watch at parties and on dates.
Quartz Movement
Quartz is a crystal that vibrates 32,768 times a second. A counter counts this and sends a signal to the clock to move its SECOND HAND.
As the Quartz movement is used in most of the Affordable Watches of Timex, this watch also uses Quartz Technology. As we have tested, we can not doubt its accuracy not only in this watch but other watches of Timex are known for their accuracy.
How to Set The Date
You also get a date feature in this watch, which is just close to number 3. To set its date, you need to pull the stem out. If you pull it all the way it sets the hands. Just barely push it back from there and it turns the date.
Water Resistance
A lot of people had doubts about the water resistance capacity of this watch, is it really, that this watch gives water resistance protection up to 30 meters or not?
Friends, we want to tell you that we cannot call this watch completely water resistant watch, if we call it splash resistance watch, it would be better.
You cannot wear this watch while swimming and there is no guarantee for it for light swimming as well, even while taking a shower it is not advised to wear this watch.
Do You Really Want to Know The Reality of Vincero Watches? Check this out: [ Vincero Watches Reality Exposed 2021]
Best Everyday Wear Watch
Friends, there are some factors that make this watch a best daily wear watch.
The first is its scratch-resistant feature because mineral glass material has been used in its dial window which makes this watch a scratch-resistant. So even during your day to day work, this watch will remain in its wear and tear condition.
The second factor that makes it the best daily wear watch is its durable leather strap which is very soft and comfortable. And also this cowhide leather does not smell.
The third factor is the weight of this watch which is only 1.6 ounces. Sometimes you will not even feel at all that you are wearing a watch.
Battery Life
Friends, this is a completely battery-powered watch. And its battery life is between 3-5 years. The battery of the watch is a little expensive. The number of battery is CR2016. You can refer this number at the time of replacing it.
Most of Timex affordable watches have a battery life of 3–5 years, in 99% of the cases, you will not have to replace the battery for 2 years.
Does This Tick Like a Time Bomb?
The ticking noise of this watch is very loud. While reading a book, it may annoy you. But if you are busy in everyday work, then you will not hear its noising at all.
Students who like to study in silence at night may have trouble with the ticking noise of this watch, in such a situation, they may also keep this watch in the drawer.
Where is The Watch Made?
The watch parts came from all parts of the world however the watch is assembled in the Philippines. The movements parts are made in the Philippines itself.
Price Analysis
Friends, the starting price of this watch is $32.13 which is up to a maximum of $39.99. Its price varies according to its color combinations, while the features and quality are the same across all variants.
Friends, if we analyze the price of this watch, then there is no doubt that its price is very low. And the features and quality that we are getting in this watch is very tremendous.
The 4 things that are the best at this price point are its Indiglo, easy readability design, Elegant and Simple Looks, and Genuine Leather straps. So at this price point this is a good deal.
Pros and Cons
Top-3 Color Variants (Timex Men's Easy Reader Review)
Friends, in this watch you get 10 color variants, but we have shared 3 such color variants here which are the most popular.
1. Timex Easy Reader Black (TW2R40000)
In this watch, you are getting a black leather strap with a white dial. Also, black Arabic numerals are there. This is the 40th Anniversary Edition. But please make a note of this the date window is not there in this variant.
[wptb id=90]
2. Timex Easy Reader Brown Leather (TW2P75900)
In this variant, you are getting a very luxurious brown leather strap with a blue dial and dull white numerals. In this variant, you are getting dull-white Arabic numerals. The date window is there in this variant.
[wptb id=95]
3. Timex Easy Reader Brown Leather with White Dial
This is again a 40th Anniversary Edition. This variant comes with a white dial and brown leather straps with a golden brass case which looks amazing. The date window is not there in this variant.
[wptb id=112] [wptb id=109]
Is This Watch Worth Buying?/Conclusion
Friends, if we talk realistically, as much as this watch has features and according to its quality and durability, its price is very incredible.
At first, we also did not believe the price of this watch, but when we analyzed deeply each feature, we found that the value of this watch is more than its price.
This watch is best not only for daily wear but also for gifting to someone and the best thing is that people of all ages can use it because of its easy read design.
Inside this watch, you will find all the features that we use in everyday life. Such as Indiglo, water-resistant and scratch-resistant features, Genuine leather straps that you can also replace, and its easy read design and amazing rich looks.
These Articles are Most Trending: