Bering Watch Review: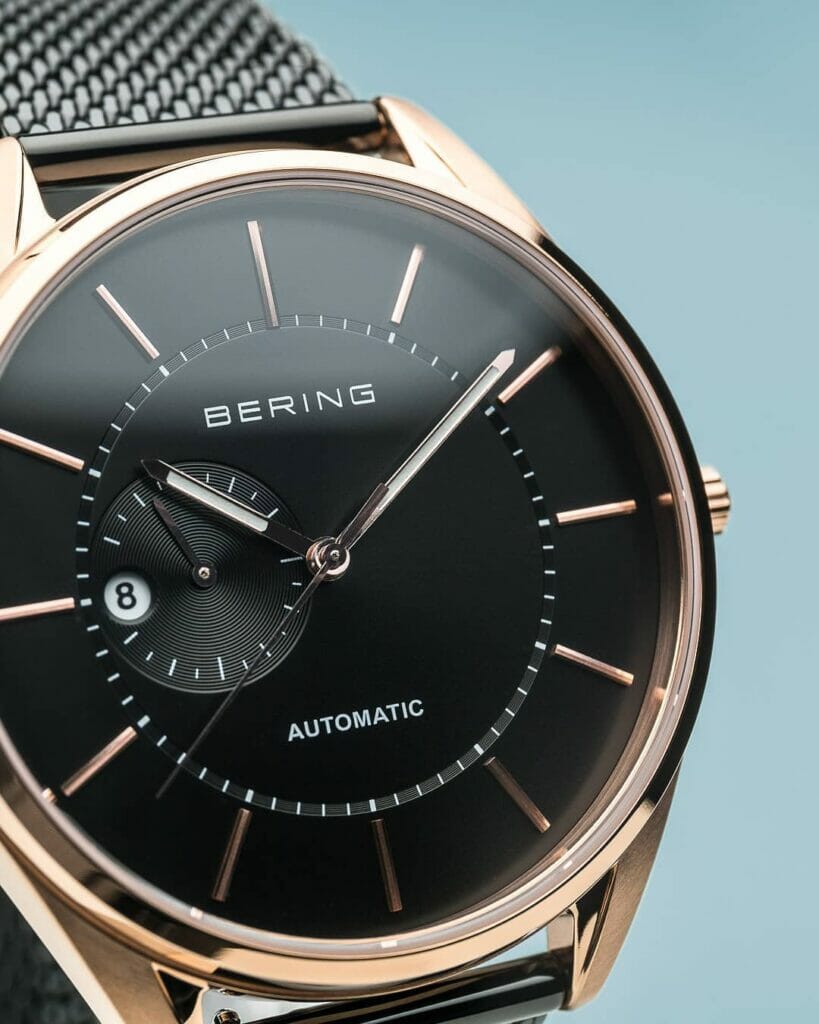 Is Bering an overrated brand? Which has landed in the market with a lot of Facebook ad campaign budget?
We know that no matter how big is a brand's advertising budget if its products do not satisfy the customers, then the market itself ends the existence of that brand. Because people stop buying it.
Today in this fascinating review, we are going to find out that does this brand really worth your money? and why this brand is becoming very popular in 2021?
I have also selected some of the top-rated Bering men's and women's watches which I am gonna share with you in this interesting review about the Bering watch brand.
Is Bering a Chinese Brand? How is The Quality?
Bering has its headquarters in Denmark and watches are manufactured in China. Bering is making watches since 2008 and won the hearts of people with its unique Arctic-style watches.
Now the question is are Bering Watches good enough in quality?
Bering watches are not only unique in style but also hold good quality. Bering watches are made from premium quality materials like surgical stainless steel, titanium, and ceramic. Let's find out which movement does Bering uses? Ceramic vs Stainless Steel Watch
A movement is the heart of a watch. In Bering watches the Japanese Miyota GM10 quartz movement is used. It performs at the same accuracy as an entry-level Swiss movement watch. It is reliable and accurate. Know more about Miyota movements.
Another common question that usually people ask "is Bering a good watch brand?" or worth buying? and what are the characteristics of a good watch brand?
Lets find out more about them in this Bering watch brand review.
Is Bering a Good Watch Brand or Worth Buying?
We can consider Bering a good watch brand. Because it has all those characteristics that a good watch brand holds. This is the reason the growth graph is rapidly increasing. Below are the characteristics of a good watch brand that Bering holds.

1. A good brand watch should be made of at least stainless steel material and if the watch has titanium or ceramic material then it will be more expensive. Bering watches are made from Ceramic and titanium material and the best thing is, it has a low and affordable price. Why Are Titanium Watches So Popular?
2. It must have good quartz moment like Seiko, Ronda, Miyota. The Miyota movement is used in Bering Watches. which is considered a good watch movement. Know more about Miyota movements
3. Also, a quality watch brand uses sapphire glass, this glass is scratch resistant and clear. It is considered more quality glass than crystal or mineral glass. In Bering Watches, Sapphire glass is used. Sapphire Crystal Glass VS Mineral Glass.
Most of the best-selling Bering watch models come with 5 ATM(50meter) water resistance capacity. The 5 ATM capacity is suitable for shower only. It is not suggested to wear them while swimming or deep diving.
Bering Watch Brand Review- Pros & Cons:
4 Best Selling Men's Bering Watches UK Review
In this Bering watch brand review, we have filtered the top 4 best-selling men's Bering Watches. These watches not only have great looks but also hold very strong build quality. People who have bought them are extremely satisfied with them. As seen in the Amazon reviews.
1. BERING Men's Solar Powered Watch 15239-779: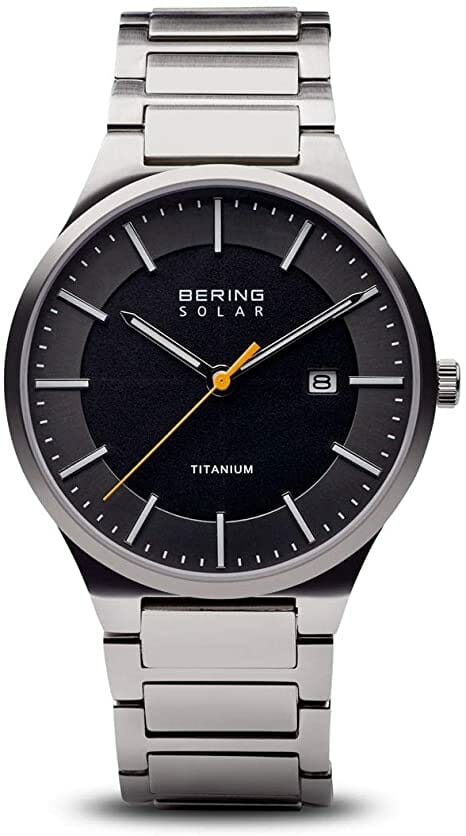 [wptb id=1628]
Features
Highly Scratch Resistant
Top Quality Titanium and Sapphire Crystal
39mm case diameter with 8 mm thickness
Titanium Bracelet L-170 mm and W-21mm
10 ATM Water Resistant
Solar Powered (with any kind of light)
Luminous Markers & Hands
Tempting Looks
Light Weight & Slim
Seiko Solar Movement Afaik
Affordable
The reason that makes this watch a trending watch is its material type. This watch uses the best sapphire crystal glass and titanium material, which is very surprising at this price point.
Being Titanium the watch looks very solid and sturdy while it is really light-weight(76 grams). Also, the dial has a very clean and tempting design. The watch comes with a brushed finish which looks warm compared to steel.
The bracelet is very well made also the clasp works well. The 39 mm case does not look huge and bulky, even if you have small wrists, it will look really cool on them. The watch has luminous markers that work great in low light or no light conditions.
The watch comes with Seiko solar movement afaik. This movement is very accurate and used in high-range watches. You do not need to replace the battery as it is a solar-powered watch. Any kind of light will charge the watch and once it is fully charged it runs for 6-12 months.
Overall this trendy watch is not just worth your money but also give you more satisfaction than the money spent.
This watch is slim, lightweight, and built with high-quality materials. The best thing is it is an affordable watch.
Pros and Cons
You can also read this amazing article: [Are Rotary Watches Any Good?]-An Affordable Swiss Brand
2. Bering Men's Leather Strap Watch 11139-404: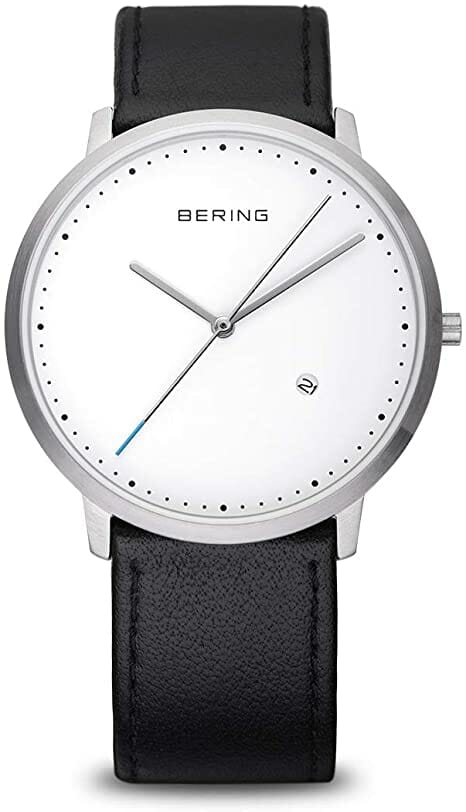 [wptb id=1631]
Features
Highly Scratch Resistant
Sapphire Crystal Glass on White Dial
39mm Case Diameter with 7mm thickness
Calfskin Leather Strap L-200mm W-20mm
3 ATM Water Resistant
Lithium-ion Battery
Tempting Looks
Light in weight and Slim
Clean Dial Design
Affordable
If you are looking for a low price watch with high-quality materials then this timepiece is for you. This is the best selling and most affordable watch by Bering with a clean white dial. Also if you do not like heavy bracelet watches then it has a very light weight calfskin leather strap.
The watch is inspired by Danish design. The clean white dial is very simple, easy to read, and elegant in looking. The is protected by a flat sapphire crystal which is highly scratch resistant. The dial has a small date window.
Although dial is big but also very slim and does not look bulky on small wrist. It has beautiful silver hands. The dial is very eye catching and enticing.
The straps of the watch are made from Calfskin Leather. This is a high quality leather that looks attractive and give soft feel on skin. Such leather has smooth surface, which is light weight, dense and abrasion resistant.
The Miyota quartz movement is used in the watch. Miyota is used by big watch brands and this quartz movement serves the best accuracy. Water-resistance capacity is very less in the watch, it is just 3 ATM (30meters).
The overall quality of the watch is very nice and the price is also very affordable. The main attraction of the watch is its strong build quality and its simple white elegant dial. It is a good value for money watch.
Pros and Cons
3. Bering Men's Solar Powered Watch 16433-002: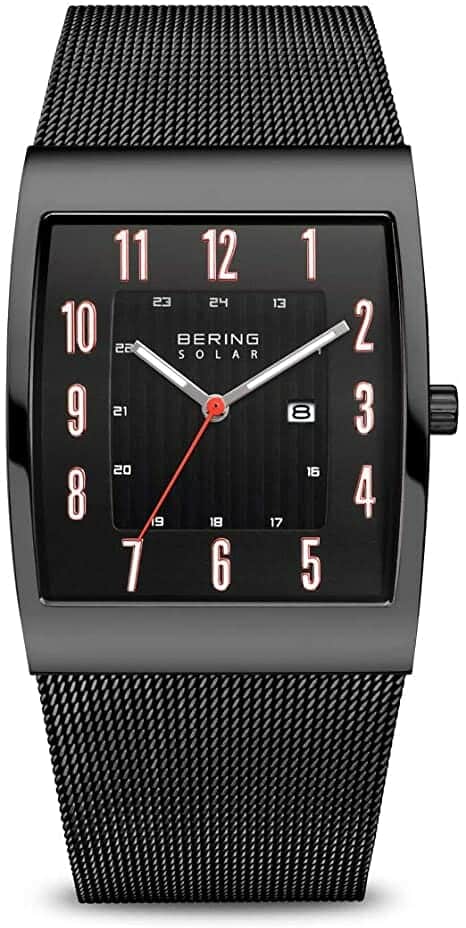 [wptb id=1633]
Features
Highly scratch-resistant with curved sapphire crystal glass
Solar Powered (With any kind of light)
The case diameter is 33mm with an 8mm thickness
316L Stainless Steel Bracelet L-200mm W-29mm
3 ATM Water Resistant
Slim and Light Weight
Easy Adjustable Bracelet
This is another best selling and trending timepiece by Bering. It is a rectangular watch with a curved shape. It has an amazing and very unique design.
This beautiful watch is slim and very easy to read. Its beautiful black watch dial is protected with curved sapphire crystal glass which is very hard and scratch resistant. This watch is best for daily wear.
The bracelet is made of black IP-plated milanese consisting of medical grade (316L) stainless steel. This kind of steel is body friendly. This stainless steel is considered the safest stainless steel. Also, it feels very comfortable on wrist.
This watch has high quality Seiko solar movement. This movement gives you the best accuracy and it is charged with any kind of light and that too very quickly. Once it is fully charged, it runs 6-12 months.
Overall the watch is a value for money. But there are two drawbacks in this watch. The first is date window is too small and second is 3 ATM water resistance. This is not a complete water resistant but splash resistant.
Pros and Cons
4. Bering Unisex Quartz Watch 14526-166: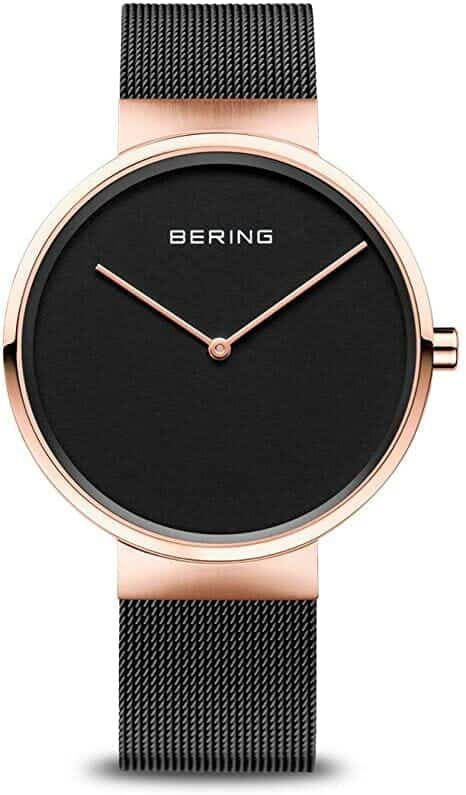 [wptb id=1636]
Features
Stylish Looking
26mm Case Diameter and 6mm Thickness
316L stainless steel bracelet with L-185 mm and W-12mm
3 ATM Water Resistant
Weight 35 grams
Slim and Light Weight
If you are also fond of Black Color Watches then this tempting watch is for you. As you may know, black matches up well with pretty much anything. But the color is not enough, we have to check the quality also.
The watch has a beautiful black and rose gold color combination. The black is not too flashy and looks very elegant and rich. The finishing is great.
This watch comes with 316L stainless steel material which is best for the skin. Also, it has sapphire crystal glass which is very strong and scratch-resistant. The watch is best for professional, occasional well as regular use.
Although it is a unisex watch and its case diameter is 26mm. So if you have big wrists we do not recommend you this watch. On small and medium wrists this watch will look very enticing.
The watch comes with Miyota Quartz movement and gives best accuracy. Though the water resistance is very low it is 3ATM only. The watch is not suitable for swimming, shower and diving.
Overall the looks and the quality of the watch is good. Also, it comes with an affordable price. We can say it is a value for money watch.
Pros and Cons
You can also read: [The Best Tempting Couple Watches Set Collection 2021]
4 Best Selling Women's Bering Watches UK Review
Bering is not only making men's watches but also great quality women's watches. In this review of the Bering watch brand. We have filtered 4 best selling Women's Bering Watches which are very popular in 2021.
1. Bering Women's Swarovski Watch 10126-077: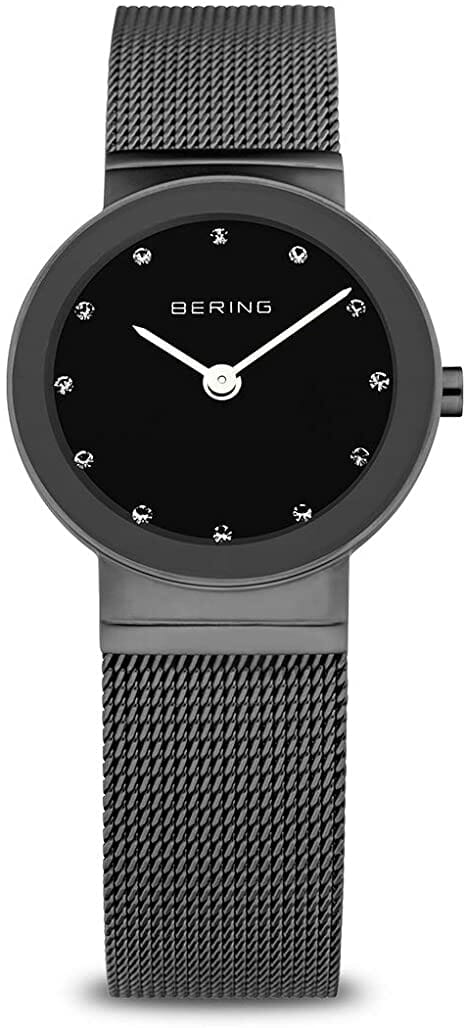 [wptb id=1638]
Features:
Stylish Swarovski Design
Highly Scratch Resistant
Case Diameter 26mm and Thickness 6mm
316L stainless steel bracelet L- 175 mm and W-12mm
5ATM Water Resistant
Weight 29 grams
This eye-catching timepiece is very popular in 2021 because of the Swarovski crystal design. The Swarovski crystals are more expensive than regular glass because of its fine materials and a complicated manufacturing process.
The beautiful black dial embellished in Swarovski crystals look very much enticing. There is rich brown finish inside the dial which looks great with black color.
The watch is very sleek, slim, and classy. The face of the watch is made with brushed metal and the sparkly hour markers are pretty. The watch matches well with any outfit and enhances the looks.
Again the sapphire crystal covering is there to protect the brown mother-of-pearl dial. We can say the Bering has put all the efforts to create this unique beautiful watch.
Overall the watch quality and looks are just beyond the expectation. The surprising part is the price which is very affordable. This is the best value for money watch and can also be an ideal gift.
Pros and Cons
You can also read: [Seksy Rocks Watches By Sekonda]-10 Best Swarovski Designs
2. Bering Women's Blue Dial Swarovski Watch 10126-307:

[wptb id=1640]
Features:
Elegant Blue Dial
Swarovski Crystal Design
Highly scratch-resistant
Milanese Bracelet with L-185mm and W-14mm
Dial case 26mm and thickness 6mm
Weight 36 grams
5 ATM Water Resistant
The blue face watches look very elegant and noble. In 2021 the black and blue color watches are immensely in trend. This Blue Dial Swarovski watch is very sharp, slim, and sparkling.
This watch is also inspired by Danish design. The textured blue dial is embellished with beautiful Swarovski crystals. The dial is protected with strong sapphire crystal glass which is highly scratch resistant.
The 26mm case comes with a black and silver finish. The case is very slim and sharp. The overall color combination of blue-black and silver makes the watch look stunning. And it matches with any outfit.
The Milanese mesh strap is used in this watch which is highly popular these days. This eye-catching, cuddly and smooth bracelet shows fine workmanship. This gives the watch a very refined and noble touch.
Overall the quality and looks are stunning. The watch is available on a very affordable price. This watch is best for daily wear as well as occasional and professional purpose. This can also be an ideal gift for your loved one.
Pros and Cons
3. Bering Women's Silicone Strap Watch 15531-700: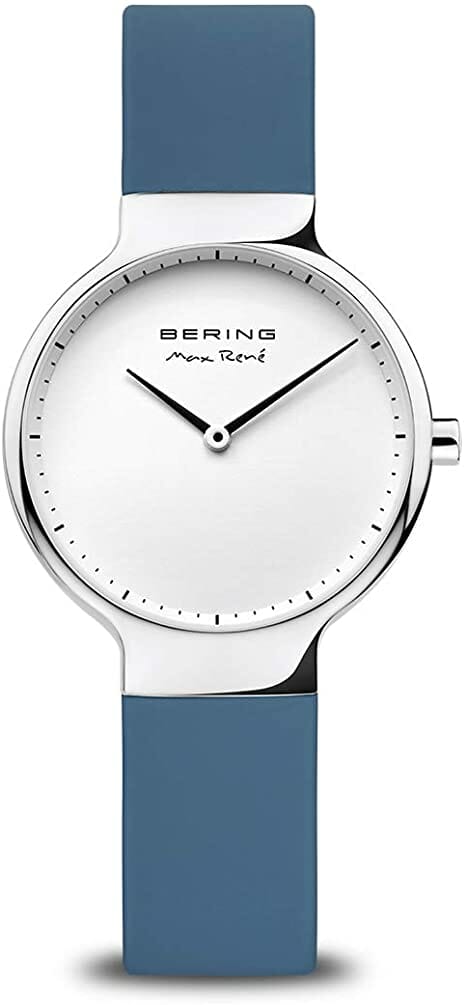 [wptb id=1642]
Features
Highly Scratch Resistant with Sapphire Crystal Glass
316L stainless steel case with 31mm diameter and 7mm thickness
Best Silicone Strap with L-175mm and W-14mm
5ATM Water Resistant
Weight 50 grams
Slim and Sleek
There are a number of women who like simple white-dial watches. The reason is white dial watches can be paired with different outfits to satisfy the occasional and professional events.
This clean white dial watch has very simple and elegant design. The black sharp hour markers are easily readable on white dial. The beautiful dial is covered with strong sapphire glass which protects the dial from scratches. The dial watch is very slim and light weight.
In this watch a Silicone band is used. As a material silicone has good high and low-temperature resistance. The Silicone straps are highly comfortable and skin friendly. And the best thing is this material is non toxic and eco-friendly. Also, Silicone material is considered very durable.
Pros and Cons
You can also read: [5 Tempting Armani Watches for Girls in 2021]-Unique Designs
4. Bering Women's White Watch 11435-754: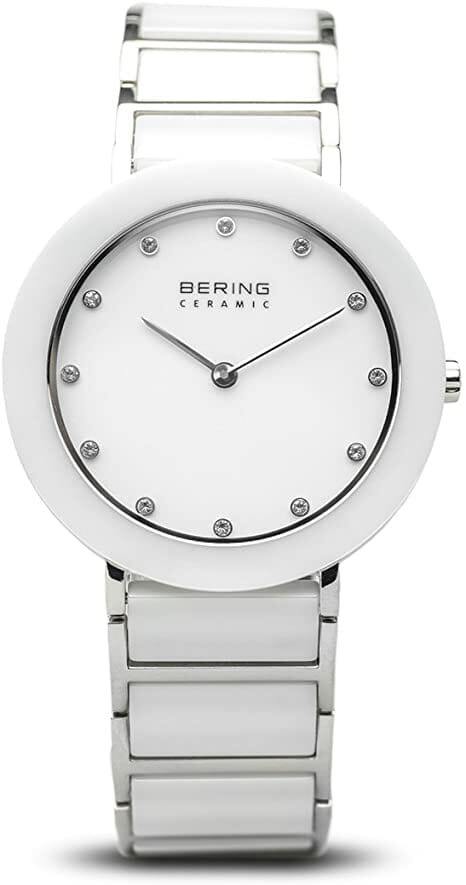 [wptb id=1645]
Features:
5ATM Water Resistance
316L Stainless Steel Bracelet L-150mm and W-15mm
Case diameter is 35mm with 6mm thickness
Swarovski crystal on hour markers
Slim, Sleek and Light Weight
The color combination of white and silver looks very different. These color combination watches are also in trend because of their unique style. This timepiece perfectly matches the trend and also with the budget.
The Swarovski crystals on hour markers are like the cherry on the cake. This watch is not only beautiful but also comes with great features like high scratch resistance, very lightweight, heat-resistant, and anti-allergic materials.
The 316L stainless steel is used in this watch which is skin friendly and comfortable. Also, there is a deployment clasp which works really well while adjusting the size.
Overall the watch looks very premium and expensive while having an affordable price tag. High-end materials like Sapphire Glass, 316L Stainless steel, and Swarovski crystals are used which makes the build quality very strong and durable. This timepiece is the best value for money.
Pros and Cons
Conclusion:
With this Bering watch brand review, we understand that there is no doubt that this brand is serving people with high-quality watches at affordable prices. This is the biggest reason of its success in such a short time period of 12 years.
Bering understands the market needs and what people are looking for and accordingly it is designing the products. This is the reason that every second model is going on trend and people loving the quality and style.
Other watch brands will give you mostly stainless steel material at the low price point but Bering is giving you the materials like Sapphire glass, Titanium, and High quality 316L stainless steel that too at the affordable price range.
Overall if we rate the Bering out of 5 then we will give it 4.5 stars the half star we have removed because of the water-resistance capacity which is not more than 5ATM in most of the Bering Models. But as it is the fact nothing with 100%. This brand is going to skyrocket its sales in the future with happy customers.
I hope you liked this review about the Bering watch brand. Please comment below and let me know what's your opinion about Bering watches.
Other Trending Articles: