The Citizen Axiom reminds me of Movado Dress Watches which is best known for its minimalist style Museum watches that are Swiss-made.
Despite the similarity in looks, there are many interesting differences which I will share further in this review.
There are many variants of Citizen Axiom for example black, chronograph, leather, etc. I will compare each variant and help you to decide which one is best for you.
I will share an unbiased opinion about this watch and also tell you what you should keep in mind before buying this watch.
In the conclusion part we will decide whether it is worth buying or not?
So let's dive into the Citizen Axiom watch review.
I will review 4 different variants of Citizen Axiom so lets start with the popular variants.
1. Citizen Axiom Black Watch Review: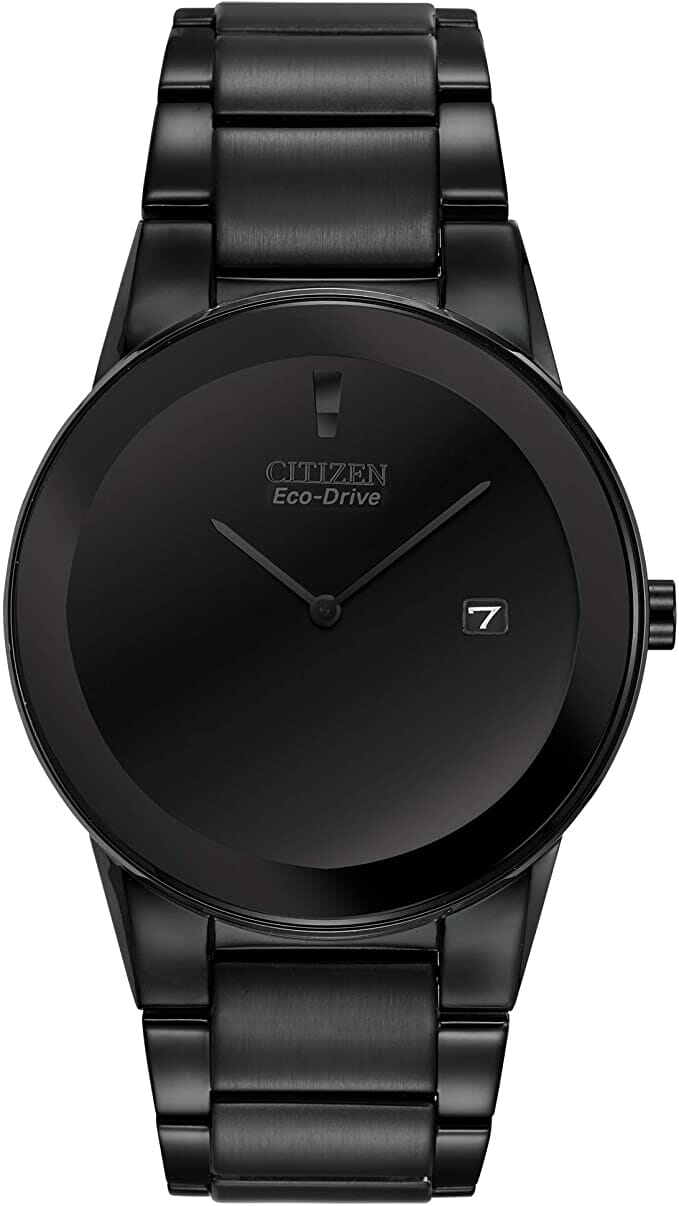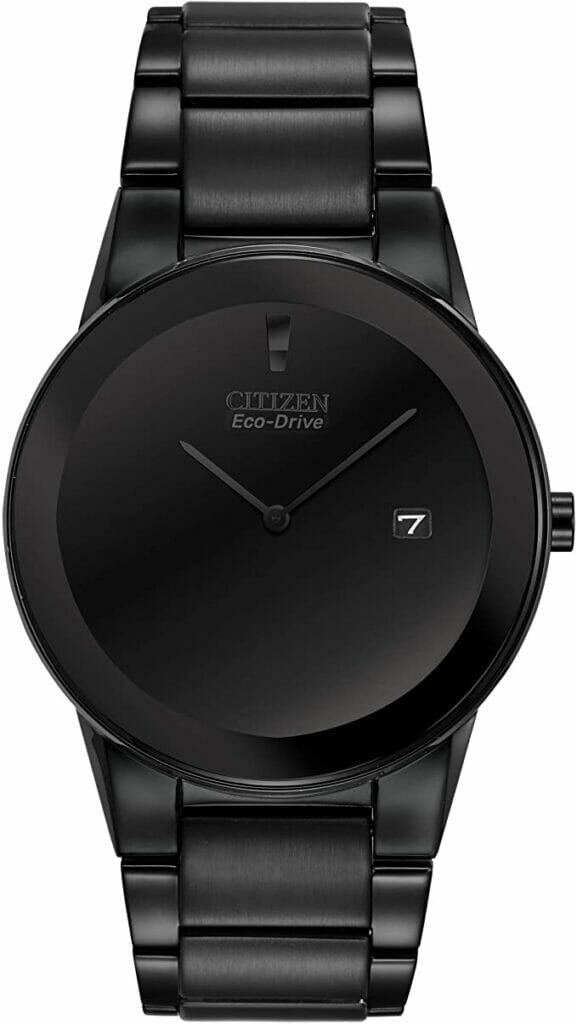 [wptb id=2158]
What was the first thought that came to your mind after seeing this watch?
What I thought was "does this watch only tells the date?" Because from a little distance I could just read the date. Lol!
It is not easy to read watch. Its dark grey hands disappear in its dark black dial. And in low light conditions, you have to change the angles to read out the time.
The second thought that came to my mind that despite having bad readability, why the watch has been appreciated so much? (you can check buyers reviews on Amazon)
The answer was its "cut above the rest design". Yes, this watch has a distinctive look that garners attention. So if you are looking for something truly unique then it deserves to hug your wrist.
The Eco-Drive technology eliminates the need for battery replacement and thus it saves your money, time and protects the environment too. And the watch gets charged with any source of light that makes it a more convenient and user-friendly solar watch. In the solar watches, nothing can beat Citizen's Eco-Drive technology.
Now let me tell you something about its quality. From the quality perspective, Citizen is a trusted brand. Their watches are durable and long-lasting. Can it beat a high-end Swiss watch?
Comparing them with high-end Swiss watches won't be fair as their prices are skyrocketing these days.
If you are looking for affordable Swiss watches, you can read this: Are Rotary Watches Any Good? Affordable Swiss Brand
This watch comes with a 40mm case diameter and it is quite lightweight in personality. If you are fond of diver's watches then maybe you won't like its slim and sleek small dial. But believe me, once you wear it, you will get many compliments for its unique looks.
It is a completely black watch so even a single scratch can ruin its entire beauty. Citizen has perfectly taken care of it. They have provided ion-plating on its case and bracelet.
Ion-plating is considered to be the best-rugged option for daily wear. Some experiments also have shown that ion-plating can be five to eight times more durable than some traditional techniques.
But the dial might get scratches because it has mineral crystal glass, it would have been more satisfying if Citizen would have protected it with a sapphire crystal.
The watch is also very accurate, it works with Citizen caliber j165 movement. You will find this movement in all Axiom watch variants.
Overall the watch will not disappoint you on price, looks, quality, and comfort but it will definitely disappoint you in its readability and water-resistance capacity which is 99feet only. I would say it is not a bad deal if you want to try something unique and classy black.
Pros & Cons:
2. Citizen Axiom AU1060-51E Review: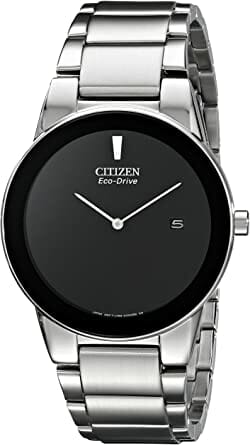 [wptb id=2160]
Now look at this Axiom variant, you will find the readability is far better than the first watch. Not only the readability but popularity also. (You can check people reviews on Amazon)
You would be thinking why I kept the black Axiom variant on first number. Right?
If you will observe, this silver watch looks a little usual like other common watches but the black one looks completely out of the box. That's what makes it rank number one in this review.
This is again an eco-drive so no headache of changing batteries every year. Also, Citizen eco-drive watches are considered the best solar watches in the watch market because of their high-quality performance.
You can also read more about Eco-Drive technology on Wikipedia: Citizen Eco-Drive
Apart from the difference in the readability and looks, everything is same. This watch also uses Citizen caliber j165 movement and it has quite good accuracy.
This watch also has a 40mm case diameter dial with mineral crystal protection. The size of the dial is not too big and not too small, it is an average size dial. The water resistance is the same 30meters (99 feet) which I didn't like.
Overall if you would ask me which one you should buy out of these two? I would say go with the first one if you don't care about readability but if you serious about readability then you opt this silver one. The comfort, quality and durability is same in both the watches.
Pros & Cons:
3. Citizen Axiom Black Leather Watch Review: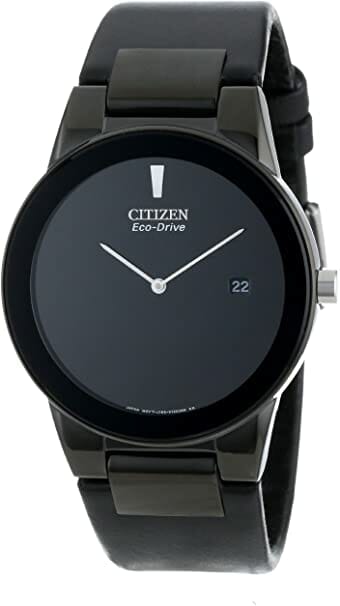 [wptb id=2161]
Now compare all the three models, don't you think that if the first watch would have the same dial as this one, then it would have a better deal? Let's forget it.
This watch has a calfskin leather band which is considered valuable because of its softness and fine grain, as well as durability. It comfortably hugs your wrist.
The price difference between this and stainless steel variant is not huge, so if you are confused then I would say you should go with stainless steel option as that looks more stylish than this one. If you want to keep it simple then this leather option is best.
Rest all the features are same like 40mm case diameter, Citizen J165 movement, 30 meter case water resistance, eco-drive etc.
Overall I would say it is a better deal if you like simple watches with some unique design. Also its solar features adds cherry on the cake.
Pros & Cons:
4. Citizen Axiom Chronograph Watch Review: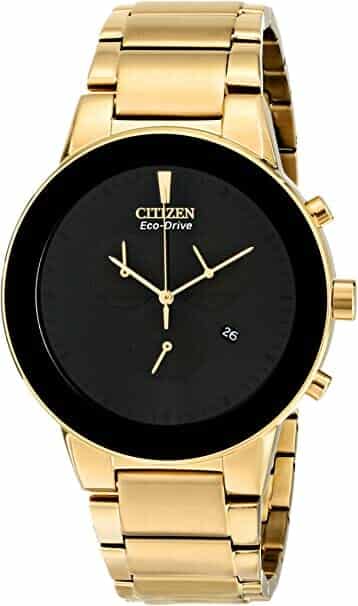 [wptb id=2162]
Citizen has done lots of experiments with its Axiom models. I am really confused that should I admire this design or criticize it?
Because when I look at the dial, I can't stop looking it. On the other side it feels little annoying when you want to read the time and the chronograph hands interrupt the main hands. This is the only variant in Axiom that has second hand which is good.
Another difference in the dial is the date window position. It is on 4 hour marker while in above three variants it was on position 3 hour marker.
As you can see there are three color options in this variant, it is your personal preference which one you select. I personally didn't like the white one, because there is no proper color contrast. All the light colors are suppressing each other. If it would have a black bracelet and black hands then it would have looked surprisingly unique.
In this watch the case diameter is 43mm while other 3 variants have 40mm. If you notice there is lot of free space in the dial, there are minute markers but very hard to see. Sometimes it looks odd.
This Axiom variant uses Caliber H504 movement which works accurate. The water resistance is the same like other variants 30meter. Comfort quality is top notch, I won't criticize it on comfort and quality level. The Eco-Drive solar technology also works great.
Pros & Cons:
Citizen Axiom Vs Movado: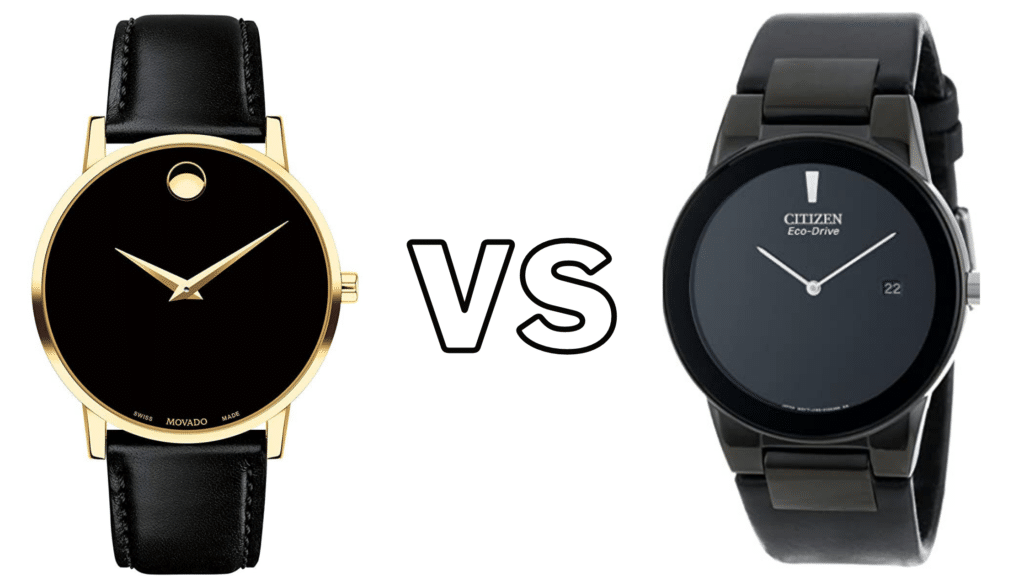 [wptb id=2163]
Look at the design I won't say they both look exactly the same but they also don't look exactly different. There are many similarities and some differences also, I will explain everything.
Let me first tell you something about Movado.
Movado is a popular watch brand that holds more than a century experience in watch-making. It is popular for its Museum watches. Movado watches are Swiss-made. They have manufacturing facilities in Switzerland and corporate headquarters in New Jersey.
Lets not get deep into both brand's comparison. Let's check out which one is the best despite of quite similar in looks.
In the above picture the watch in left is Movado Swiss Museum Classic watch which is $323 (as per current price on Amazon) and on the right side we have Citizen Axiom black leather watch and it costs $187(as per current Amazon price). You can see the price difference is huge. Now the question is which one is better?
In the looks, I found the watch of Movado slightly better because its looks quite sharp and clean. Secondly Movado has sapphire crystal to protect the dial while Citizen Axiom has mineral crystal lens which is not that good to protect the dial from scratches like sapphire. Movado is Swiss made so it is obvious It has better quality material but it doesn't mean that Citizen holds poor quality.
Still I would prefer Citizen Axiom over Movado, you know why?
Look at the price difference $323 is huge for a quartz watch and Movado also don't have solar technology like Citizen. Also, the Movado has same water resistance capacity 30 meters so the Movado seems little overpriced. I know it is Swiss made but still $323 is too much for a quartz watch. So I would prefer Citizen Axiom over Movado.
If I would have to go for Swiss watches I will instead chose Rotary or Tissot because they have quite low prices and also they make Swiss made watches.
Here is the article for Rotary watches: Are Rotary Watches Any Good? Affordable Swiss Brand
Conclusion/ Which One Is The Best?
Which one is the best? It is very difficult to decide because every person has different preferences and choices. If you would ask me then being a watch collector I would go with the first one because I found that like cut above the rest in looks, while it doesn't have that good in readability. But due to an urge of collecting unique timepieces I would prefer that.
If I have to buy something for everyday wear then I will definitely go either the second one or the third one both are easy to read and also quite unique in looks.
All the 4 watches in this article have amazing quality and looks, the Eco-Drive solar technology adds cherry to the cake. I always prefer Citizen when I have to buy a solar watch because they are the master of solar watches and their Eco-Drive technology is best than all other watches in the market.
I hope now you will have a proper understanding about Citizen Axiom watches and now you can take your decision which one you should purchase. Thank you for reading the article, please share your valuable opinion in the comment box.
Other Trending Articles: