If any Nixon watch has caught your attention, then this question must have come to your mind. "are Nixon watches worth buying?"
There will be many more questions in your mind regarding this brand like does Nixon makes good quality watches? or is it another fashion brand like Vincero, Benyar, Bering, JBW, etc which has become highly popular using big ad campaigns.
In this Nixon Watch review, you will get to know all the things given below so that your every doubt will be cleared:
Where did Nixon start and how did it become so popular?
Are Nixon Watches Good Quality?
Where are Nixon Watches Made?
Is Nixon a luxury watch brand?
5 Popular Nixon Watches unbiased review, and Their Pros & Cons.
Conclusion: Are Nixon watches worth your money?
So let's start this exciting with an interesting brief history of Nixon watches.
Where Did Nixon Start and How it Become Popular?
Nixon is an American brand that was started as a startup in 1997 by Andy Laats and Chad DiNenna in Encinitas California.
Behind every startup is a unique idea, so was the case with Nixon. And that one unique idea made Nixon famous worldwide.
This idea came to DiNenna's mind when he was looking for a watch that reflected his personal style but was unable to find one.
And that's how he got the idea to make watches that reflect people's personality.
They had started with just 7 watch models and they had got tremendous growth.
In 2000, Nixon opened a subsidiary in France, and by 2005, Nixon had 83 new watch models added to its catalog. By 2005, 60 more employees had joined Nixon, and the company's annual sales growth had grown to 55%.
Nixon was acquired by Billabong International in 2006 but became an independent brand back in 2012 and the two founders decided to make their dream come true again.
Perhaps it is DiNenna and Andy's passion and love towards their startup that has propelled Nixon to the heights it is today. The catalog contains more than 90 models selling in more than 90 countries across the world.
Are Nixon Watches Good Quality?
When I had gone through some reviews and experiences of people regarding Nixon watches, they were appreciating mostly its design, details, water resistance, and accuracy but I didn't find anything exceptional from the quality perspective. Amazon reviews about Nixon
The 316L stainless steel is common like other watches at this price point. Also, they have used the mineral crystal to protect the dial which is again very common.
The thing which is an exception for me is their Swiss and Japanese movements at the lowest affordable price. Secondly, what sets Nixon apart from other fashion brands is the design and attention towards each small detail.
But to expect a titanium band and sapphire glass under $100 would be an exaggeration. But I will definitely say that compared to other fashion watches, its quality is better.
There is one brand that offers you sapphire glass along with a titanium band at an affordable price. Check this review Bering Watch Review.
Where Are Nixon Watches Made?
Nixon makes watches in two segments, first affordable and second high-end watches. It is believed by most people that Nixon's affordable watches are made in China, and high-end watches are made in Switzerland.
Is Nixon a Luxury Watch Brand?
First of all we have to understand that what defines a luxury watch?
A luxury watch is that fits a high-end lifestyle personality, has a rich legacy, finest materials, high-quality precious metal, and long-lasting durability.
I won't say that Nixon's affordable watches meet any luxury criteria but their high-end watches have the quality of the luxury segment but not the best as Rolex or Chopard.
5 Popular Nixon Watches Review:
Here I will take some of the popular models of Nixon. And share with you an unbiased review about them along with their pros & cons.
1. Nixon Time Teller Review: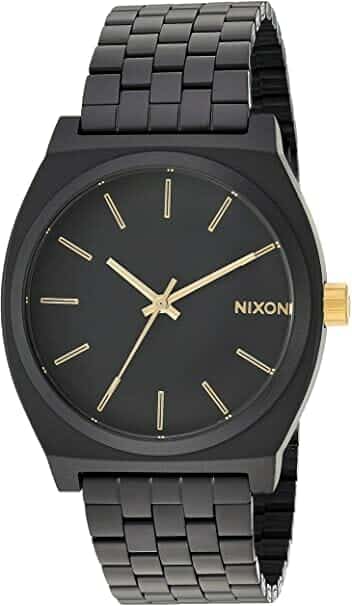 [wptb id=2422]
This is among the most popular model of Nixon. It holds more than 4000 ratings on Amazon and 79% of people have rated this watch with 5 stars and 10% with 4 stars. check reviews on Amazon
The most amazing thing about this watch is the design and its looks. This watch gives a very classy feel with a modern touch. It looks simple, clean, and sharp.
Time teller has 18 different color variants but this matte black, green & gold, rose gold and all gold are very popular.
Along with good looks, the watch holds a decent quality material. It is built with 316L stainless steel which remains comfortable on your wrist all day. Very few people have complained about the clasp quality.
One thing I didn't like is the size of its case which is 37mm that will suit 6-7″ wrist circumference but if your wrist is bigger than 7″ then I will not recommend this watch to you.
It claims 100meter water resistance. which is not up to the mark some people have experienced moisture on dial once they used it in water.
Accuracy is good enough they have used Japanese Miyota movement in this watch but they have not specified which caliber powers the watch.
Overall I would say if you are looking for a decent, simple, and classy watch which has a slightly modern touch this affordable watch is best for you.
Pros & Cons:
2. Nixon Porter Watch Review: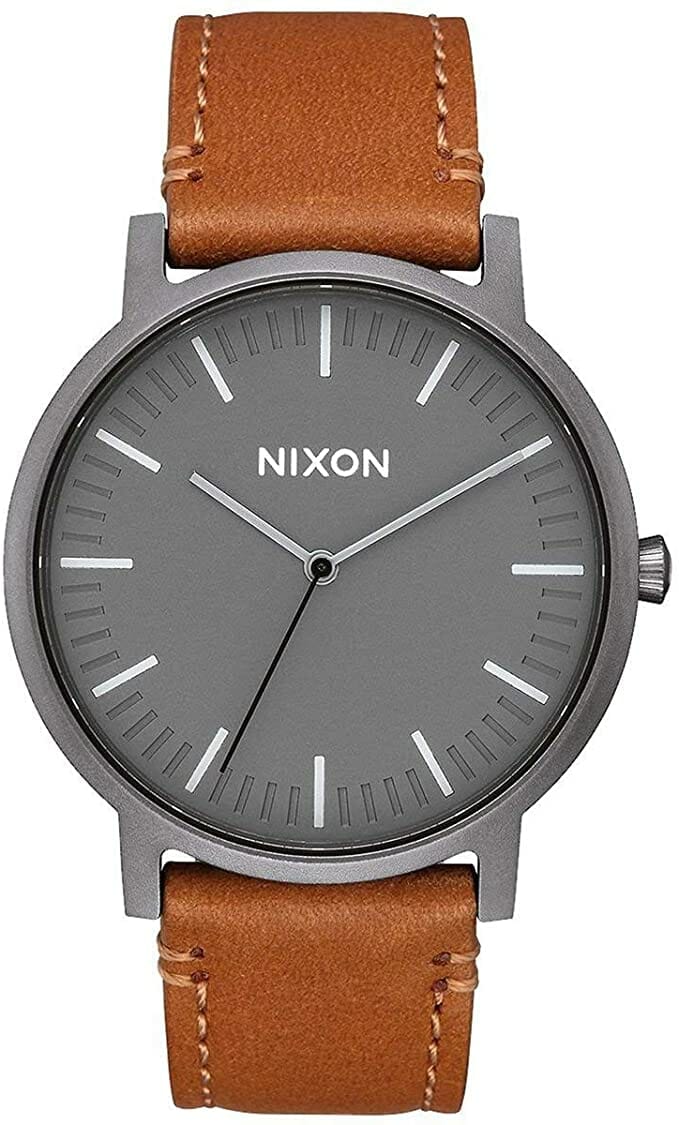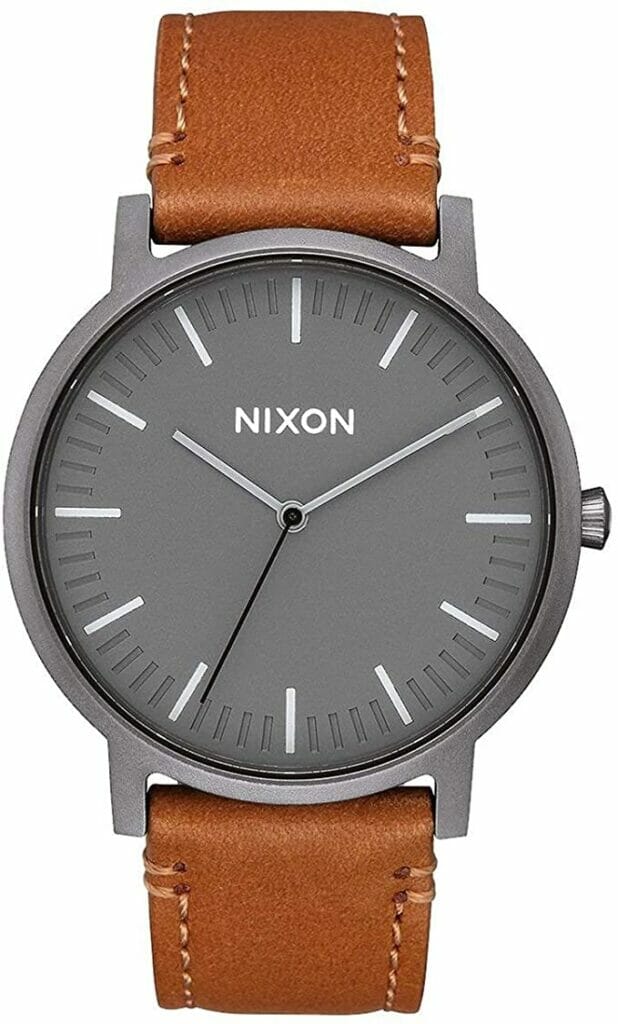 [wptb id=2425]
This is another popular timepiece from Nixon. The Nixon Porter has more than 80% 5-star reviews on Amazon and people have really liked this watch. This is one of the bestsellers. Reviews on Amazon
It comes in two difference color variants this one is gunmetal and the second one is black and gold. Both the colors are gorgeous but this gunmetal looks very distinctive.
If you are looking for an affordable, simple, and classy timepiece that should be easy to read then this one is best for you.
The watch face looks very clean and easy to read but it is not luminous so you might feel difficulty while reading this in dark. Also, the watch doesn't have day & date features. The dial is protected with mineral crystal but that is okay at this price point.
I liked the leather quality, it feels soft and comfortable on your wrist. They have not mentioned the leather type but it doesn't feel like fake leather. It looks like a Timex weekender chronograph leather strap.
Overall I would say the watch is quite simple and elegant does not look flashy at all. It is very easy to read and hold good quality leather that feels comfortable. Although it if affordable but I felt that it is slightly overpriced.
Pros & Cons:
3. Nixon 5th Element Watch Review: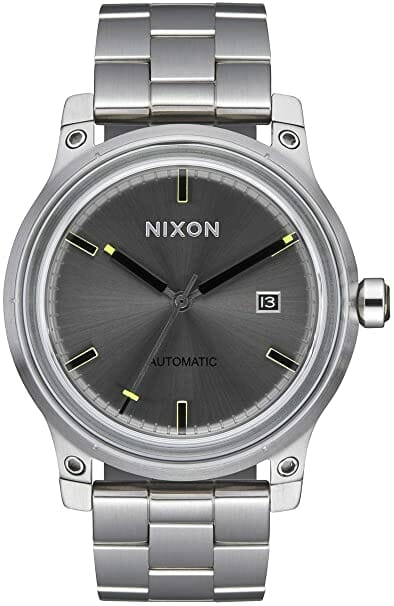 [wptb id=2427]
This is one of very popular entry level automatic watch by Nixon. I will discuss about looks later first let me tell you about the automatic movement.
In this watch premium, Miyota 8215 Japanese automatic movement is used. It is considered one of the best movements that work on the 21 jewels mechanism. This movement consists of a fly wheel winding system to efficiently store the rotational energy. It has a superb 40-hour power reserve.
Now have a look at the looks, I am 100% sure that everyone will look at this twice and complement you. Because it looks very unique from other regular automatic watches.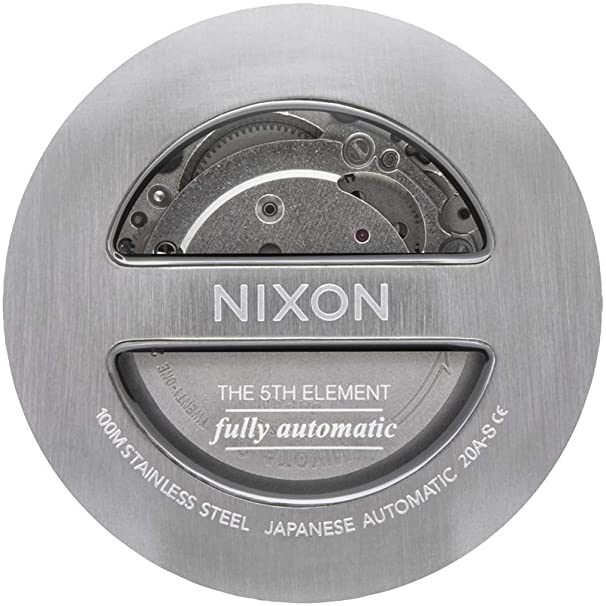 This watch does not use a traditional case back rather it has a two-piece unique-looking case back that also shows its internal working through a split window. You would have never seen such a case back in regular automatic watches.
They have used a domed dial in this watch, this kind of dial makes your watch easy to read underwater. Also, it looks very cool. Although it is not a diver watch, it is still water-resistant up to 100 meters.
There is a lot of problem in the dark with other Nixon watches but this watch is luminous. There is a strong lume that appears on the tips of hands and on the border of hour markers which help you to read time in dark or low light conditions.
Overall I would say it is kind of a fancy and unique automatic watch that is built with one of the best 21 jewel movement, hold strong build quality and also comparatively affordable. If it would have more than 100 meter water resistance and sapphire crystal then nothing could beat this watch.
Pros & Cons:
4. Nixon Regulus Watch Review: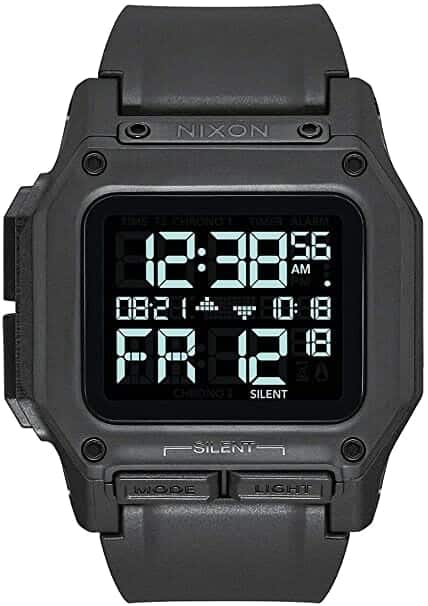 [wptb id=2430]
Nixon does not only make analog watches they also make amazing digital watches and this is one of the examples. This watch has become so popular these days. Many people have compared it with Gshock and found it better than that. Check Amazon reviews.
I would like to start with its looks, this watch looks quite tactical and solid. A 46mm case diameter makes it look like a giant killer. I find the looks better than most of Gshocks.
Now, let's look into some special features of this watch. First of all, it has a dual chronograph timers which helps you to keep time on two separate events at the same time. The best thing is you can see both chronographs from the main time screen along with time/day/date from the chronograph screen. One negative is you can run only 1 timer at a time.
Another good feature is adjustable LED brightness for light sensitive situations. And its led illumination is fantastic. Although, it is very hard to read the watch in low light conditions without the LED light.
Other good features are three independent alarms, and a silent mode that works like a do not disturb function while sleeping at night.
There is a Poron foam that works like a shock-blocking shell and make the watch shock absorbent. This watch comes with a 100meter water resistance and a 5 year battery life.
Overall the watch is amazing as per the price. If you are a Gshock lover and want to try something different then it is a great alternative. There is very minimal amount of submenus and that makes it very easy to operate. The size of digits is big enough so that you can operate it while wearing gloves. Fit and finish is better than Gshock.
Pros & Cons:
5. Nixon Corporal Watch Review: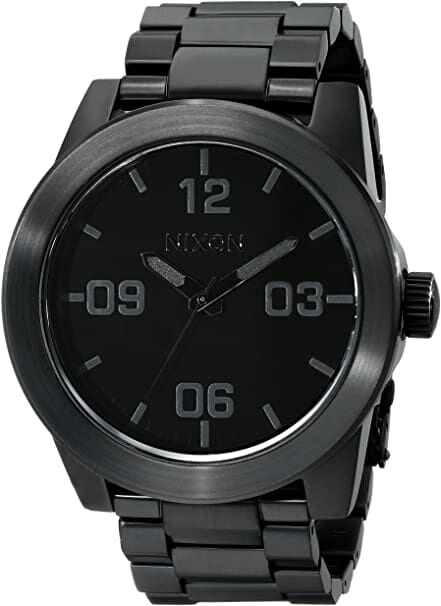 [wptb id=2433]
If you love all black watches then you can't ignore this distinctively designed black watch. The clean and sharp dial is what attracts the most.
Lets first look at the dial, it has bold indices as well as large numbers that makes the watch very easy to read. Also it has a signature Lume dial but it is dull and makes difficult to read the watch at night.
There are total 9 color variants in this watch and the popular ones are this all black, blue sunray, and silver-ton gunmetal. My favorite is all black so I put it here.
The build quality of this watch is very solid and the watch is heavy enough to feel like a quality watch.
The reviews and ratings are amazing on Amazon there are more than 1000 ratings and 83% consists of 5 stars which is really amazing.
Overall I would say if you love wearing all black watches or want to try one then this will blow your mind. On the other hand if you like simple classy watches that are good with readability then you should ignore this watch.
There is one another watch of Citizen that I have liked and reviewed. You can read the review here, Citizen Axiom Watch Review
Pros & Cons:
Conclusion/Are Nixon Watches Worth Your Money?
This is one of the most asked question and the answer will sum up the whole review. Nixon offers a huge variety of watches from affordable line to the high end line, and from analog to digital and smartwatches. The brand holds a rich legacy and a good reputation in the market.
I have reviewed 5 most popular Nixon watches and each watch has its own pros and cons. Three things I found that set Nixon apart from other watch brands. First is the unique design of watches, second is durability and last but not the least they use Japanese and Swiss movements in their watches that gives you the best accuracy.
Overall I would say the Nixon watches worth your money if you want to add something different to your watch collection or looking something simple and classy with good durability. There are many other models as well some of them are overpriced. I have recommended you the best ones after doing an in-depth research.
I hope you like the Nixon watches review. If you want to read other trending reviews please check the list below:
Other Trending Reviews: