As you would be aware, Seiko has been impressing its customers with its fine quality watches for a long time. After mastering dive watches, Seiko is not far behind in Solar Watches as well.
Today I am going to review one such solar watch Seiko SNE098. There will be many questions in your mind about this watch whether it is really a good solar watch or not? Is there any drawback due to the low price? What are its pros and cons? And why is it so popular?
In this review, I will answer every question on the basis of facts so that you will be able to decide whether this watch is really worth your money or not. So let's start with its looks & features.
Seiko SNE098 Features & Looks:
Silver & Golden two-tone gunmetal luminous sunray dial with a bright date window.
The dial is protected with hardlex glass.
The watch is powered by a Seiko V158 caliber movement.
The Seiko SNE098 has an overcharging prevention function.
There is no requirement for a battery change, it is powered by light energy.
The best feature is the energy depletion forewarning function.
The watch has an instant start function.
Friends, there is no doubt that along with the low price, its features are very surprising. Before knowing in detail about its features, let's analyze its looks.
The Dial: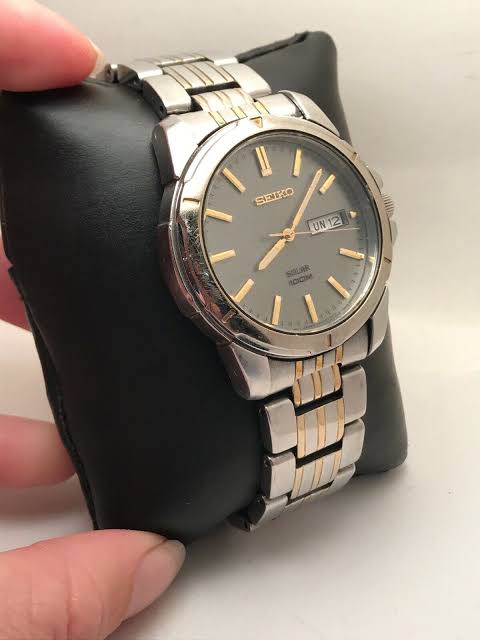 [wptb id=2340]
90% of the attraction point of any watch is its dial. Crafted from gunmetal (red brass), the dial of Seiko Sne098 grabs attention with its beautiful Grey, Gold, and Silver color combination.
The sunray dial enhances its beauty. Whenever any light falls on its dial, you see a texture similar to the rays of the sun that are burst with colors.
The dial is not only beautiful to look at but also very easy to read, the golden sticks as hour markers are very well visible on its gray dial. With both the hour sticks and the hands being luminous, it's easy to read even in the dark or at night, and the Seiko's lume quality is superb.
Its 39mm case is quite slim and sleek which is best for up to 7.5-inch wrist circumference. If your wrist is over 7.5 inches, the dial will look smaller on your wrist.
To protect the dial Seiko has used its proprietary watch crystal that is hardlex. This watch crystal is better scratch-resistant than mineral crystal because it is harder. Hardlex Vs Mineral Crystal.
You also must read this: Seiko SRPC93K1 Watch Review-[Unbiased Review]
Battery:
The Seiko SNE098 has a manganese titanium-lithium rechargeable battery. This watch never demands a battery replacement. In order to recharge the battery, you need to expose the watch to any artificial light or sunlight. Once it is charged it will last up to 10 months (as per the manual of this watch). Many people have praised its performance on Amazon as well. Check reviews.
This watch also has an instant start function. As soon as you expose the watch to the light, its second hand will move immediately at 2-second intervals. You have to keep the watch exposed to the light until the second-hand moves at 1-second intervals.
The full charge takes approximately two hours but it is not necessary to fully charge the battery however it is important when it is charged for the first time.
Overall the battery of Seiko SNE098 performs beyond the expectations, and according to its price it is worth your money.
Movement: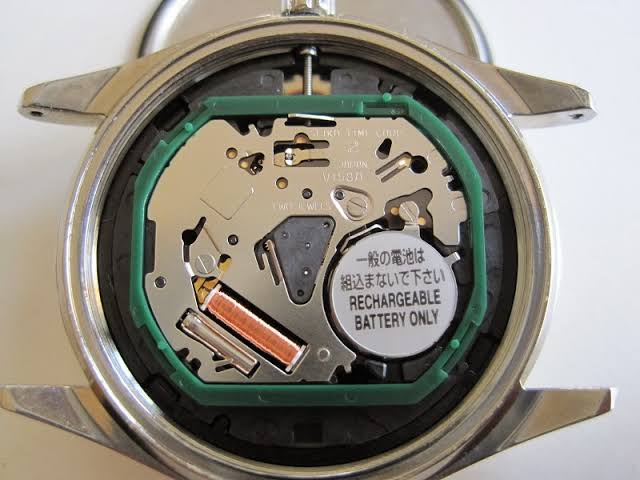 Seiko SNE098 is powered by Seiko V158 caliber movement. Seiko claims that the caliber V158 will maintain an accuracy of +/- 15 seconds per month at normal operating temperatures of about 5C to 35C (41F – 140F).
This movement has two very special features:
Overcharging prevention function: When its rechargeable battery gets fully charged, this function gets automatically activated and prevents it from charging further. It saves your watch from getting damaged due to overcharge.
Energy Depletion Forewarning: If the charging of the watch becomes too low then this function is activated automatically. And its second-hand starts moving at 2-second intervals instead of normal 1-second intervals. The best thing is the watch remains accurate during all this process.
These two major functions are not easily found in other solar calibers. Also, it has a day and date window which is good in size and clearly visible so that you can catch it at a glance.
You can also read this: Seiko SNE435P1 Watch Review-[Unbiased Review]
Bracelet: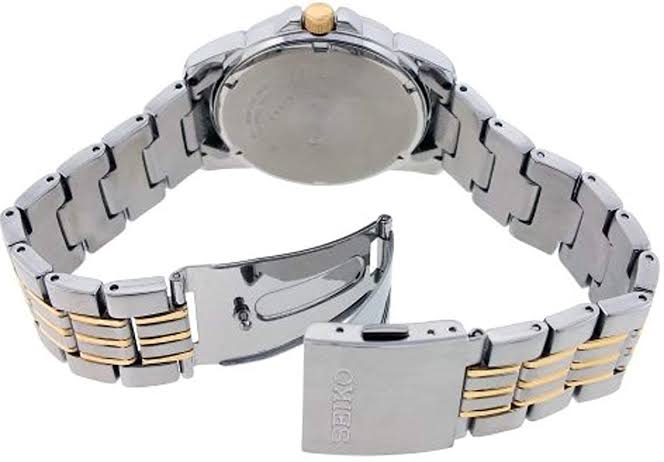 [wptb id=2340]
Seiko SNE098 hugs your wrist with an elegant two-tone stainless steel bracelet. Believe me, its gold and silver color combination just catches the eyes of people around you. Not only in looks but according to the quality it is very sturdy as Seiko uses 316L stainless steel.
When the bracelet holds your wrist it feels comfortable but some people may feel it heavier compared to other watch bracelets. Although it seems to be made of high quality.
If I discuss the size it is mentioned as men's standard but if you have a 6 or 6.5 inches wrist it may be loose on your wrist. To remove the links you will need to take it to a professional.
The bracelet has a deployment clasp with a push button that gives a firm grip and makes it very easy to adjust on your wrist. Overall I would say its a good quality bracelet with amazing looks.
Water Resistance:
If you are into water sports and have to go underwater frequently, then I would not recommend this watch to you. The Seiko Sne098 is water-resistant up to 100 meters, you can take a bath, swim, go snorkeling wearing it but this watch is not suitable for scuba diving.
Where is Seiko SNE098 Made?
If you are thinking that this watch is made in Japan but it is not. It is not specifically mentioned where Seiko SNE098 is made but its movement Seiko V158 is made in Japan.
Pros & Cons:
Now it's time to tell you some of the pros and cons of Seiko Sne098. Well there are many pros compared to its cons still I will point out some main cons of the watch.
Pros:
Seiko SNE098 is a very affordable solar watch with amazing features.
You do not need to worry about battery replacement ever as it is solar-powered.
It gets fully charged within 2 hours once it is exposed to light and then consistently work for 10 months.
It holds an amazing Seiko V158 caliber that maintains an accuracy of +/- 15 seconds per month.
Overcharging Prevention Function: This prevents your watch from getting overcharged, thereby preventing your watch from getting damaged.
Energy Depletion Forewarning Function: It indicates that your watch is running low in battery. Once this function is automatically activated, the second-hand moves at 2-seconds intervals instead of the normal 1-second interval.
Instant Start Function: If your watch is not charged as soon as you expose it to any light this function gets activated and the second hand starts moving at 2-seconds intervals. You have to keep it exposed until it reaches 1-second intervals.
The Seiko SNE098 has an amazing two-tone color combination that looks very elegant and it matches both casual as well as formal attire.
It is very easy to read and its luminous feature helps you to read it at dark or in low light conditions. The lume is quite strong.
The watch looks stunning in looks and quite expensive while it is very affordable.
Cons:
Its day-date feature works upon 31 days intervals so you have to reset the date when the month has 30 days. It does not automatically set by itself like some Timex watches.
This watch is quite heavy, people who like light weight watches might not like it.
The bracelet length is men's standard but it comes quite loose so if you have a 6″ or 6.5″ wrist you might need to remove some of the links.
The whole dial is not luminous only the hour markers and hands are luminous. So if you have weak eyesight you might face difficulty reading it at night.
[wptb id=2340]
Seiko SNE098 Vs Seiko SNE102: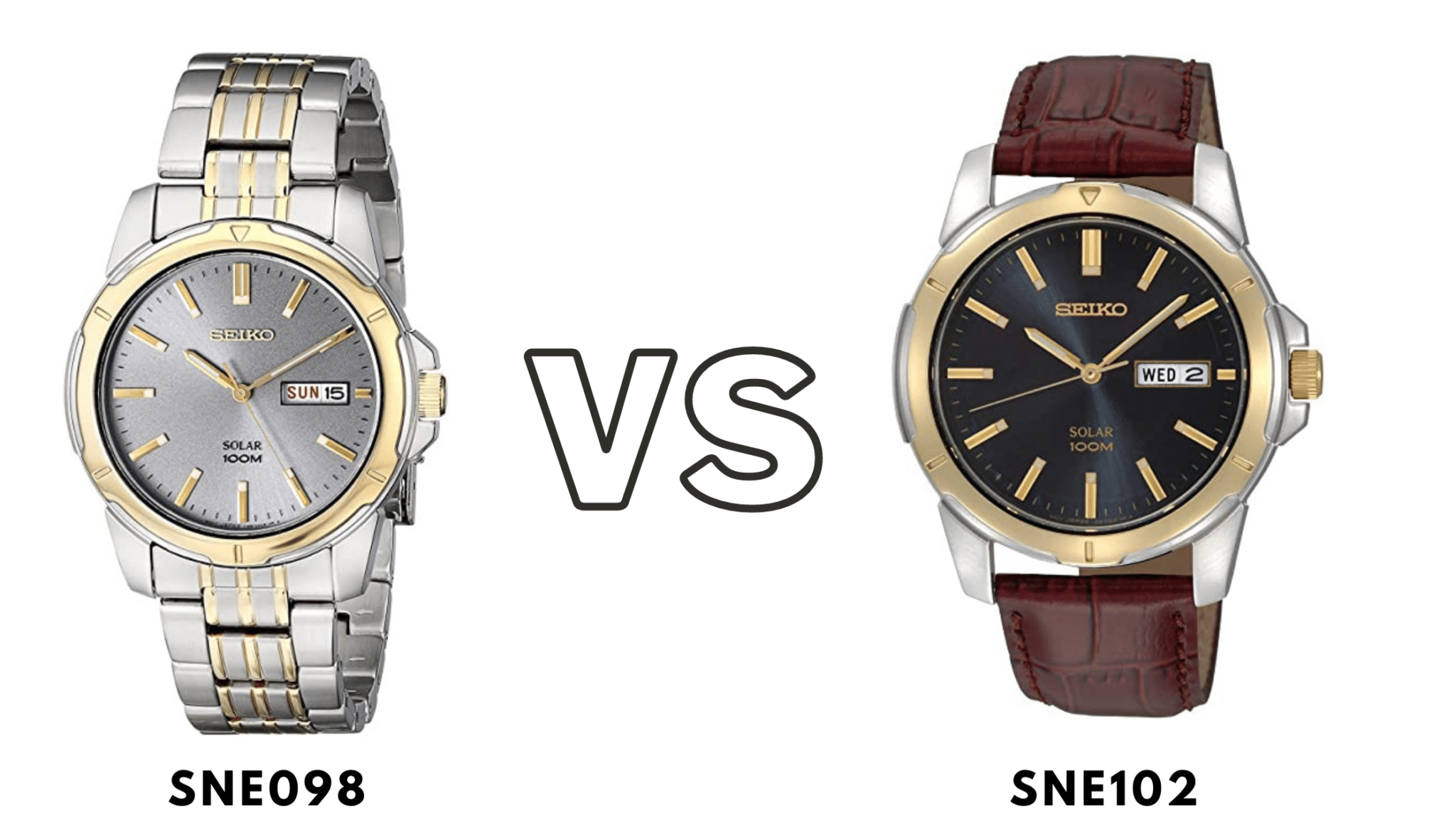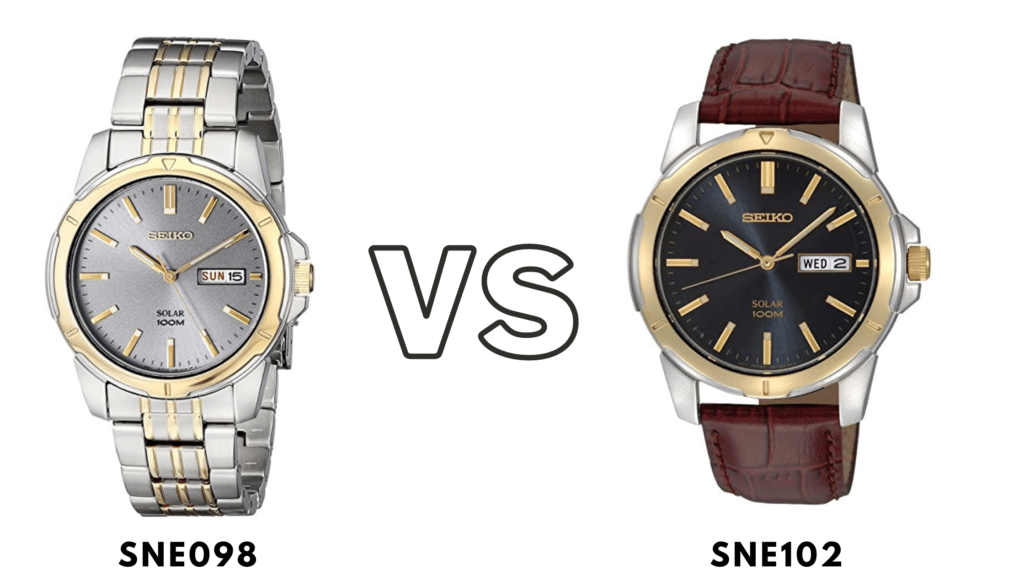 [wptb id=2341]
Both the watches are powered by Seiko V158 caliber and holds a solar rechargeable battery. Almost all the features are the same there is just A slight difference of band, price dial. The Seiko SNE098 has two tone stainless steel bracelet with a deployment clasp while Seiko SNE102 has a croco-embossed leather band with buckle closure.
Also, the difference is in the dial Siko SNE098 has a sunray dial while SNE102 has a normal dark blue dial with baton markers. Seiko SNE102 has the same two tone color combination on the case. As per the price Seiko SNE102 is slightly lower than Seiko SNE098.
Seiko SNE098 Manual:
I have tried answering almost all the questions regarding Seiko SNE098 If you have any questions that are not covered in this review you can refer this manual. Please check it here: Manual
Conclusion/ Is Seiko SNE098 Worth Buying?
Definitely yes, the Seiko SNE098 is really worth your money. This is one of the great watches out of the collection of Seiko solar watches.
First of all the price is comparatively low than other solar watches in the market. The features are top-notch like overcharging prevention function and energy depletion forewarning function.
The quality of the material used is beyond the expectation, the watch feels very solid. Last but not least it looks like a very expensive watch while it is very affordable. So if you are making up your mind to buy your first solar watch, this can be the best watch for you.
Other Trending Articles: