Are Rotary Watches Any Good?
Yes, Rotary Watches are really good. It is an award-winning worldwide brand of classic timepieces. It was founded in 1895 by Moise Dreyfuss. The Rotary Watches was elected as a superbrand of the UK in 2006. Rotary has been one of the most respected watch brands that will never disappoint you on the quality scale and serves a good value for money.
Rotary is not a luxury watch brand like Omega, TAG Heuer, Cartier but you can not underestimate the respect which this brand has earned from several years for their good quality Swiss watches which are worth buying.
The manufacturing of Rotary watches is done in Switzerland. They are not as expensive as other luxury watches. This brand is making classic Swiss timepieces at affordable prices which range between £100-£300.
There are also some Rotary Watches that are made in Japan and China which use Japanese or Chinese movements. In this list, we are only recommending their Swiss watches which I found best at affordable prices.
Rotary Watches Review– Are They Worth Buying?
There are many watch brands in the market that claim for good quality watches. Then why you should buy Rotary Watches? Let us answer your question.
The reason behind the success of Rotary watches is the innovation and uniqueness. In 2021 they are carefully blending the 'old with the new' and the 'contemporary with the classic', to achieve a very unique range of modern and affordable stylish timepieces. Which are also being very popular in 2021. The Rotary Watches are now sold in more than sixty-five countries throughout the world.
Are Rotary Watches Worth Anything?
When a product satisfies the customer in every aspect then it is called a value for money product. As we mentioned before that this brand is awarded as the superbrand of watches in the UK. Then there is no doubt that it is producing great quality watches.
It is not a new brand that needs a lot of marketing efforts to sell its watches. The great heritage itself tells the brand value and the brand respect among the people.
In 2021 they have come up with some unique watches which are attracting customers. In these unique watches, they have blended the old style with the modern touch. These designs are really enticing and eye-catching.
You can also read: 4 Best Timex Solar Watches of 2021-[Under $50 Only]
Are Rotary Watches Swiss Made?
A watch is qualified as "Swiss Made", if 50% of the value of all parts, and its movement must have been made in Switzerland. The Rotary watches qualify for all the "Swiss Made Standards", because they are assembled, adjusted, and get through all the official tests in Switzerland.
Do all Rotary watches have a lifetime guarantee?
No, some Rotary watches have a lifetime guarantee and some watches come with a 2-year guarantee. Wherein any damage done by the customer to the watch will not be covered in the guarantee. They recommend servicing the watch after every 2 years to ensure that the longevity of your watch can be maintained. Read full terms and conditions here T&C.
Are all Rotary Watches Waterproof?
All the rotary watches come with a "Dolphin Standard" which means the watches have been made in such a way that makes them suitable for swimming, shallow diving, yachting, showering, and various water sports but not for scuba diving. With the trust of "Dolphin Standard", you can swim with your watch all day without fear of getting damaged.
Rotary Watch Movements
There are two types of watches made by Rotary. First is those which have ETA and Sellita SW200 movements which are very quality movements and made in Switzerland. Another is Japanese movements which also hold good quality and accuracy. The prices of ETA movement watches are comparatively higher than Japanese movements.
You can also read: Vincero Watches Good or Bad? Reality Exposed 2021
9 Best Swiss Made Affordable Rotary Watches UK
Now you know a lot about the Rotary Watches brand, let's see some of the best UK Rotary Watches that are becoming more popular in 2021 because of their unique design, quality, and price.
1. Men's Rotary Mecanique Skeleton Automatic Watch UK GB05032/06
[wptb id=1535]
This is an amazing watch by Rotary. It is a self-winding watch. This automatic watch harnesses energy through the natural motion of the wearer's wrist.
In 2021 such automatic watches are very popular because the user doesn't have to worry about winding the watch daily to ensure constant operation.
This analog watch has a skeleton dial. All the moving parts are visible through the front of the dial. This kind of design is usually seen in the high price luxury mechanical watches. The movement in such watches is transparent so you can see the inner workings of the watch.
The overall design is very nice and eye catching. The material used in this watch is high quality stainless steel and silver metal bracelet.
The beautiful white dial comes with a 27mm case diameter. And it has very elegant blue hour markers and blue hands. The quality of the metal bracelet is premium but can not be adjusted as if you want to shorten the bracelet, you will need to remove some of the links.
It is a dolphin standard watch so completely waterproof (except scuba diving).
2. Rotary Aquaspeed men's watch UK AGB00293/04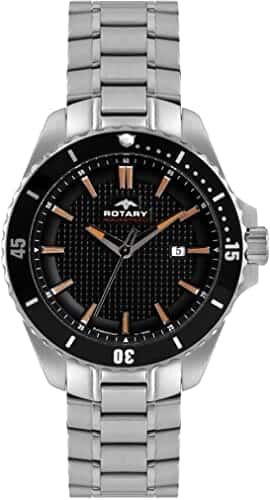 [wptb id=1536]
The Aquaspeed Rotary Watches are in trend among men in 2021. The reason behind this is their very unique and expensive design but at an affordable price.
When you will look at the design you will fall in love with it. It has a very unique chunky dial with a 12mm depth and 45mm width of the case and 30mm face. Including a large beautiful silver crown on the side of the dial. The weight of the watch is 150grams, seems to be heavy for small wrists but will look very decent on medium and big wrists.
The black dial has a white textured background and a beautiful logo of Rotary Aquaspeed. The hour markers and hands have orange-lime color that looks amazingly unique and expensive color combination.
The stainless steel bracelet has a very charming two-tone look and has a highly polished finish. For proper adjustments, the links can be removed by a professional.
The watch comes with complete water resistance only not recommended for scuba diving. Also, it has 2 years guarantee. The watch will match your professional as well as casual attire perfectly. It is an ideal gift for a man.
3. Rotary Men's Automatic Swiss Made Watch UK GS90185/03
[wptb id=1537]
The word "Swiss Made", itself justifies the quality of the watch. Because a watch has to go through many quality parameters and quality tests to be called Swiss Made. This is an affordable Swiss Made Watch.
A very high-end Swiss-made automatic movement Sellita SW200 is used in this watch. This movement is usually used in top-notch luxury watches. The watch is very accurate around 6 secs per day.
The dial comes with a 40mm case diameter. Double domed sapphire glass is used in the dial. The advantage of this glass is that it does not create distortion. And the best thing is, it gives a sharp look to the watch. Such material is used in very expensive watches. Also, black Arabic numerals look very elegant on the yellow dial. The readability is very nice.
The brown leather strap is very comfortable and soft. The watch comes with a lifetime guarantee. Also, it is dolphin standard so it provides a complete water resistance except scuba diving.
The best thing is it is an affordable Swiss Made Watch. This is the reason this watch has got great popularity in 2021.
4. Rotary Men's Swiss Made Quartz Watch UK GS90130/05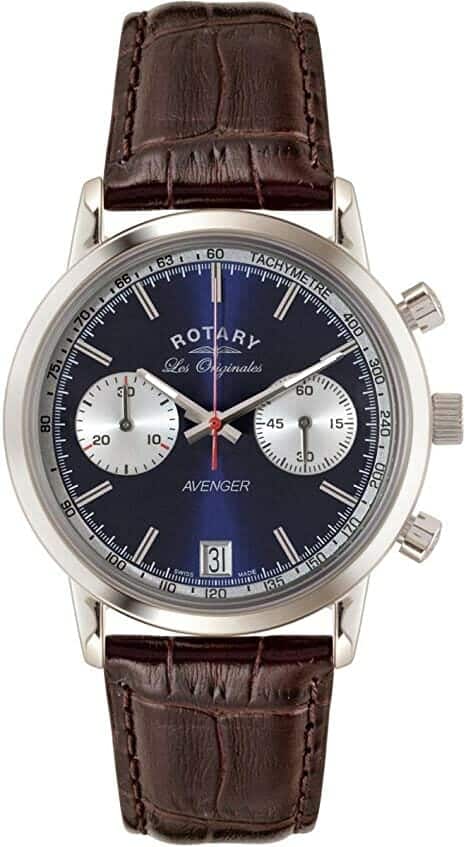 [wptb id=1538]
It is a 60s style chronograph watch. This is again a Swiss Made Timepiece with elegant looks. This watch is becoming very popular in 2021 because of its high quality, premium looks, and affordable price.
As we mentioned before all the Swiss-made watches go through various quality checks and then they are tagged as "Swiss Made". This watch also qualifies for various quality tests and stands best on all the required parameters.
The blue dial watches are also very popular these days and this watch comes with a blue dial and a 40mm case diameter. The domed sapphire glass is used in the dial which gives the watch a very sharp look. Also, domed sapphire glass makes the dial cleaner, readable, and visible from all angles.
The blue and silver combination of the dial looks very eye-catching and attractive. Also, there are two Chrono sub-dials are there in the watch which works perfectly fine. A very high-quality Swiss quartz movement has been used in this watch.
The leather strap also hold great quality and comfort which you can feel on your wrist. Also the watch comes with dolphin standard which means its a completely water proof watch but not recommended for scuba diving.
The overall design, quality, and looks are great according to the price. The watch is the best value for money and can be an ideal gift.
5. Rotary Men's Swiss Made Quartz Watch UK GS90053/02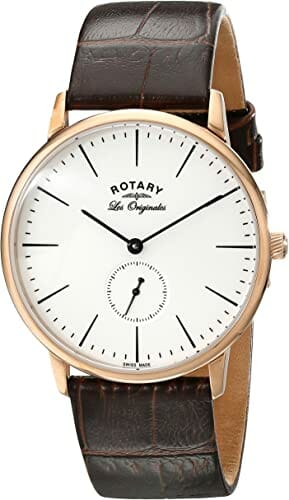 [wptb id=1539]
This Swiss-made timepiece from Rotary comes with very unique features. This watch has a sunburst effect dial, this feature gives this watch beautiful transition colors once it is hit by the sun. The burst of color looks amazing.
Also this watch has a round hypoallergic and tarnish resistant stainless steel 38mm case. In this watch a high quality croc effect leather strap is given. It looks like a genuine reptile skin. The leather strap looks very expensive and premium.
The silver sunburst dial with slim roman numerals and rose gold PVD coating on the case looks amazing. The PVD coating is really safe for skin and there are no harsh chemicals used in it. This kind of coating is usually seen in high-end luxury watches. Also, a scratch-resistant sapphire crystal lens is there which protects the dial very well.
The watch is not completely water resistant. It is suitable for swimming and casual diving, although it is not intended to be used for deep sea diving. This watch comes with lifetime guarantee.
Overall design of the watch is very unique and eye catching. Also, the quality is just beyond the expectation. This watch comes at a surprising price. We can say it is a best value for money product.
6. Rotary Men's Swiss Made Quartz Dial Analogue Display Watch UK GS08000 02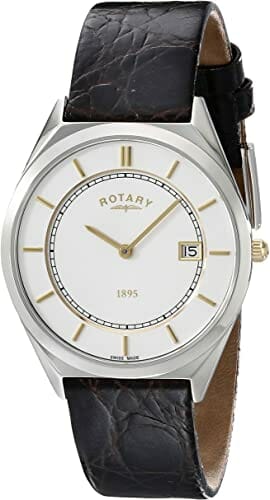 [wptb id=1540]
This is the lowest price "Swiss Made" watch by Rotary. But the quality and style are beyond the expectation. The watch comes with a clean white dial with golden hour markers and hands. The clean white dial is super easy to read and looks simply elegant.
The dial is protected with sapphire glass which is highly scratch resistant and keep your dial clean and smooth in the long run.
The black leather strap also holds great quality and comfort. The watch is surprisingly slim and lightweight. It will look good on small wrists. The watch is not too large but also not a child-size. It is best for occasional and professional use.
The water resistance capacity is up to 165feet. Suitable for swimming, bathing, water sports but not recommended for scuba diving. A high-quality Swiss Quartz movement is used in this watch which gives the best accuracy.
Overall the design, looks, and quality is best that is too at very affordable price. This is a very low price Swiss Made watch that is the best value for money.
7. Rotary Men's Swiss Made Quartz Watch with Blue Dial and Black Leather UK GS90085/05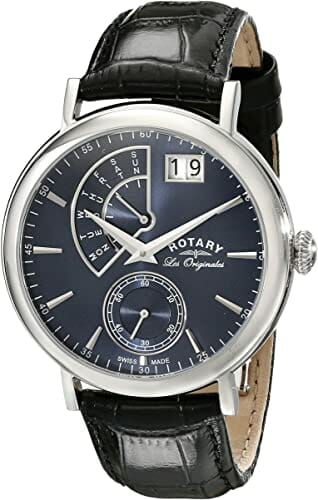 [wptb id=1541]
This Rotary "Swiss Made" watch comes with an elegant blue dial and 40mm stainless steel case diameter. There is a big day and date window and a second sub-dial. The dial has a clean and easy to read design.
As we mentioned before the blue dial watches are also in the trend in 2021. Also the color combination of silver and blue is just amazing and eye-catching. Also, the blue color of the dial is not flashy and looks very rich and luxurious. The dial is protected by a scratch-resistant sapphire crystal lens.
As it is Swiss made so the watch has qualified all the quality checks and tests. There is a 2-year guarantee you are getting in this watch. The watch is waterproof up to 100 meters and suitable for swimming, bathing, casual diving, and all the water sports except deep-sea diving or scuba diving.
The weight of the watch is 150grams a little heavy but it has a good build quality. Also, the leather quality is very premium like expensive watches.
Overall the watch has good stylish looks with the good build quality and it is a value for money watch. This watch will suit your casual as well as your professional attire very well. This watch can be an ideal gift for someone.
8. Rotary Men's Swiss Made Rose Gold Color UK GB90057/06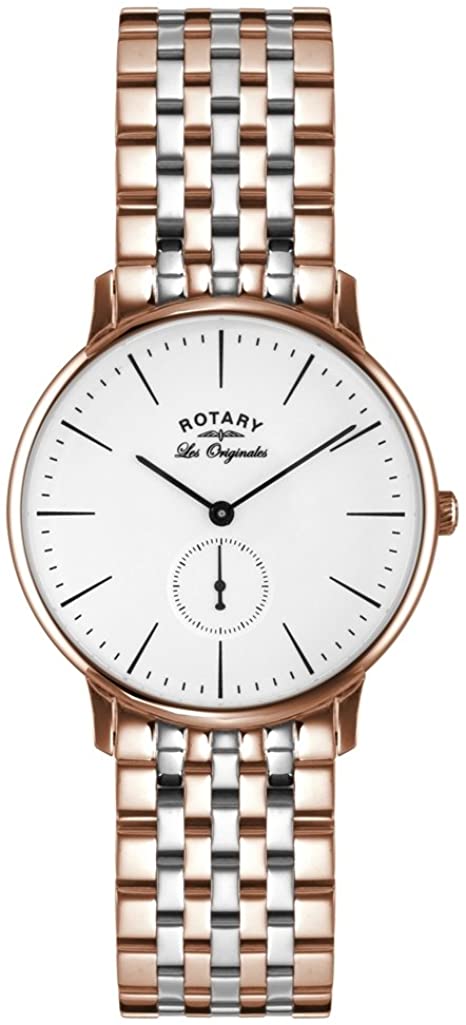 [wptb id=1542]
This watch looks very luxurious and expensive because of its unique color combination. The watch has a clean and easy readable white dial with sleek black hour sticks. The dial looks very sharp and eye-catching.
There is a rose gold 38mm diameter stainless steel case. The color combination of rose gold case and white dial is amazing. There is a Swiss-made domed sapphire glass that protects the watch from scratches.
The bracelet has a very unique zig-zag design, in silver and rose gold color. The band comes with a deployment clasp. The stainless steel band is made of great quality. The overall design of the watch is very luxurious and premium.
A Swiss made Precision Quartz Movement has been used in the watch. Thus it serves best accuracy. The watch comes with Dolphin Standard which means it is a complete waterproof timepiece (except scuba diving).
Overall quality and design is very nice. The watch looks premium and expensive. The price is affordable in compared to other Swiss Made watches. The watch will match your casual as well as professional attire very well and it also can be a good gift for someone.
9. Rotary Men's Analogue Classic Quartz Watch with Leather Strap UK GS02424/21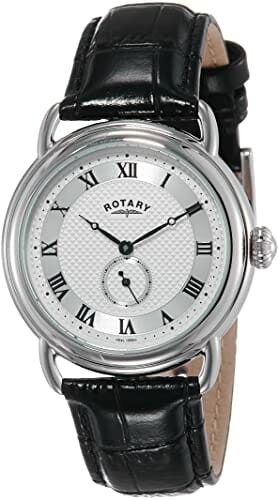 [wptb id=1543]
This watch has an extraordinary design and that too at an affordable price. The watch has a Clous De Paris dial. According to the Fondation de la Haute Horlogerie, Clous de Paris is a "guilloché pattern on the dial of hollowed lines that intersect to form tiny pyramidal shapes. This is a very unique dial design.
The dial has Breguet style hands which also known as "Pomme hands" This kind of hands was designed by the master watchmaker as a way of making it easier for the wearer to tell the time. They look aesthetically beautiful.
The dial has beautiful roman numerals which gives a very sharp look to the watch. The stainless steel watch case comes with 7.6mm depth and 38mm width.
The watch looks very traditional. It is not very big watch. The watch gives you a vintage feel at an affordable price. The leather straps are made of good quality also very light and comfortable.
This watch comes with 50meters water resistance capacity. It is not a dolphin standard watch and not recommended for swimming, bathing or water sports.
This watch has a great following and becomes very popular in 2021 due to its uniqueness. There are many ratings and reviews on Amazon which appreciate the watch.
Conclusion
I think if you want the best quality watch at an affordable price then rotary can be a good option. It is much better than those fashion watches that have poor quality but big advertisement budgets to fool people.
Rotary watches qualify all the Swiss Standards and provide you best hand-assembled Swiss movements that offer amazing accuracy. Also, the internal mechanism of metal gears is far better than any quartz watch. The sapphire glass protects your watch from scratches and keeps the dial clean and beautiful in the long run.
After researching all the UK rotary watches, we have shared 9 such watches with you according to our expertise, which is not only good in quality and price but also looks very expensive and gives a premium feel on your wrist.
I hope you liked this article and if you like it, please your valuable feedback in the comments. Also, share the article so that it can help more and more watch lovers.
Thank you.
Check These Trending Articles: