Vincero Watches Good or Bad?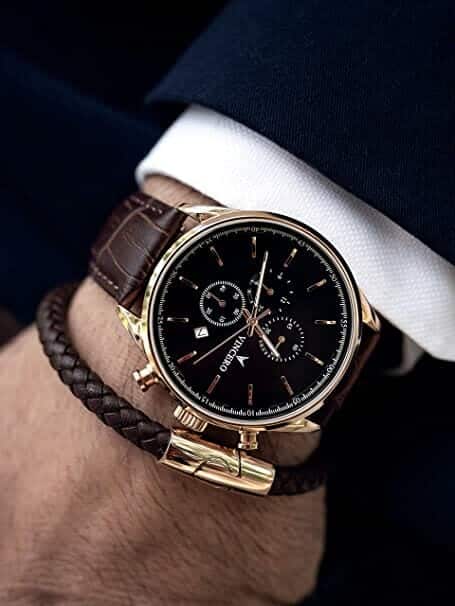 Are Vincero's watches really good or bad? People will definitely ask this question about the brand which becomes famous overnight.
Today, everyone wants that they should have a luxurious-looking watch but not every person can afford that. With this USP, the brand laid its foundation.
Vincero claims that it offers watches that not only look luxurious but also hold excellent craftmanship that too at a very affordable price. This claim was impossible to digest.
When my eagerness was at its peak, I started investigating the reality of this brand and thought of exposing it to my readers.
During my investigation, I like to believe in facts rather than what people say. Because facts never lie.
So I will share with you all the facts that I found about Vincero watches and tell you whether it is worth buying or not.
Vincero Watches Review
A Genuine Review is one that does not misguide people. And today I will try to give you an accurate conclusion after brainstorming all the facts.
Today on the basis of below 5 points we will determine whether Vincero watches are good or bad or average? And in the conclusion, I will share with you the final thoughts about Vincero watches.
Quality parameters of the best quality watch.
Vincero Vs Other Brands.
Warranty & Guarantee.
Vincero's Customer Service.
Vincero Pros & Cons.
Quality of Vincero Watches:
Today, on the basis of the following 7 quality parameters, we will find out whether Vincero is really a good brand or not.
The watch material.
The movement it is using.
The type of glass that it uses.
The strap quality & Comfort.
The Battery Quality.
Water Resistance.
Craftmanship, Looks & Finishing.
1. Vincero Watches Material Quality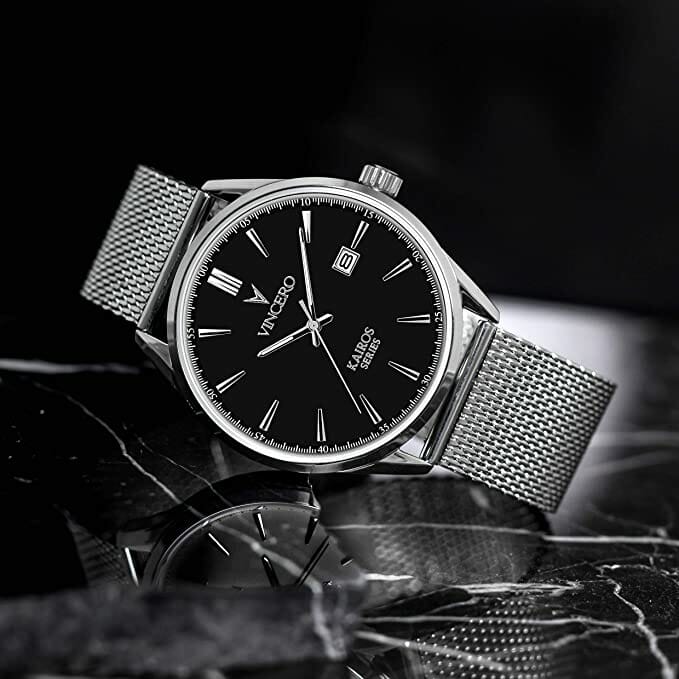 Vincero uses 316L stainless steel in their watches. This material is not only best known for its durability and strength but is also very skin-friendly. But should we consider Vincero to be the best because of just 316L stainless steel?
Not at all, because 316L stainless steel is commonly used in the price range of £130-£200. The big brands like Seiko and Citizen offer you ample verities with 316L stainless steel in this price range.
So on the basis of material, we cannot consider Vincero as an unique or exceptional brand.
Yes, if they would have used Titanium, we could have said that this brand is offering something better at an affordable price.
The Bering Watches offer titanium as well as sapphire glass at the price under £120 ($100). I found this brand more reliable than Vincero because it is not so easy to give Titanium material at a low price. Secondly, the Arctic-style concept of Bering Watches is very unique and exceptional.
[wptb id=1571]
You can also read: [Bering Watch Review 2021- Is It Worth Buying?]
2. Vincero Watches Movement Quality
A movement is the heart of a watch. The Citizen Miyota quartz movement powers the Vincero watches. Mostly this movement is used by affordable watch brands as they are accurate, reliable, and cost-effective.
But this movement also does not make Vincero a special brand as compared to other brands because this movement is easily found in cheaper watches than Vincero.
Vincero also has automatic movement watches which are far better than their cheap quartz movements. They also do not cost much and offered under £150 only.
Initially, they set the price of automatic movement watches very high but later they reduced it exceptionally. So, compared to their quartz movement watches, the automatic ones offer better value for money though they do not have a chronograph feature.
There is also a brand in the market that offers you Swiss Made Quartz Movement at an affordable price.
If you are looking for a Swiss Made Affordable Watch for yourself, then you can read the review of Rotary Watches. I have shared all the information about this brand in detail.
[wptb id=1572]
You can also read: Are Rotary Watches Any Good? Review of An Affordable Swiss Brand
3. Vincero Watches Glass Quality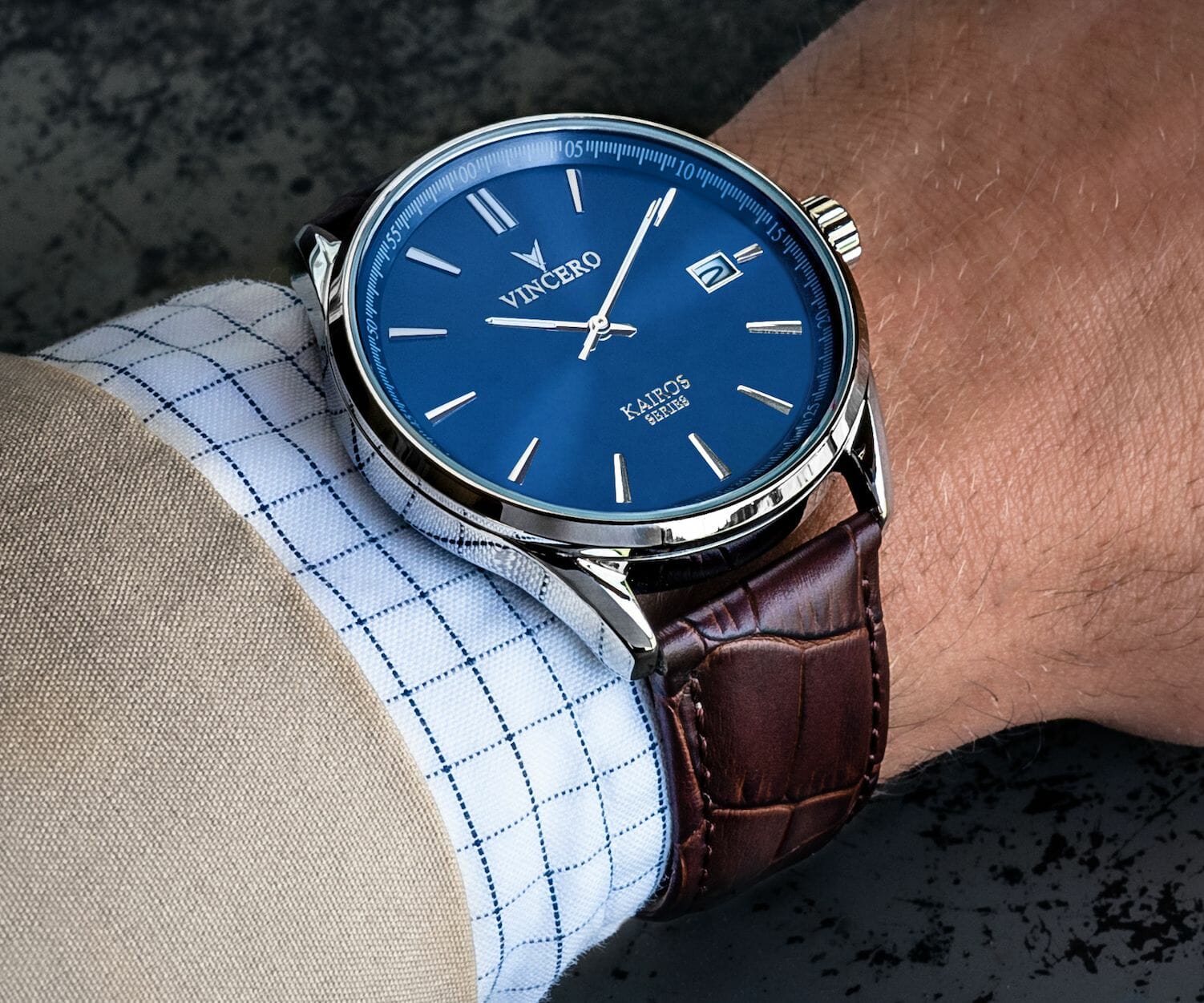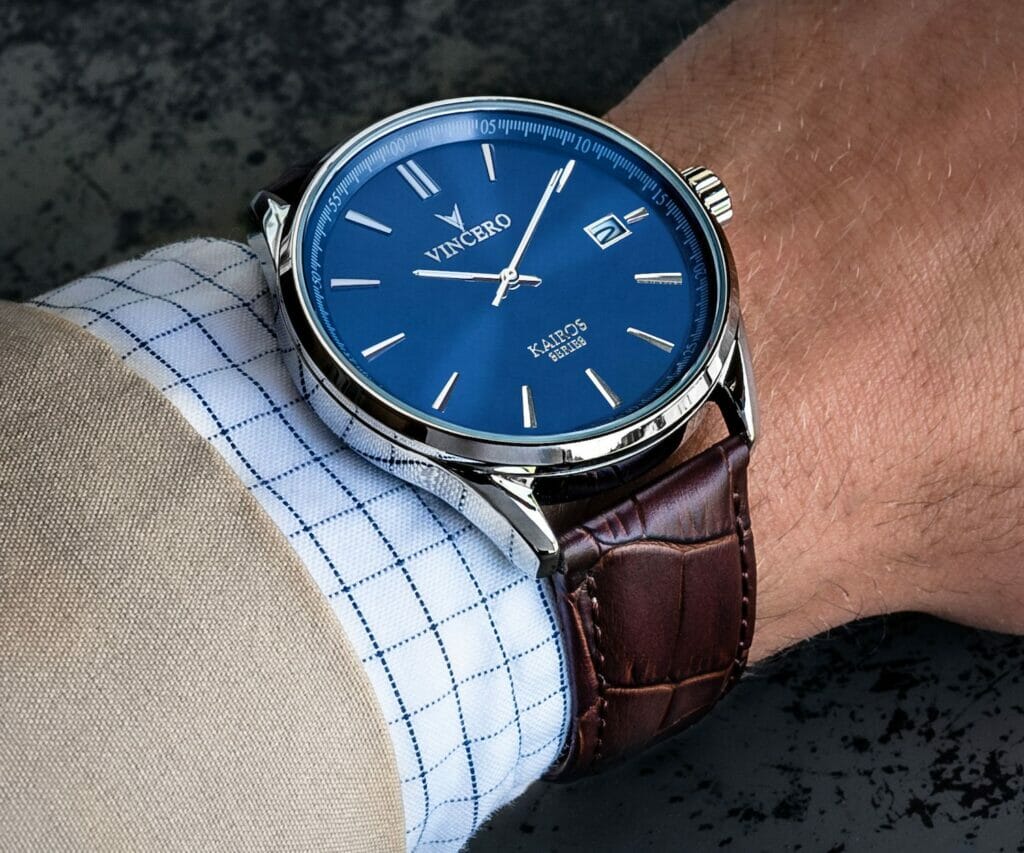 According to me, the glass quality in a daily wear watch matters a lot. Because if it gets scratches within a short period of time, the watch loses its beauty. And then you don't feel like wearing it.
Here too, Vincero has compromised with the quality. While most Watch brands offer sapphire glass for under £150, Vincero has used sapphire coated mineral crystal glass, which is a cheaper alternative to sapphire glass.
Although it is better than a mineral glass of cheap quality, but not as reliable as sapphire glass. And this shows that Vincero's claims to be "exceptionally crafted" is practically pointless.
4. Vincero Strap Quality & Comfort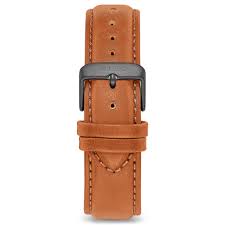 Vincero has not compromised at the comfort level. It uses the top grain Italian leather made from calfskin. This leather is very premium and comparatively, holds better quality than genuine leather.
The use of top-grain leather at a low price is highly commendable. Here we can say that Vincero has done something new and done better than other brands.
Vincero has used 316L in stainless steel bands, which is also good but we will suggest you go with Leather watches which serve better value for money.
If you want to go with the stainless steel watches of Vincero, then I would like to suggest you go with a mesh band stainless steel watch, it is very unique and stylish in appearance also the quality of steel is better.
5. Vincero Battery Quality
Vincero uses three types of batteries in their watches. The first is the SR927W battery, the second is the 394SR936sw battery, and the third one SR621SW battery. These batteries are used according to their different models.
All three batteries hold good quality and long life. Mostly the average replacement duration is 2-3 years. Also, the replacements are easily available on amazon.
If you do not like replacing the batteries again and again then I have reviewed some best solar-powered watches for you that belong to the big solar watch manufacturers like Seiko, Casio, and my favourite Citizen.
I analyzed Vincero based on the 5 important parameters. Now it will be very easy for you to decide whether you should invest in them or not.
If I were in your place, investing in the Vincero Leather Watches would have been a smart decision for me. Because of top grain leather quality at a low price. A top grain leather feels awesome on the skin and looks more premium than affordable genuine leather watches.
Vincero Water Resistance:
Vincero Watches provides water resistance up to 3-5 ATM. Or it would be more correct to say that most of the watches have water resistance up to 3ATM only. These watches are only splash-proof not completely waterproof. You can wash your hands by wearing them, but you cannot take shower or swim with them.
Even in the case of water resistance, there is no specific Dominance of Vincero, if you explore a little, then you will find many such brands that offer water resistance up to 10ATM at a very cheap price.
Vincero Craftmanship, Look & Feel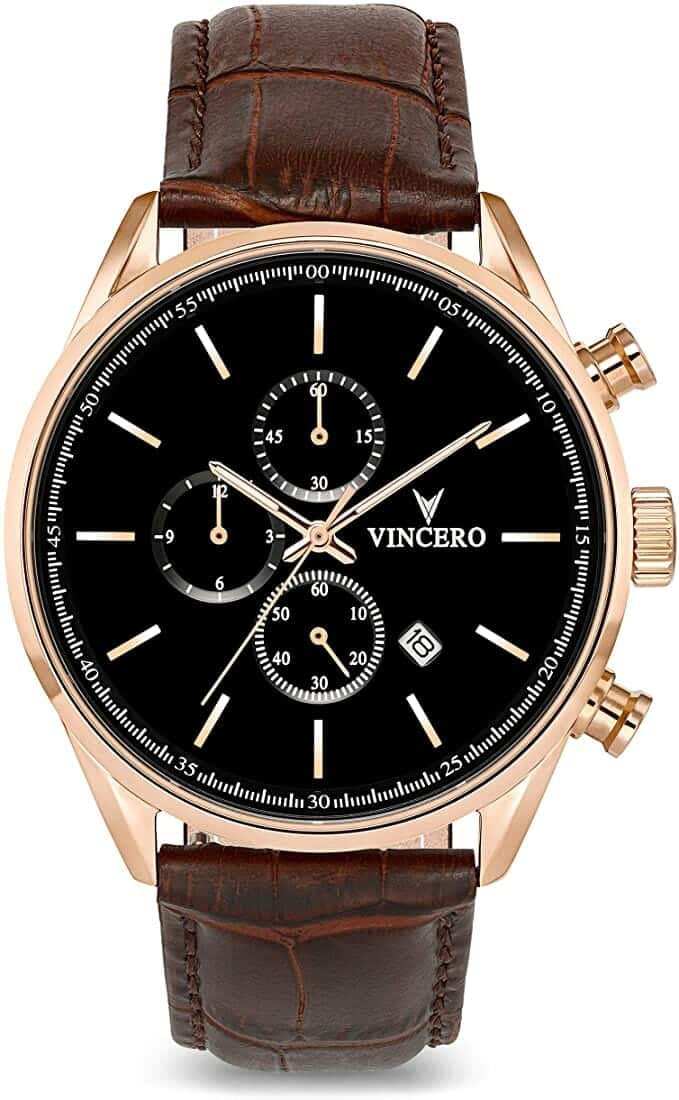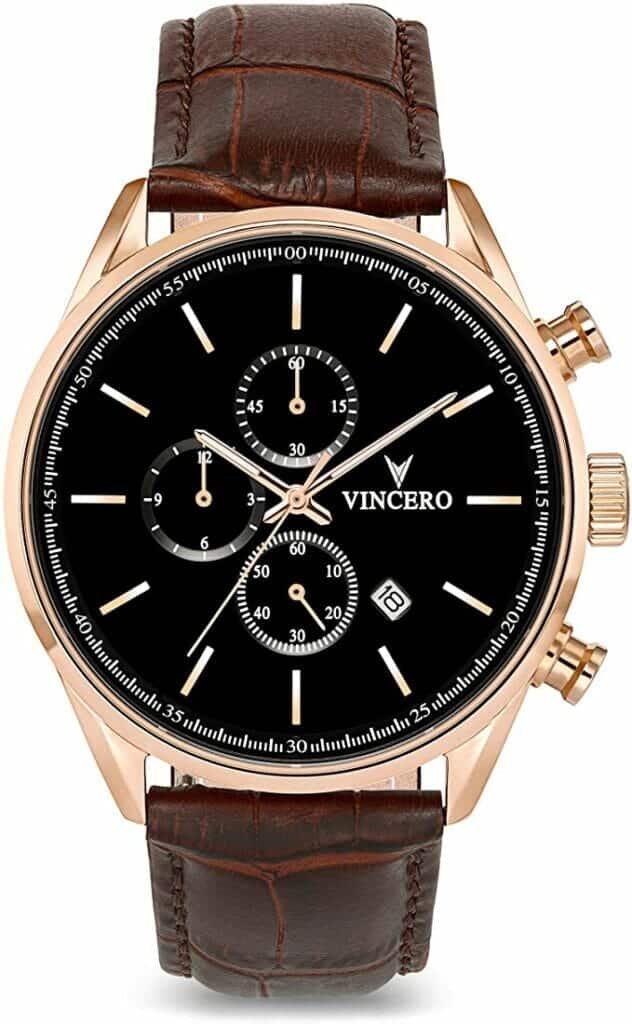 If I talk about the Chrono S series, I found them below average. The hands and hour markers on the dial are not vibrant at all Also, despite having a 43mm case, the chronograph subdials seem to be sticking together a lot. The readability is average on the dial.
The Watch's A and B chronograph buttons are quite larger than enough, with a big watch dial, such a design makes the watch look very odd, which will not look good on small or even medium wrists size.
The rest of the cuts and finishing is OK. The feel on the wrist is good enough because of 316L stainless steel or top grain leather.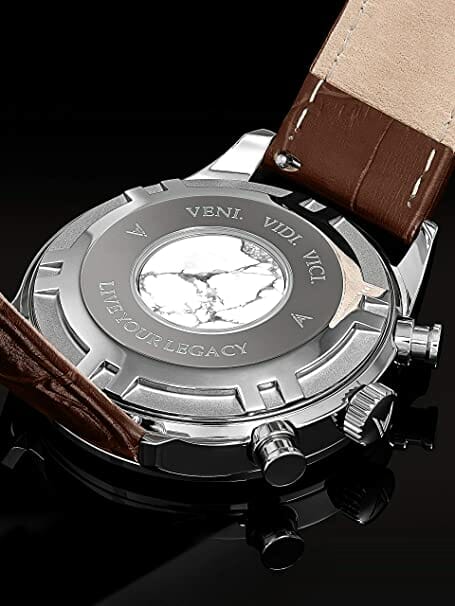 Vincero has given an Italian marble just on the back of the case, they say it stands for uniqueness. I believe they have done this just to add some weight to the watch as it is not visible to anyone so it can give a unique look to the watch?
Using such marble in a watch is very much a wasteful experiment because it does not give the watch a perfectly balanced weight. It puts all the weight on the dial case and that makes it discomforting to the wrist.
[wptb id=1582]
The Craftmanship of Vincero Kairos and Bellwether seems nearly perfect. Both the models have good readability with proper colour contrast and also the chronograph buttons seem to have in perfect position. But according to the mechanism quality, they are overpriced.
Vincero Vs Other Watch Brands:
I only liked the use of top-grain leather in the Vincero Watches, rest of the material quality is average. Compared to Vincero, there are other brands that are making better quality watches than Vincero at the same price.
Vincero Vs Rotary
I liked the quality of Rotary watches more than the Vincero. Rotary has been awarded as a super-watch brand in the UK. The best thing is that Rotary Watches are Swiss Made and available at an Affordable Price that starts from $130.
The price is almost the same for both brands. Rotary uses the expensive Swiss movement, and Vincero uses a cheap Japanese quartz movement.
Where you get double domed sapphire glass protection in rotary watches, Vincero uses sapphire-coated crystal glass which is not as protective as sapphire glass.
A watch is called Swiss Made when it successfully completes several quality checks. So I found it more reliable and better value for money than Vincero at the same price.
[wptb id=1561]
Vincero Vs Bering
Vincero and Bering have had about the same time in the watch industry. And the popularity of both brands is good. Both brands are also manufactured in China. But I also prefer Bering over Vincero and there is a reason behind it.
Although both the brands have a lot in common, Bering still dominates Vincero on the basis of material type. Bering uses high-quality Titanium, Ceramic, and Sapphire glass in their watches.
And the best USP is they are super slim as well as they have a very unique Arctic style design. The cost of Bering watches is also under $120 only.
[wptb id=1564]
Soon I will bring a detailed comparison review of Vincero with other popular brands and we will talk in detail on every aspect of it.
Vincero Warranty & Guarantee
Warranty or Guarantee shows the trust of any brand in its product. The best thing about Vincero is that if you are not 100% satisfied with your purchase then you can return it for a refund anytime within 365 days that is too without any processing fee.
Returns received more than one year after the purchase date will be refunded with a Vincero merchandise credit.
Vincero gave a time period of 365 days, but also put a condition behind it that the item you will return should be in new, unused and re-sellable condition.
Now I do not understand that until someone uses the product, then how will he know whether the product is 100% satisfying or not. Then the 365-day time window made no sense.
Vincero's Customer Service
After-sell service is something that really reflects the goodwill of a brand. Brands that have good customer relationships survive the longest.
In the case of Vincero, I have seen people complaining about their bad customer service. They do not respond to emails or calls after selling the products.
So, this behaviour really damages the image of a brand no matter how good its products are but a brand must stand with its customer as longest as possible.
Vincero Pros & Cons
After a thorough explanation about Vincero watches good or bad? It's time to summarize it under the pros and cons.
Pros
The Top Grain Leather at Affordable Price.
316L stainless steel material.
Automatic Quartz Movement works well.
Feel and Comfort is nice on the wrist.
Readability is good in Kairos & Bellwether models.
Looks Descent.
365 days return and refund policy.
Cons:
An overpriced watch brand.
No sapphire glass for better protection.
Only 3ATM water resistance in most of the models.
After-sale customer service is not up to the mark.
A cheap Japanese quartz movement is used in most of the models (automatic movement models are good)
The hands do not have perfect luminous brightness.
Bad Customer Service.
Conclusion/ An Overpriced Brand:
If I have to sum up this whole explanation in a single sentence. I would say "it is neither good nor bad but have a below-average quality and it is an overpriced brand".
Their automatic movement watches are good but they are also very highly priced so I would not recommend you that. Their Chrono S is also an overpriced watch with poor build quality.
If you really want to invest in Vincero I would suggest you go with either Bellwether or Kairos(for men's). These watches have better quality and price compared to the Vincero Chrono S and other models. For women's The Vincero Eros is a better choice.
I also have suggested other brands like Rotary and Bering. Rotary makes the best Swiss watches that too at an affordable price under $150. Bering gives you titanium and sapphire glass protection at a low price. You can also choose between them.
I hope, now you do not have any doubt that Vincero is good or bad? Please comment below and let me know if you liked the article.
Thank you for reading. 🙂
Other Trending Articles: