Seiko SNE435P1 Watch Review: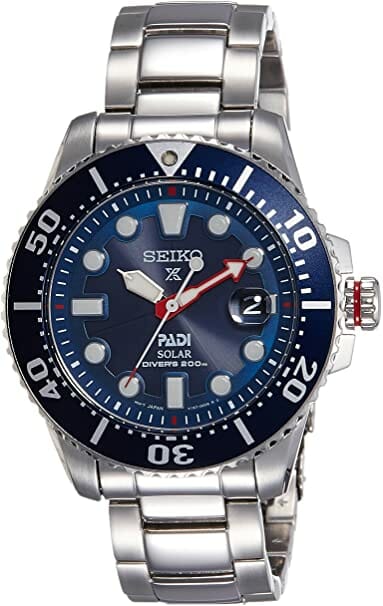 [wptb id=1879]
Today I am going to review Seiko Prospex Padi Solar SNE435P1. A very popular and affordable diver's watch.
But before that let me ask you something.
Have you ever thought why dive watches are always in a public eye?
Do you think everyone uses diver's watches for diving? Absolutely not.
So what is it that makes dive watches so popular?
I call dive watches a humble husband who keeps silent even after enduring everything.
Jokes apart, In simple words, the personality of the dive watches is solid and durable as they are made in such a way that they can withstand any harsh situation (keeping in mind the underwater conditions).
You will find dive watches have a better easy to read design than other normal watches. So that the user can see the time well even underwater.
Along with solid materials, they use the best Lumibrite luminescent technology to tell the time in the darkest underwater conditions. Also, they look very attractive.
These are the three biggest reasons why people prefer a dive watch over a non-dive watch.
And Seiko, is favorite because it is selling good quality affordable dive watches since a long time.
Let's get to the point now.
In this review, I am going to tell you everything that is important for you to know about Seiko Prospex Padi Diver's Solar SNE435P1 Watch.
Seiko SNE435P1 Specifications:
The Seiko Sne435p1 is a PADI (Professional Association of Diving Instructors) certified watch. This watch meets the ISO standards and gives you water resistance up to 200m. If you are a scuba diver, then you can dive with this watch without any fear.
This watch uses Solar Quartz Movement (Caliber V157). Seiko claims that the caliber V157 will maintain an accuracy of +/- 15 seconds per month at normal operating temperatures of about 5C to 35C (41F – 140F).
You do not need to worry about replacing the battery as it is solar-powered with 10 months of huge power reserve capacity.
It comes with a Case size 43 mm x 12 mm and the dial has a magnifying date display. It is protected with Hardlex Mineral Crystal. One way rotating bezel is there for easier reading of elapsed time.
Lumbrite luminescent technology is worth under $300. Its luminous hands and markers look breathtaking on its dark blue dial.
It holds a solid stainless steel case and band that is quite comfortable. The band has a push-button release clasp and a safety Lock Feature.
Let's get a little more immersed inside this review with this beautiful diver watch.
Looks & Quality of Dial: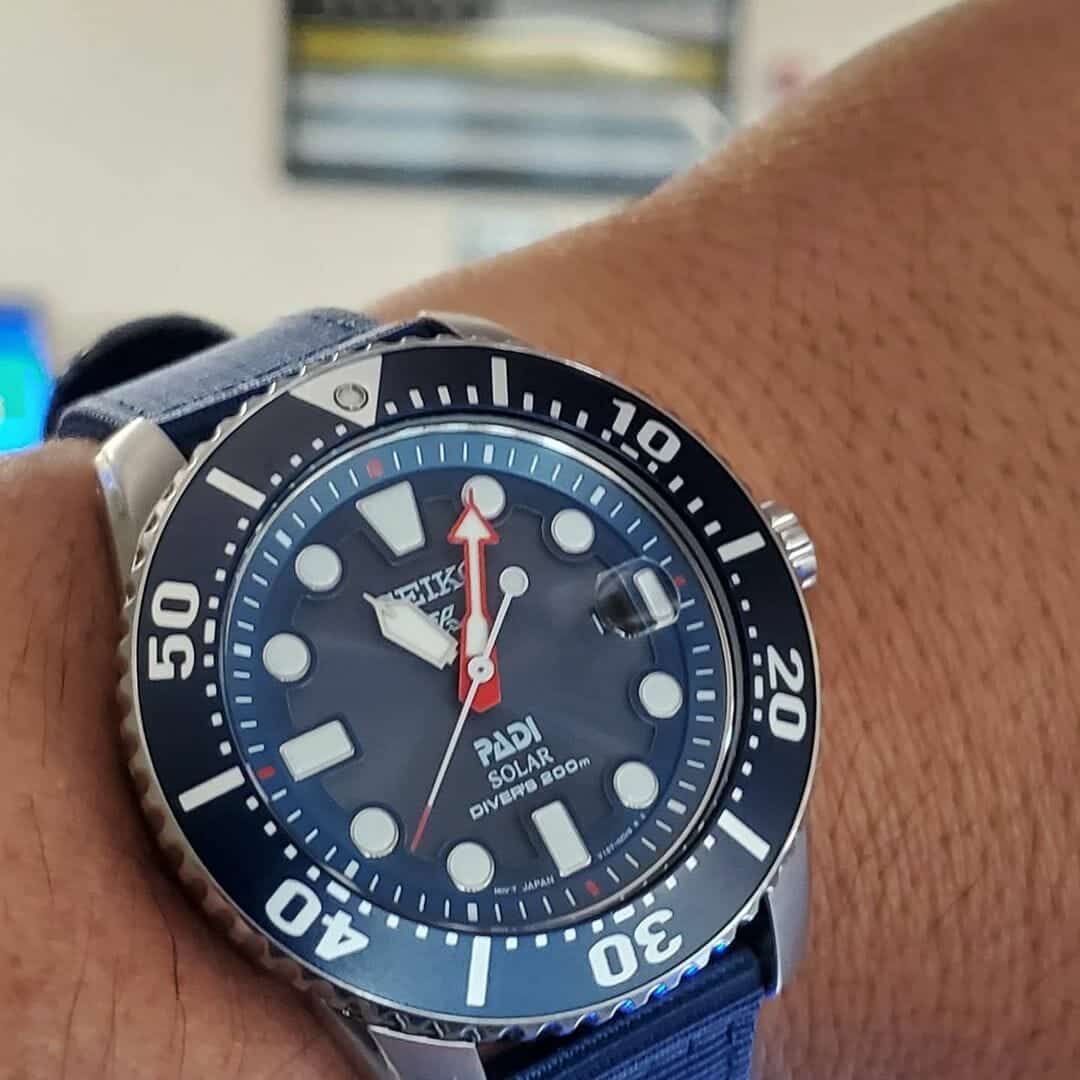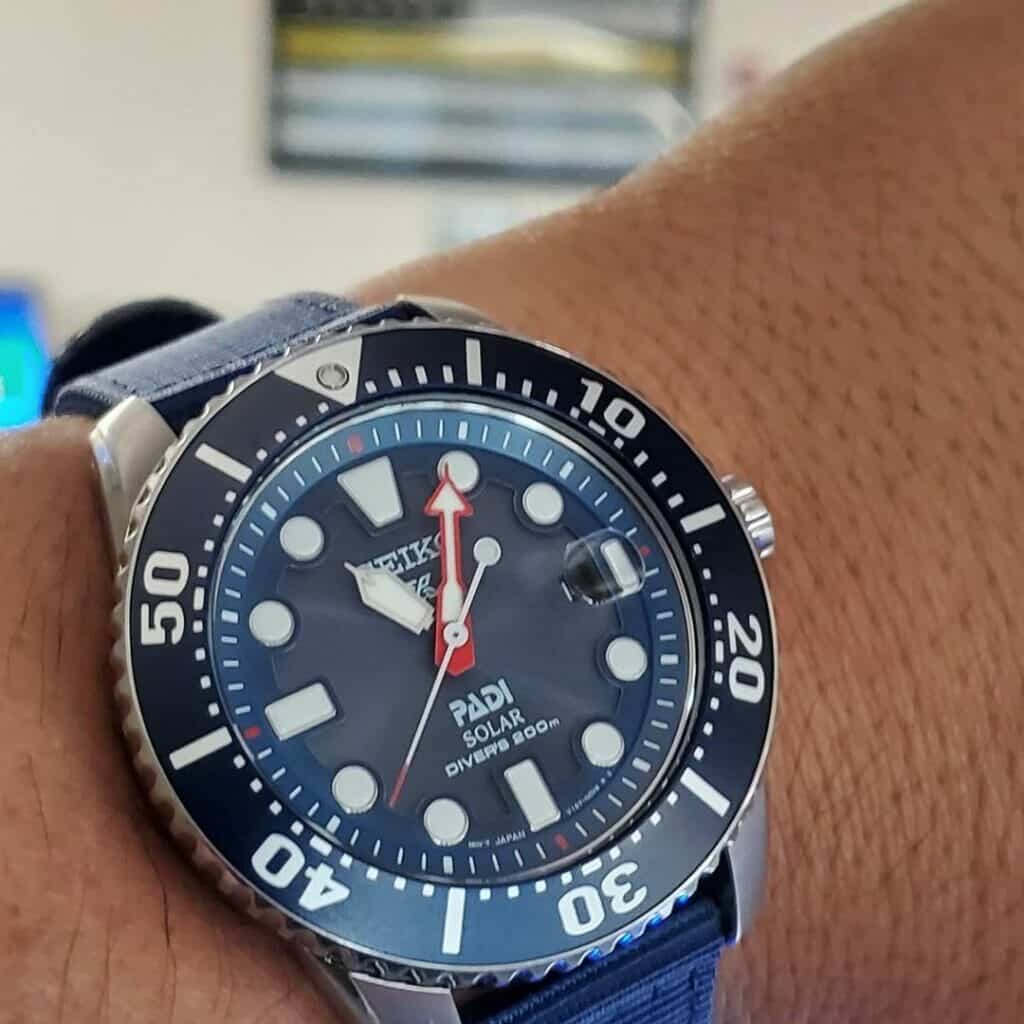 [wptb id=1879]
Let me tell you what I observed in regards to the dial of Seiko SNE435P1.
It has a big bold dial with a 43.5mm case diameter and 12mm thickness. The dial size is a little above standard it is good for a wrist circumference between 7 to 8 inches. Also, the thickness is perfect not like other dive watches that have a heavy and thick case. Check this watch size guide.
The silver markers embossed on its dark blue dial and the red accents on the minute and second hand give the entire dial a very pleasant and deep look.
The entire dial is designed in such a way that it looks super easy to read. Because the numerals and hands are enough large to read it at a glance.
You will see that on its date position, a magnifying glass is given so you can easily read the date. It looks like a beautiful water bubble.
If you notice, you will find that its magnifying glass is covering the number 3 marker a bit, so that the number 3 also appears a bit bigger by coming into its contact. I didn't like this.
The bezel comes with the size of 32mm inner dm, 42 mm outer dm, and 5 mm width. It is made of stainless steel. The smoothness is above average not like other high-end Seiko watches. Sometimes it gets loose when it is wet. However, you won't see any backplay happening. At this price point, it works well.
Hardlex Crystal Mineral Glass: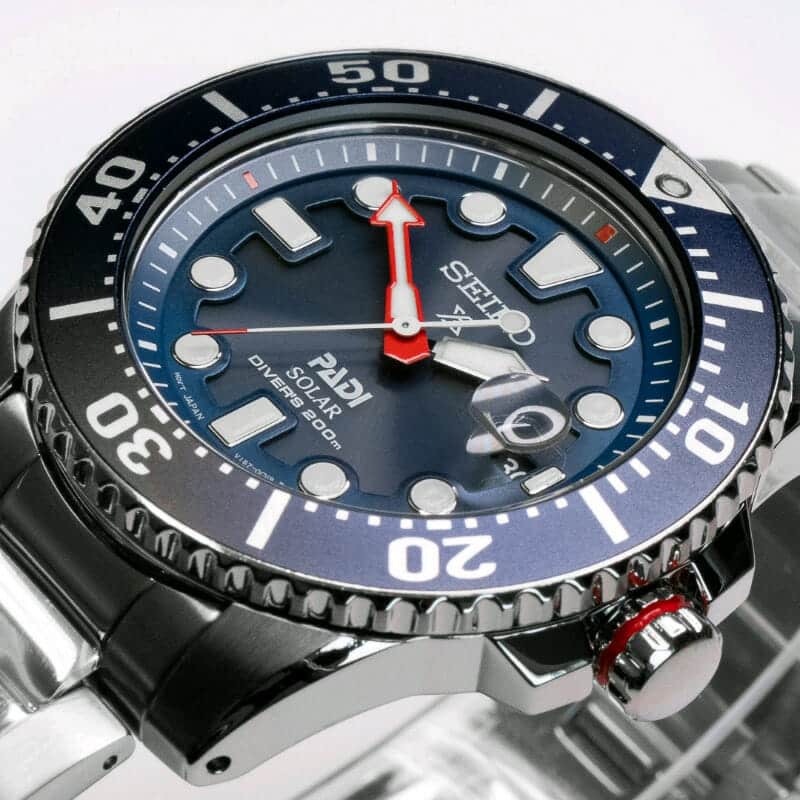 In dive watches a thick watch crystal is used. In Seiko SNE435P1 hardlex mineral crystal is used. This kind of glass is brittle than sapphire but better scratch resistant than acrylic one. It would be good if Seiko had given a sapphire or synthetic sapphire protection. But its fine at this price.
Lets now talk about the dial's lume feature.
Amazing Luminous Technology: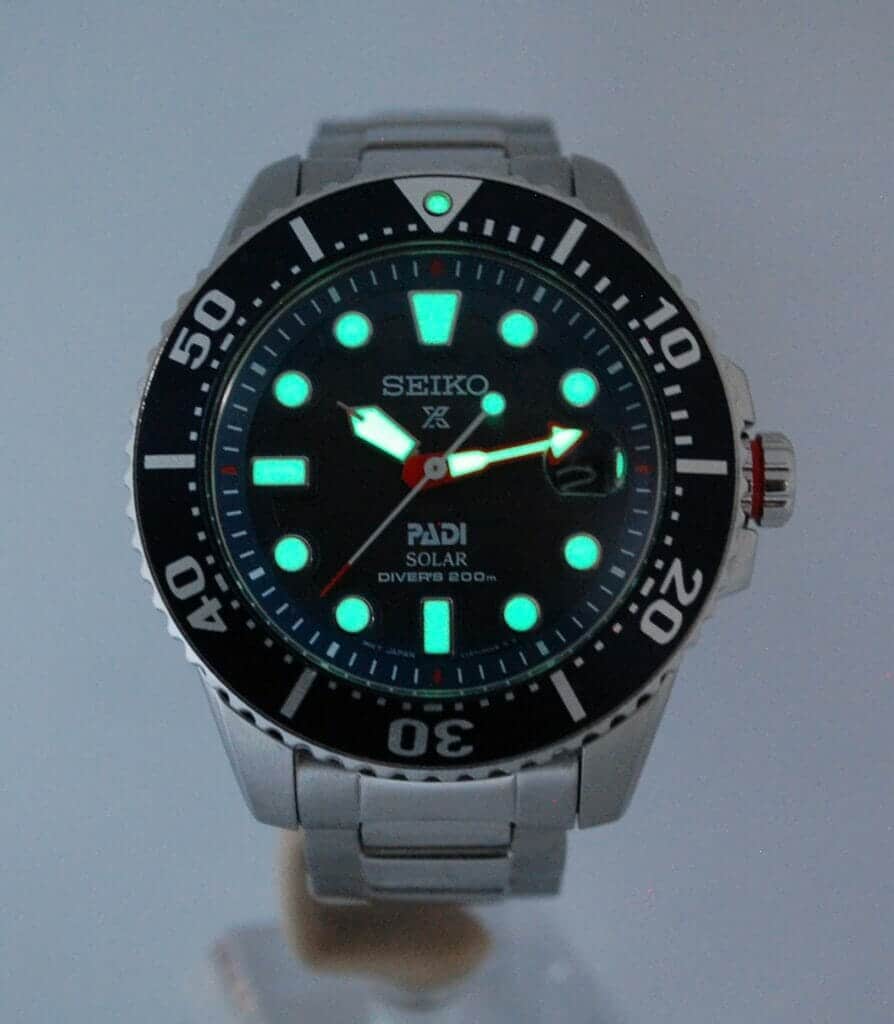 [wptb id=1879]
Seiko's Lumibrate technology is an upgrade to fluorescent technology, I found this amazing because of these three reasons.
It has a longer output duration that is between 3-5 hours in the dark. After that, it gets a little dim still you can read the time in the night.
You just need to expose it to sunlight or artificial light for just 5-10 minutes and then it glows at its full brightness for 3-5 hours nonstop.
It has a stronger glow intensity in the dark than other conventional fluorescent luminous paint. Also, it is free of radioactive substances that make it safe for people and the environment. You can read more about Lumi Brite Technology.
Overall Dial Performance:
What I personally liked about the dial is its easy-to-read design, the lume is at its best, the blue dial is very pleasant and deep, and last but not least the case is perfect not too thick like other dive watches. At the cost of under $300, the dial is just amazing.
The Movement: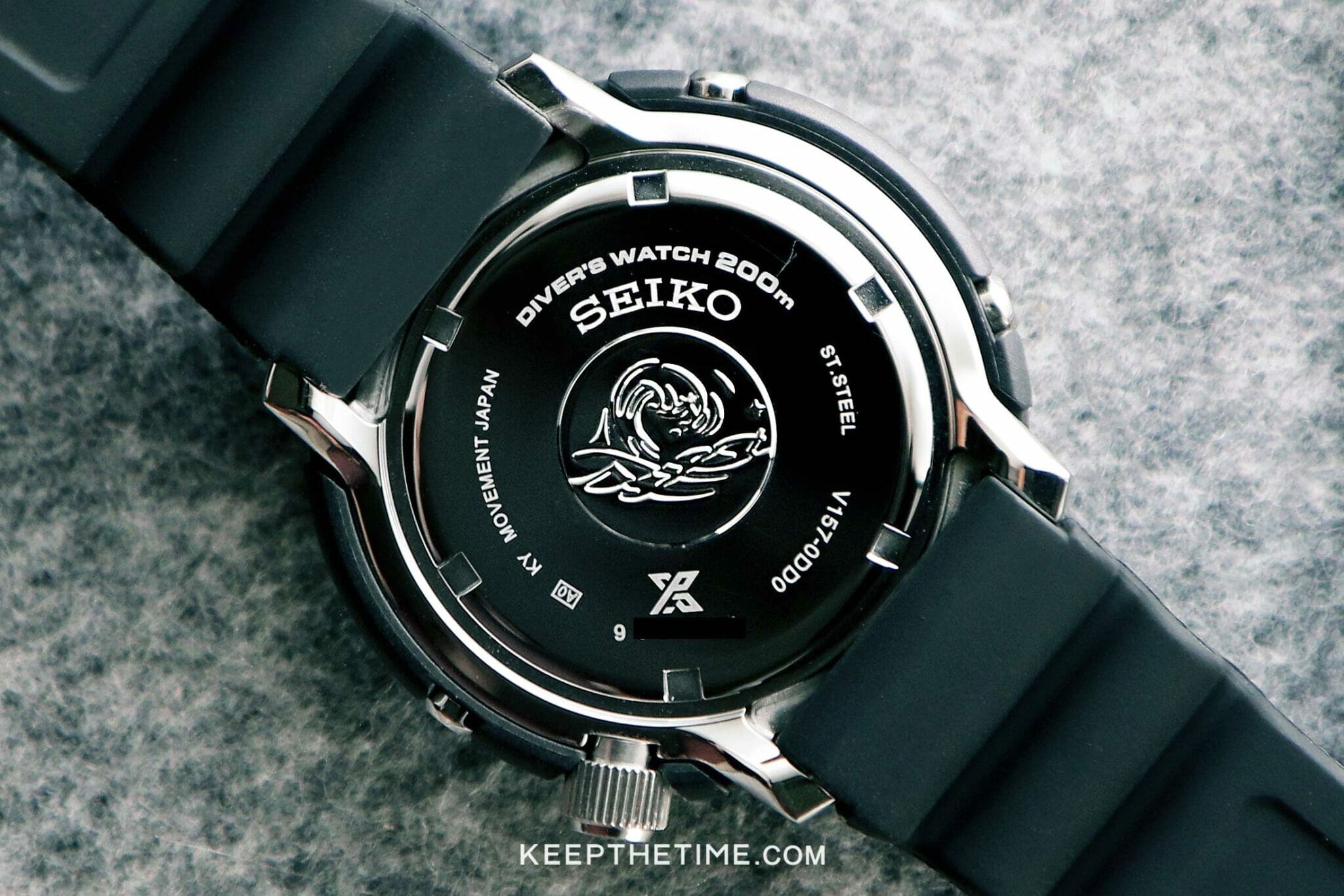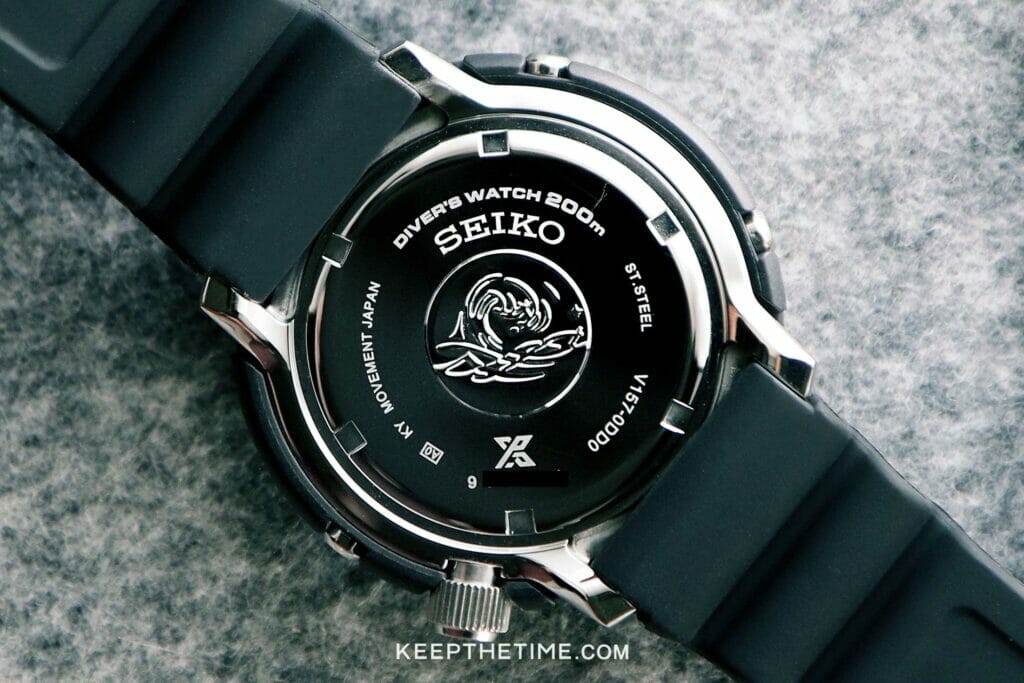 I would have said that this watch doesn't worth $300 if it was just a non-solar quartz watch. But it is a solar quartz watch and you do not have to worry about replacing the battery every year. Also, the accuracy is far better than a mechanical watch.
The Seiko SNE435P1 uses a Japanese Solar Quartz Movement V157 as per Seiko it has an accuracy of +/- 15 seconds per month. This movement has a lot of similarities with the Citizen's Eco-Drive Movement. Both are accurate and smooth.
Now let me tell you how this solar movement works.
The solar movement uses a cell (under the dial) to absorb the sunlight or any artificial light energy. Once it is absorbed, the energy is stored in a rechargeable battery, and then it powers the entire watch with the help of the movement.
Below I have shared a picture that tells you how much time this solar movement takes to recharge your battery according to the weather condition and the expected life per charge from full charge to stoppage.
I hope now you have a clear understanding of the movement of Seiko SNE435P1. Although I had read many reviews on Amazon about its movement, I hardly found 1 or 2 negative reviews out of thousands. We can trust the accuracy of movement. You can also read how to care for a solar watch?
Case & Bracelet: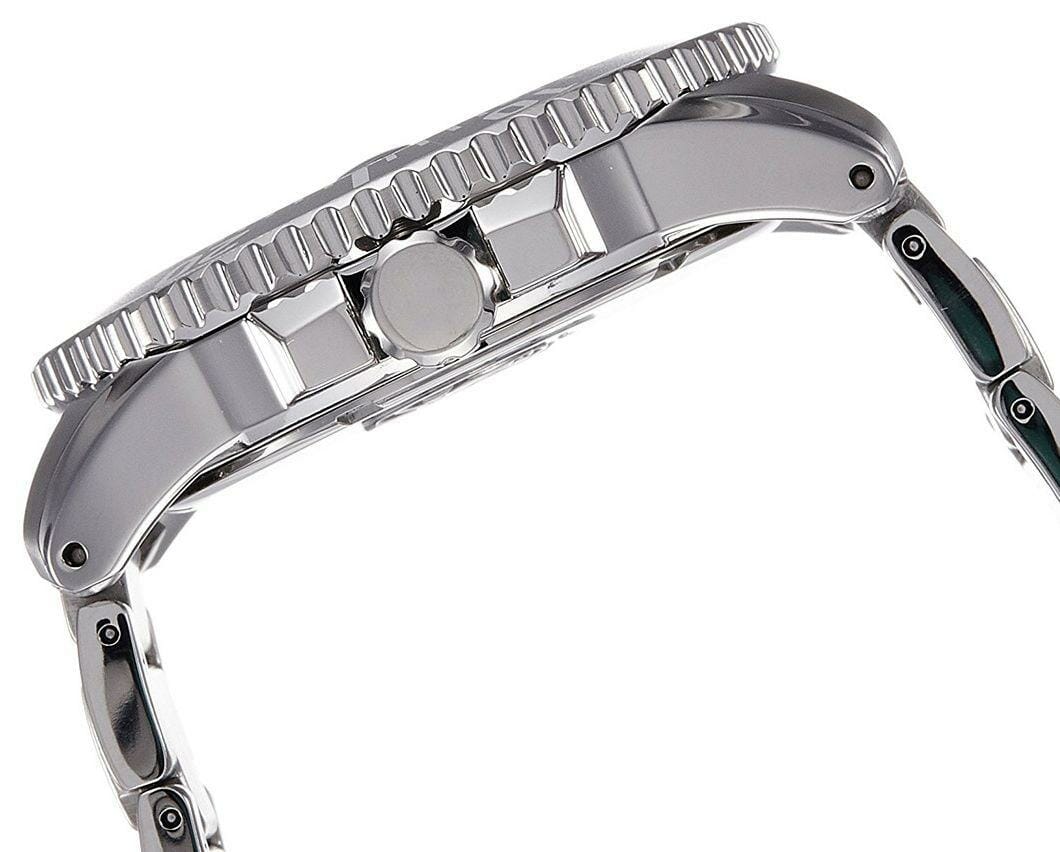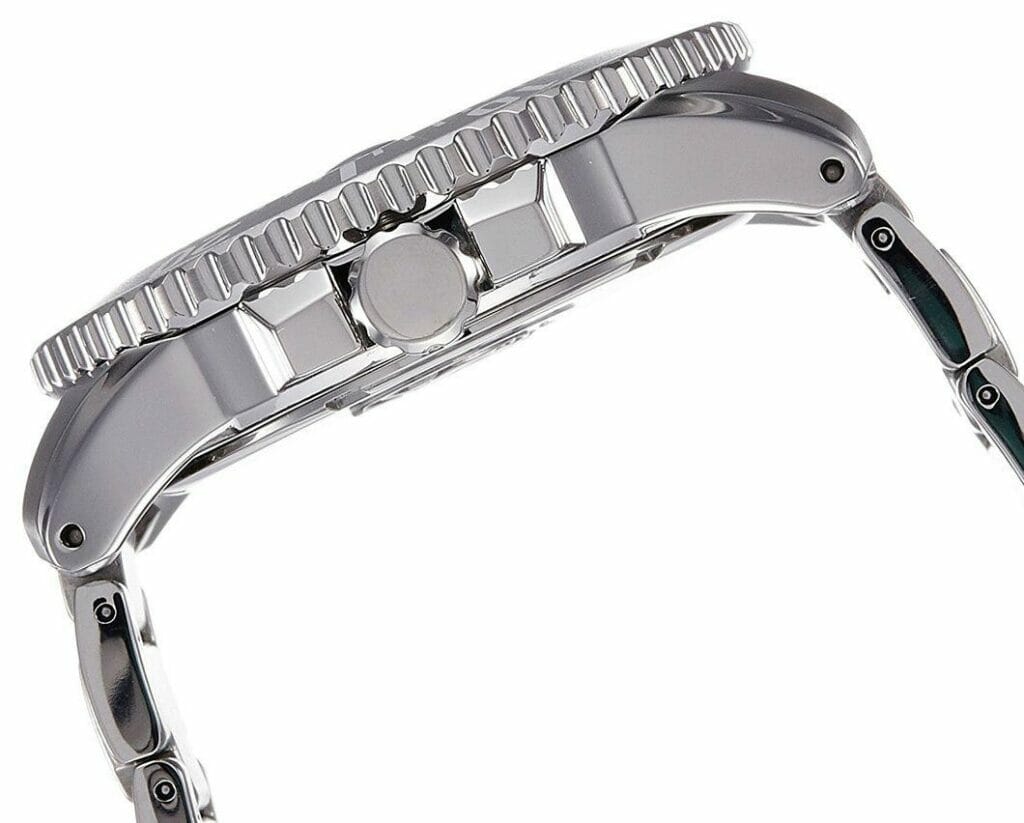 Case:
As mentioned earlier the case has a size of 43.5 diameters but the thickness is only 12mm in diameter. The lug to lug size is 1 and 7/8″. It will be the best for wrist sizes between 7″ to 8″. I also liked its thickness which seems perfect, not bulky like other diver's watches. Let's check now, how is the protection quality?
In a diver's watch, the case plays a very important role. Because when you call a watch certified diver's watch that means, it must meet the ISO standards.
The case of Seiko SNE435P1 is built with strong stainless steel and there is a screw-down crown and a muscular case back that protects it from water leakage.
Let me tell you what exactly a screw down crown does to protect the case.
Its screw-down crown plays an important role because it has gaskets that create an air-tight seal when it is screwed in. It not only protects your watch from water but also from dust.
How to set the date in Seiko SNE435P1?
It is very simple you just need to follow the below steps:
Make sure the crown is left in the locked position.
Release the crown by turning it in a counter clock wise direction, towards the 6 o' clock point.
The stem will be extended and you can set the time, date, day easily.
To lock it again, ensure the stem is pushed all the way in and turn it in a clockwise direction.
The Bracelet Quality & Comfort:
A bracelet has a significant role in the overall looks of a watch. No matter how beautiful the dial is, but if the finishing and cuts of the bracelet is not appropriate, then it will look cheap.
Let me first tell you its material quality, looks, and comfort then I will talk about how you can resize it?
The bracelets of dive watches are usually made of materials that are adequately water-resistant. And able to endure the galvanic corrosiveness of seawater. Either they use materials like grade 316L or 904L. It is not mentioned by Seiko which stainless steel is used in the Seiko SNE435P1. Probably it should be 316L stainless steel.
Lets discuss the looks now.
This watch bracelet has a GMT-style look that has brushed edges and polished center links. It looks perfectly cut and curved with beautiful finishing. But the end-links are hollow, not solid. Also, the center links have a high polish, no doubt that it looks good but that might get scratches easily. Overall the looks of the bracelet are very solid, attractive, and premium.
Let me tell you about the resizing and replacement of bracelet.
The bracelet length is men's standard with 22mm width. It is always a headache when you have to remove or add the links. Let me tell you how you can easily add or remove links from this watch. You can follow the steps.
Inside the bracelet, there are arrows on some of the links. They indicate directions to push the pins to remove the link.
You can take out the number needed for a good fit and then reverse the process to reattach the bracelet link.
If you want to replace your bracelet, its drilled lugs help you to quickly switch the bands. Along with the push-button release clasp, there is safety lock feature that adds cherry on the cake.
Pros & Cons of Seiko SNE435P1: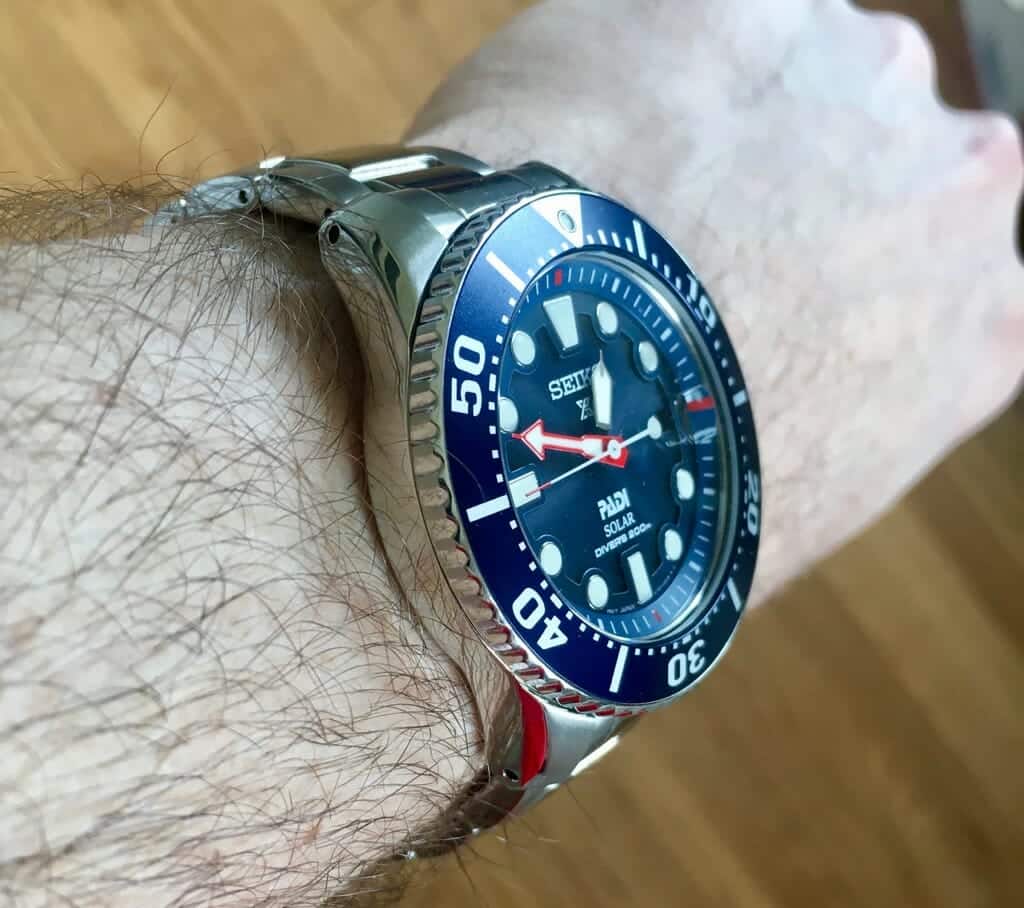 After a detailed analysis of every feature its time to disclose all the pros and cons of Seiko Padi SNE435P1.
Pros:
The watch has amazing readability with a clean dial, large numbers, and hands. Also, the magnifier on the date window adds the cherry to the cake.
The looks and feel are very classy, you will find the edges and corners are perfectly finished and do not feel cheap anywhere instead it looks like a $1000 watch.
The best part is, it is a solar watch with 10 months power reserve capacity. It eliminates the need of changing the battery frequently.
If I talk about accuracy, so it is +/- 15 seconds per month (as claimed by Seiko). The accuracy is far better than an expensive mechanical watch.
The band is very solid and seems to build of premium quality stainless steel. When it hugs your wrist, it gives a very premium feel and comfort.
I have seen many watches but never felt the second hand lined up so perfectly with minute marks like this watch.
The Lumi Brite technology is amazing. You will find the hour markers and hands glowing with full intensity and the duration is also longer than any other watch (3-5 hours). Also, you just need to expose the watch to the light for 3-4 minutes and the lume gets charged up.
Cons:
The magnifying bubble is covering the hour marker 3 which doesn't look good when you look at the dial.
The overall build quality is awesome, if it would have a sapphire glass instead of a hardlex mineral then it would have got 10 out of 10.
The center links have a high polish, which can get scratches easily.
The end links are hollow like other Seiko watches, they are not solid.
The bezel has an average smoothness, sometimes it gets loose when wet.
[wptb id=1879]
Conclusion/ Should You Buy It or Not?
If I would have been at your place and I had a budget of around $250 then I would not hesitate to add $50 to buy this watch. Let me tell you the reason.
The dive watches are always held best build quality and durability because they are made keeping in mind the underwater conditions. This Seiko SNE435P1 is the lowest-cost dive watch with no compromise in the quality and looks.
If you will research the market you will find a normal solar watch (considering Seiko & Citizen) at minimum around $250 with average build quality, readability and water resistance capacity.
This watch is not only better in build quality but also designed in a way that it has great readability and 200m water resistance capacity. If you want to add a long lasting durable but affordable watch to your collection, this can the best choice.
So I hope you loved this review about Seiko SNE435P1 Watch. Please share your valuable feedback and let me know what's your opinion regarding Seiko SNE435P1 Solar Padi Watch.
Other Trending Articles:
[9-Most Favorite Smartwatches of Teenagers in 2021]