Seiko SNE441 Watch Review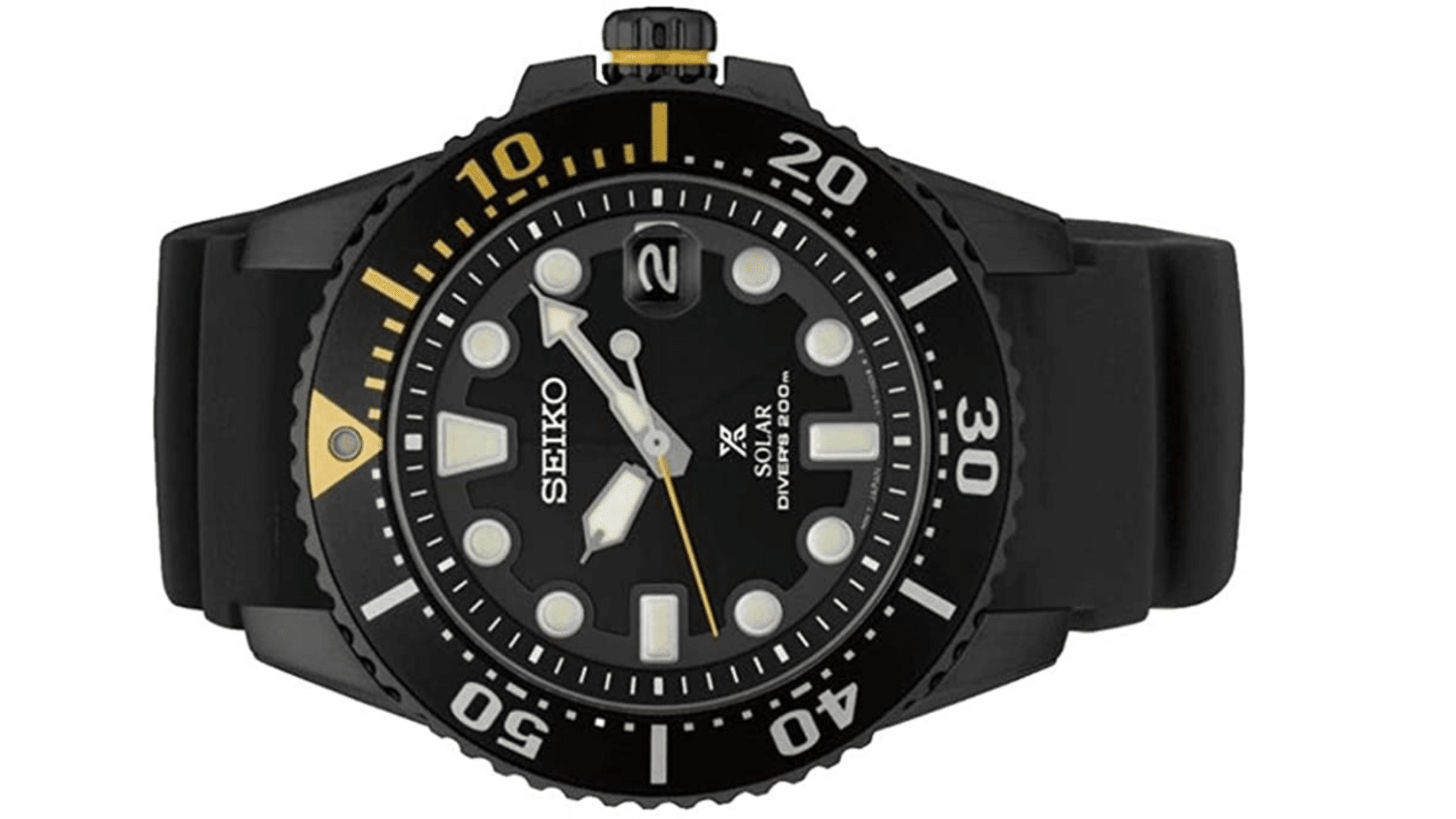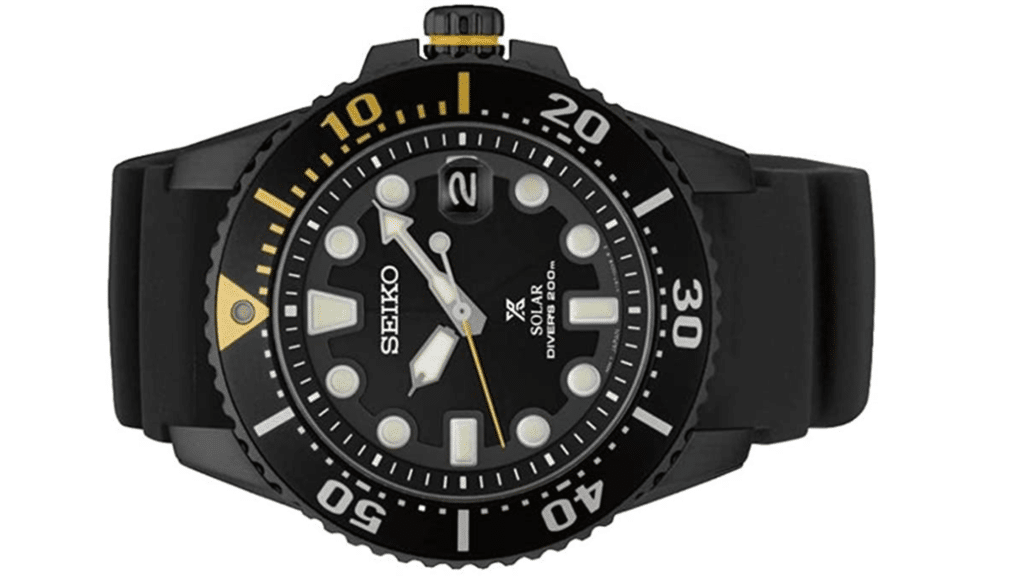 Today I am going to review one of the most popular watches of Seiko which people know by the name of Seiko Prospex SNE441 solar diver watch.
Whether it is about technical excellence or quality excellence at an affordable price, Seiko has mastered every field of watchmaking.
Seiko has more than 50 years of experience in dive watches. And their experience is wonderful. Whenever it comes to Dive Watches, Seiko's name comes first to the tongue and this is what makes a brand special.
I am going to open every layer of SNE441 in this review. I will explain each little detail and also I will compare it with Seiko SNE435P1. At the end of this review, you will get to know its pros and cons and a brief conclusion on whether you should buy it or not?
Features That Make SNE441 Special:
Solar quartz movement with caliber V157 maintains an accuracy of +/- 15 seconds per month.
Excellent quality hard coated stainless steel case in 44mm diameter.
Large and easy-to-read numbers and hands with a beautiful yellow accent on bezel, crown, and second hand.
A high-intensity luminescent Lumibrite technology by Seiko is also the longest luminous technology (between 3-5 hours).
Can be charged with any kind of light and hold 10 months of great power reserve. No need to worry about replacing the battery every year.
The silicone band is very flexible and soft. Also, it looks sturdy and a high-quality band.
The magnified date calendar helps you to read the date at a glance without any problem.
It has a unidirectional bezel for easier reading of elapsed time.
The best part is it is 200meter water resistant and a perfect dive watch.
SNE441 Prospex Dial: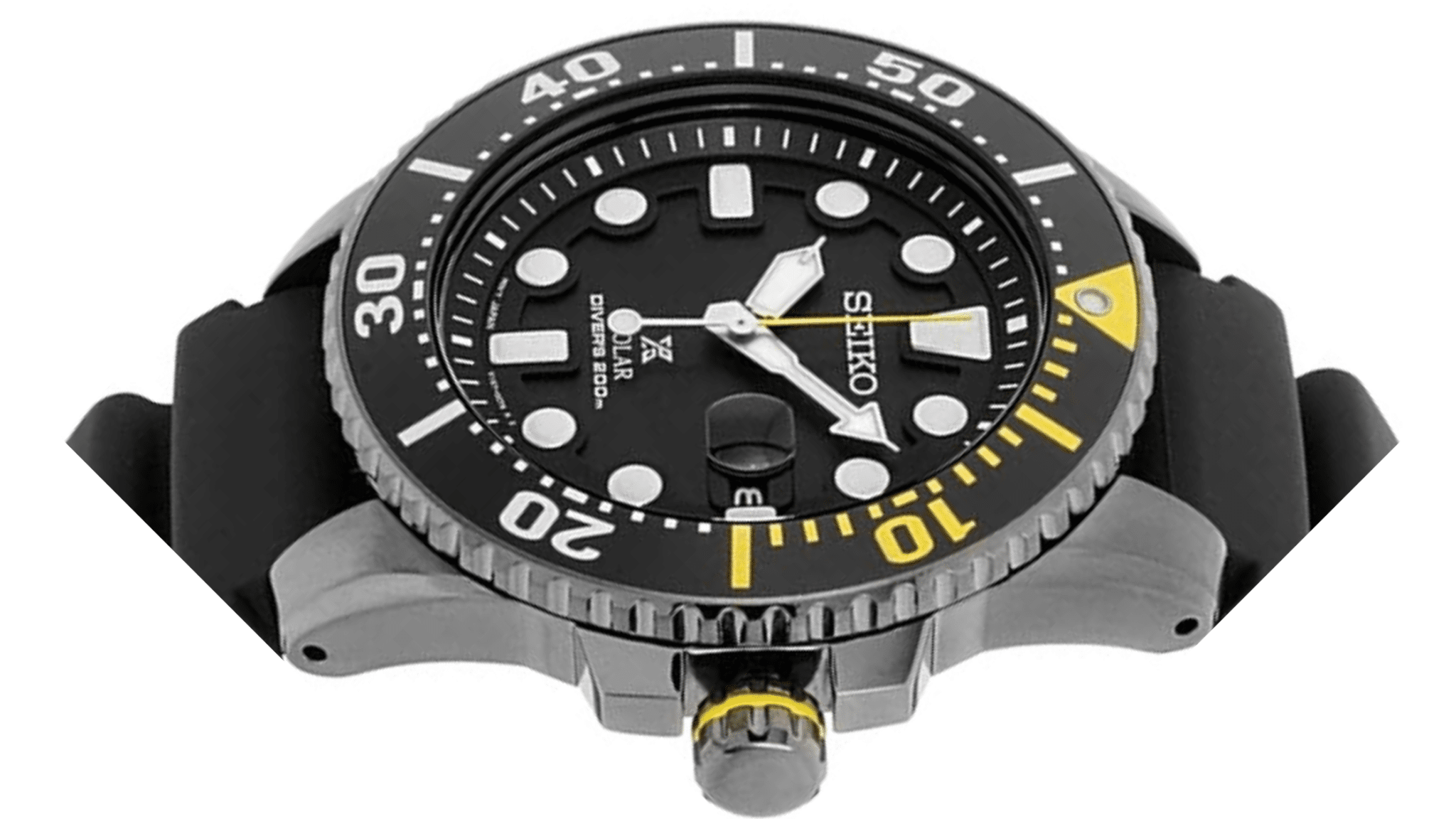 What I liked about the dial:
Whenever you look at the dial, it will give you a very pleasant experience. Because it looks very deep, clean, attractive, and easy to read.
The dial has a decent size which is 44mm case diameter and 42-43mm dial's outer diameter. It is slightly smaller than other typical dive watches. It looks very solid but quite balanced weight, which makes it very comfortable on the wrist.
There is a lot of work done to the small details in the dial, as the silver hands are beautifully outlined with grey color.
If you look more carefully, there is a slight size difference between seconds markers and minute markers. Minute markers are slightly bigger than seconds markers.
Yellow accent is used on the second hand to enhance the dial's beauty and readability. When this yellow accented seconds hand moves around its black dial and gently hits the silver markers, it looks quite eye-catching.
Also, each hour marker is given at a perfect distance which gives a clean look to the dial. The size of the hour markers and hands is also quite large, which enhances its readability.
The best thing is the Lumibrite paint is used in good quantity on hands and hour markers. In the dark they illuminate at their highest intensity and also for a very long duration (3-5 hours) then it gets dim but still you can read the time. To activate its lume, you have to expose the watch face in front of sunlight for at least 5 minutes.
What I disliked about the dial: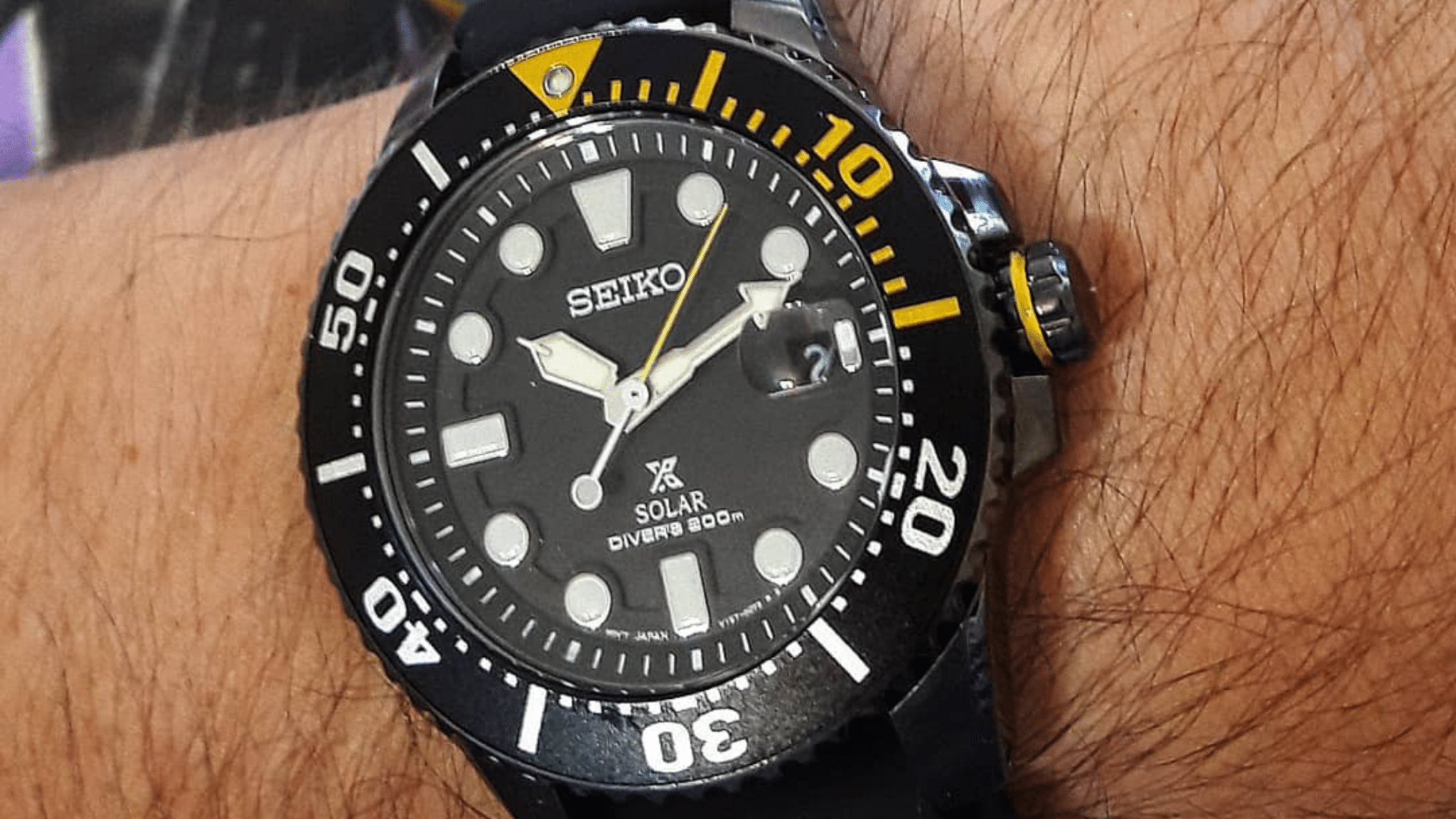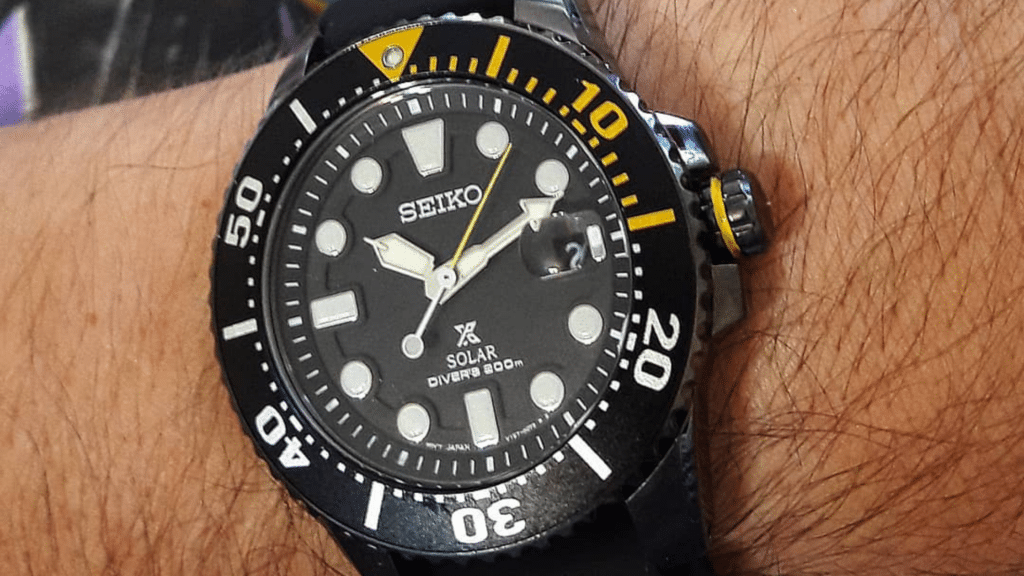 [wptb id=1907]
I did not like the bezel of this dial. It is very good in appearance and quality, but it is very loose and moves very easily. I will not suggest you use it underwater.
The other thing that I did not like is its cyclops (magnifier on date window), if you want to check the date you have to look straight to it, you won't be able to read it when you look through multiple angles.
The third thing that I did not like is that it is a watch under $350, so at least Seiko should have given a sapphire glass to it, instead, it has a hardlex crystal which is not as effective as the sapphire but at least better than acrylic crystal.
If I would rate the dial I will give it 4.5 out of 5. Because of its good readability, luminescent performance, balanced size and weight and last but not the least "excellent looks".
Seiko SNE441 Bracelet: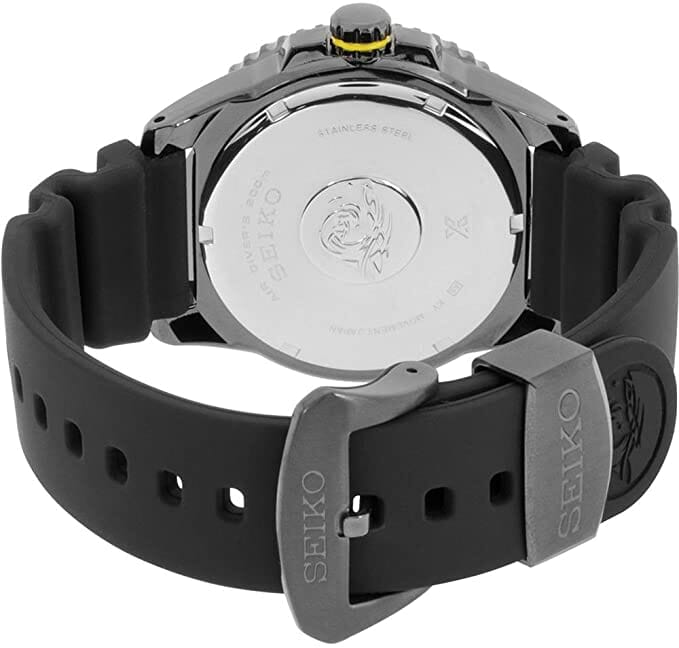 A bracelet has great significance in the overall looks of a watch. The Seiko SNE441 comes with a black silicone band. The overall black theme of this watch gives it a very distinctive look.
The band is soft and flexible, it feels very comfortable on your wrist. Mostly you will find the rubber retainers with silicon bands but this watch has a metal retainer.
As always expected from Seiko, there is no compromise with quality of the band. It looks sturdy and feels smooth and soft.
The best thing about silicone bands is they do not retain moisture so even in extremely high temperatures your wrist won't get sweaty. Silicone bands are good at high and low-temperature resistance.
I personally prefer silicone bands as they are non-toxic that makes them best skin-friendly. But the one drawback is they have only 2 years of lifespan after that you will have to replace them. Also, cleaning the silicone bands is very easy.
Overall I would rate the band 5 out of 5 because I did not find anything compromised on the quality or comfort.
Seiko SNE441 Movement & Battery:
The movement is the heart of a watch. Seiko SNE441 has Japanese solar quartz movement with caliber V157. Seiko claims that the caliber V157 will maintain an accuracy of +/- 15 seconds per month at normal operating temperatures of about 5C to 35C (41F – 140F). Seiko's claim proves to be true for accuracy.
Also, it is a fact that quartz movement requires a very low or no maintenance cost compared to the mechanical watch movement. Because you have to pay several hundred dollars in cleaning services of mechanical movement but in quartz movement, there is no cleaning or lubing required.
If we talk about accuracy then a quartz movement serves better accuracy than a mechanical movement. But if it is money, then definitely you will think for once spending $350 on a quartz watch.
But remember, it is not a normal quartz watch. It is a solar-charged capacitor-driven quartz movement watch. if we go to buy a good quality solar watch, then a non-dive solar watch costs a minimum of $250-$300 then it would not be right to criticize this watch on the price level.
You can also read: Solar Watch Mechanism and Recharging
Let's come to the battery part now.
This solar diver watch has a solar cell unit under the dial that stores the sunlight or artificial light energy and converts it to electronic energy then stores it in a rechargeable battery that is just under the solar cell unit. Then this electronic energy driven by the movement and movement powers the watch.
As it is mentioned in the description that it has a 10 months power reserve. I have not checked it yet with my watch but as per the reviews on Amazon people were saying they had to recharge it 3 times in 10 months. I didn't find any complaints regarding the battery.
Please check the chart below to know how long does it take to recharge its solar battery according to light source and weather conditions.
Seiko SNE441 Water Resistance: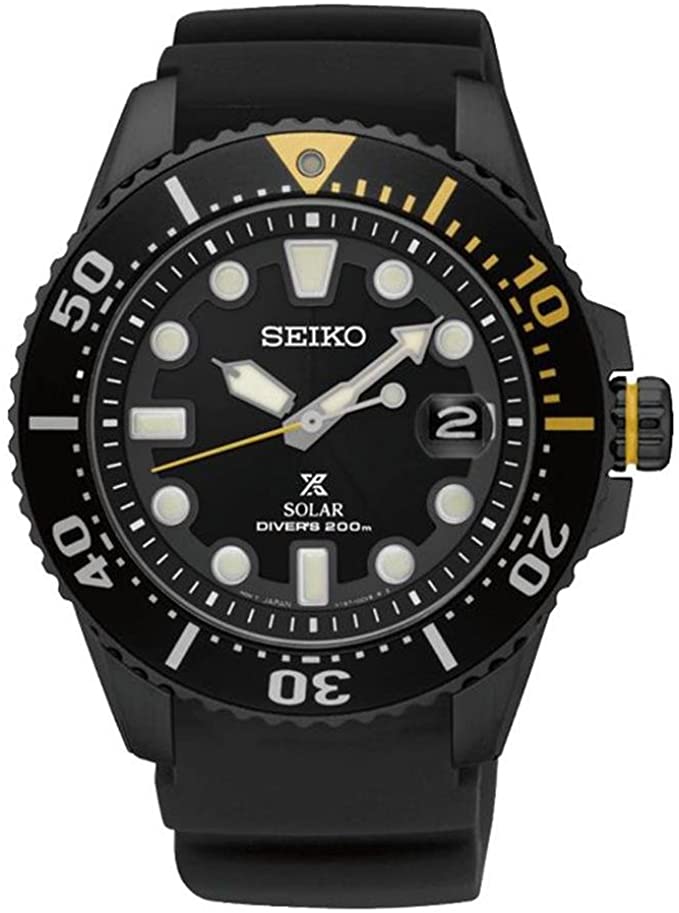 [wptb id=1907]
Whenever it comes to water resistance, the name of dive watches comes to the top because these watches are the best water resistant. Seiko SNE441 holds 200meter water resistance capacity.
Most people buy dive watches for recreational scuba diving purposes or for other water sports. For recreational scuba diving, the depth limit is 130 feet and for beginners, it is 60 feet. So you can enjoy scuba diving with the Seiko SNE441 watch and also it performs well under other water sports.
Seiko SNE441 Warranty:
The warranty reflects that how much a brand trusts its products. In the case of the Seiko SNE441 perspex solar diver watch, there is a 3 years manufacturer's warranty. Normally other brands offer 1 or a maximum 2 years warranty only.
Seiko SNE441 Vs Seiko SNE435P1: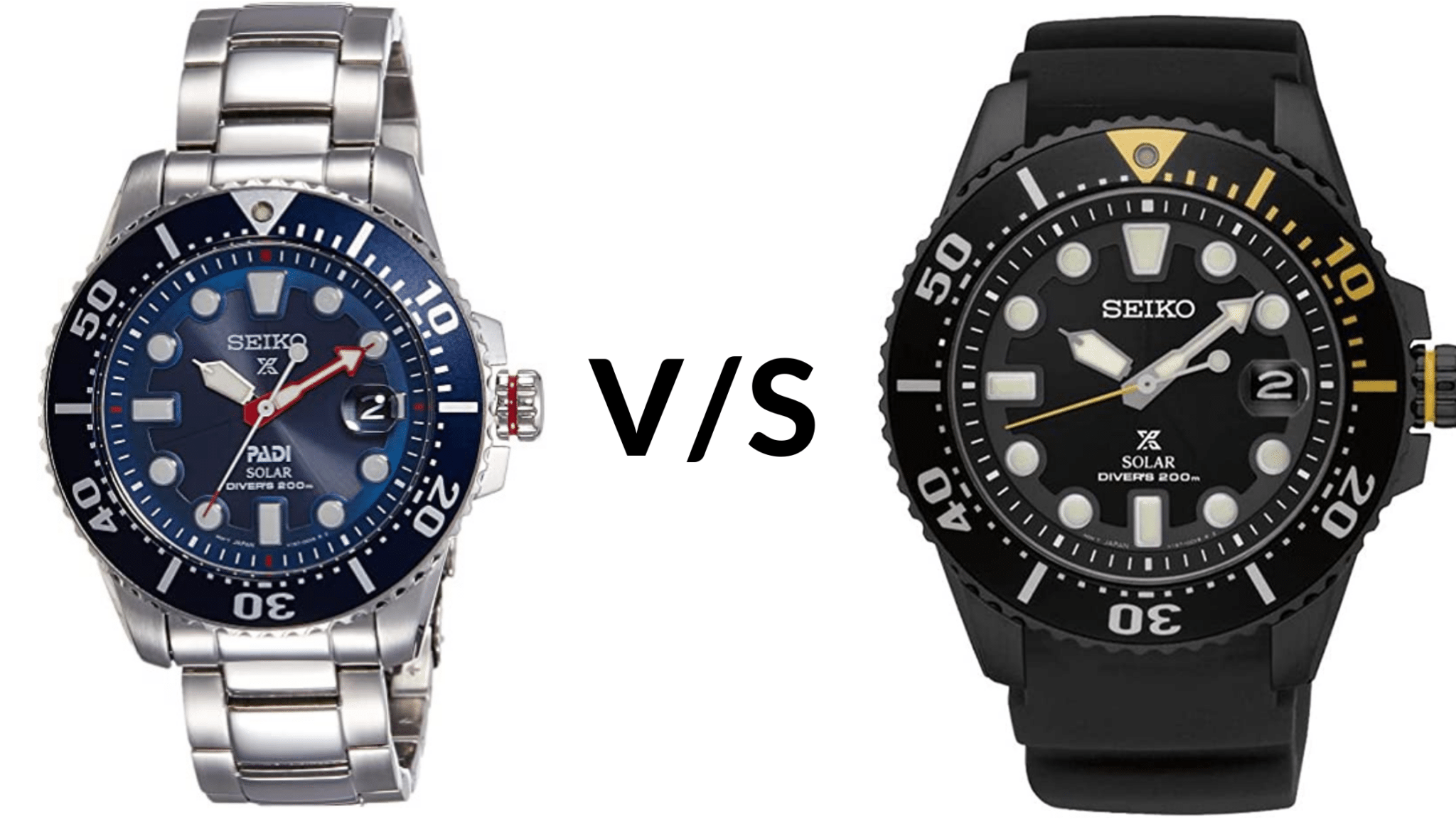 [wptb id=1907]
Seiko SNE435P1 Padi is an another popular solar diver watch by Seiko. If I compare both on the basis of price then SNE435P1 lands under $300 and SNE441 under $350. On the basis of looks both the watches are tremendous. According to the features also both the watches have almost same features.
The big difference is that Seiko SNE435P1 has stainless steel bracelet and this Seiko SNE435P1 has a silicone strap.
Compared to stainless steel bracelets, the silicone strap is lightweight more breathable, and comfortable but if you see the lifespan of a silicone band is a maximum of 2 years whereas a stainless steel bracelet has a longer lifespan.
Both the watches are best but I found the SNE441 watch price slightly higher so if you have a lower budget under $299 then I would recommend you go with the SNE435P1 Prospex Solar Padi watch. You can check the full review of Seiko SNE435P1.
Pros & Cons of Seiko SNE441 Prospex: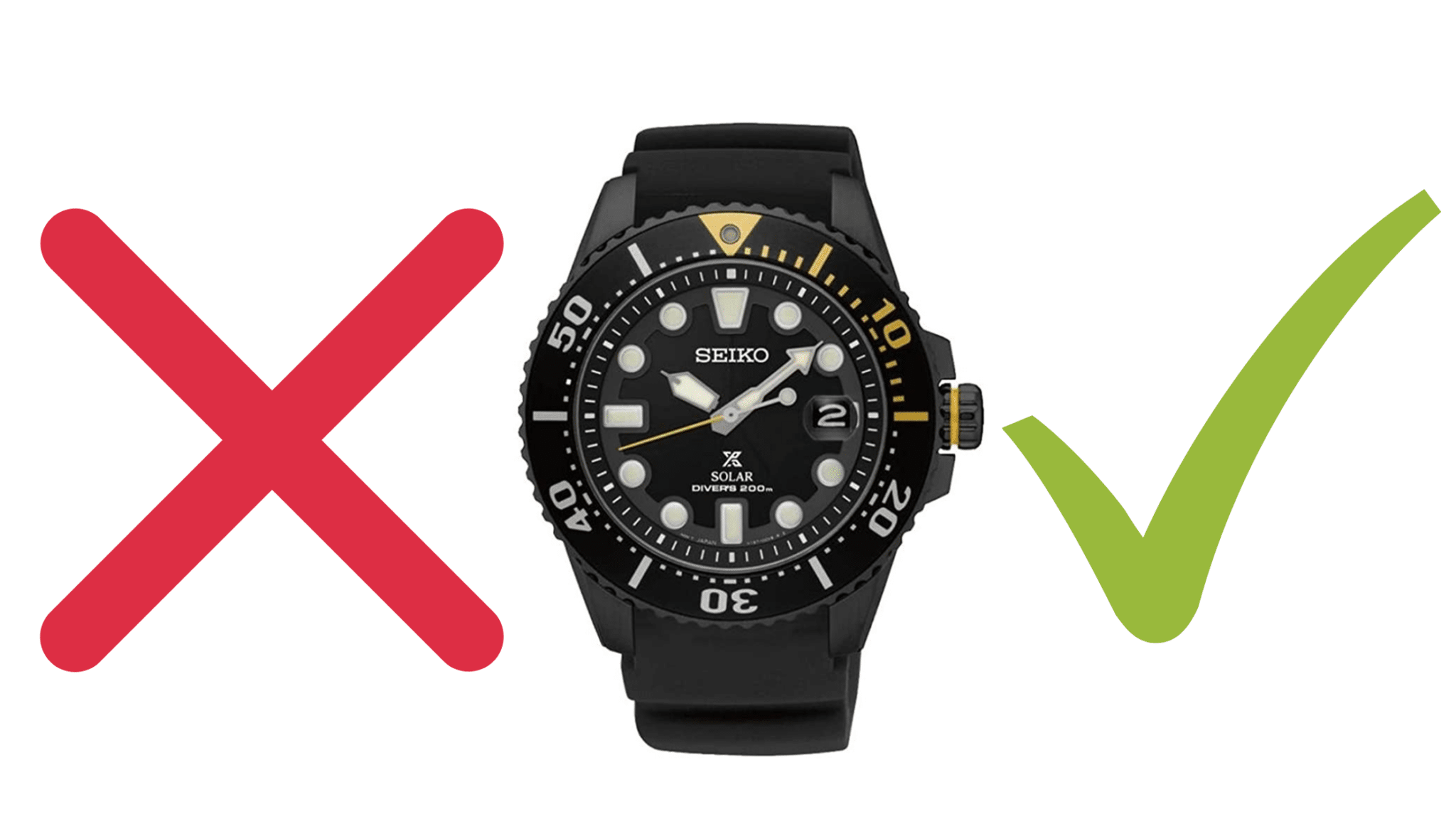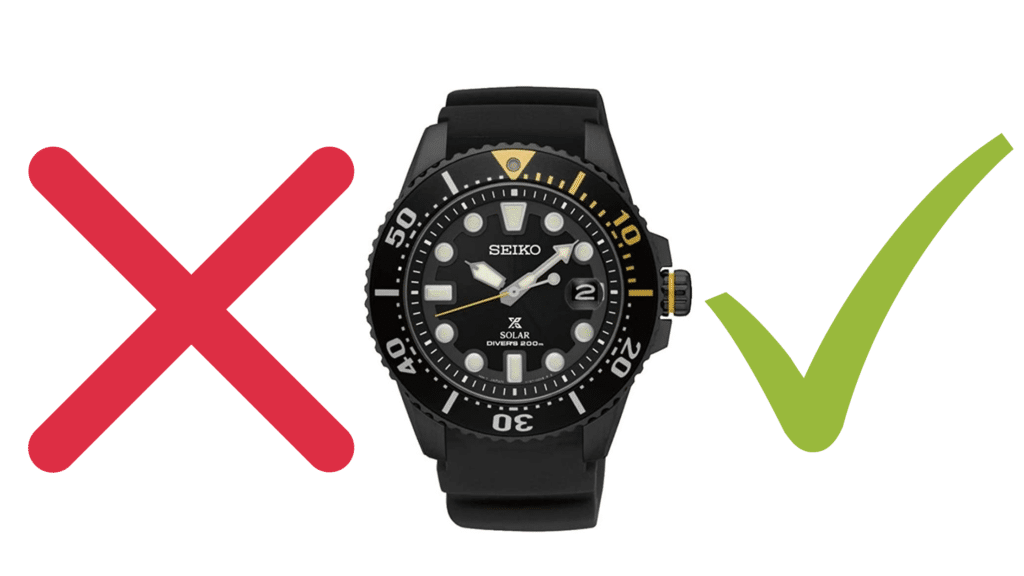 Here are some pros and cons that I found in this watch.
Pros:
I call this watch a best daily wear watch. Because it is very rugged and built of good quality material that it can withstand any harsh situation.
Most people are afraid of enjoying water sports wearing their favorite watch because of low water resistance but you don't need to fear water now as it has 200 meters of water resistance and it is suitable for scuba diving as well.
The overall black theme of the watch gives it a very distinctive look and yellow accents work as a cherry on the cake.
The dial is very deep and detailed also very easy to read. It has a cyclops (magnifier on date window) to read the date at a glance.
I personally love Seiko's Lumibrite luminous technology and this watch has it. The hands and hour markers glow with the highest intensity and last long for 3-5 hours once activated. To activate the lume you have to expose the watch to sunlight for 5-10 minutes.
The silicone band is soft, smooth, and supple. The best comfortable band ever.
The accuracy is +/- 15 seconds per month with V157 solar quartz movement.
Cons:
I didn't like the cyclops feature in this watch because the date is not readable from multiple angles. You have to look at it very straight.
Also if you notice carefully the cyclops is covering the number 3 hour marker so it is also coming into the contact of the magnifier.
I found the price slightly higher as you can see in the comparison with Seiko SNE435P1.
The lifespan of the silicone band is maximum of 2 years. Which is very less for a watch under $350.
Conclusion:
In this detailed review of the Seiko SNE441 watch, I have analyzed each and everything and finally has come to the conclusion. On the features, quality, looks, accuracy this watch is unbeatable but as per the price, I find it slightly overpriced.
If you are looking for the best daily wear watch which is very durable and can withstand any harsh situations then this is the best watch, I would recommend.
In the end, I would say that Seiko has done a great job and fulfilled all the expectations that people usually keep from Seiko. I hope you liked the article.
Please don't forget to share your opinions regarding Seiko SNE441 watch review.
Other Trending Articles:
Curren Watches Review 2021-Best 4 Curren Watches