Curren Watches Review 2021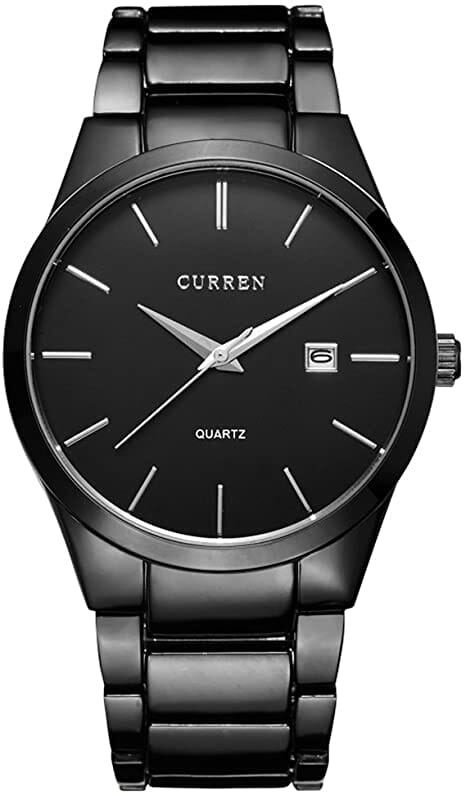 While exploring the new watch brands, The "Curren Watches" appeared on the list. I found this name a little strange, so I was curious to know more about it.
When I visited Curren's official website, I could not find much about this brand. But I was surprised to see some of its popular models on Amazon, which were very cheap in price and on which many of the people had shared their positive reviews. It doubled up my curiosity.
Many people on Quora called this brand Chinese and useless and on the other hand, people on Amazon who used it were praising it. Now I was more surprised how this can happen?
After a lot of research, I decided to write a review on Curren Watches. In this review, I am going to tell you about the quality of Curren watches, where they belong, what movement they use, what are some popular models on which you can trust, and will share some best models of men's and women's Curren watches.
You can also read this amazing review: Are Rotary Watches Any Good? The Best Affordable Swiss Brand
Let's dive into the review of Curren watches.
Where Are Curren watches Made?
Many people have confusion about where does Curren watches belong to? whether its Japan or China?
Curren watches are made in China and their online department is based in Hillsborough NJ 08844. As there is warranty given on some models only also they provide you with 30 days of return and refund policy. There are many models of this brand that are reliable and people have shared their positive reviews about them on Amazon. Now let's talk about the movement that Curren watches use.
Which Movement Curren Watches Use?
Curren watches use the Japanese Quartz Movement Miyota 2025. Japanese movements focus their attention on precision and cost-effectiveness. The newer Japanese movements have won the trust of people and build reliability. Japanese movements are assembled by an animated robotic line and their main focus is on functionality. Swiss movement vs Japanese movement
How Much Does a Curren Watch Cost?
The Curren watch price ranges between £12 – £40. This low-cost watch looks like a luxury watch in looks. But looks are not just everything, it is also important to have quality in the product.
Although not all models of this watch are reliable, there are some models that are of good quality, which are also the best seller models on Amazon and people are satisfied with them. Let's find out how is the quality of Curren watches?
Are Curren Watches Good Quality?
The first question should be on what basis do we ensure the quality of a watch brand. According to my experience, 3 things are the most important to understand the quality of any watch.
The material and glass of the watch. (At least it should be stainless steel if it is affordable or cheap watch)
The watch movement (At least a quality watch should be made with quartz movement)
Warranty & Guaranty by the brand (There should be at least a 2-year warranty) reflects the brand's confidence in its own products.
Curren watches can be considered an average quality brand with very affordable prices. The material they use for the watch case is either metal or stainless steel, for straps they use faux leather or stainless steel, and for the glass, they use either Hardlex or mineral crystal material. All these materials are good but it depends on which type of stainless steel and metal they are using. Types of stainless steel
Also, Curren does provide 30 days of return or refund policy but they do not provide any guarantee or warranty for their watches which seems a little weird. But some of Curren watches models are appreciated by people on Amazon as they hold good quality, durability, and good looks. We will share those models with you here in this article.
4 Best Curren Watches Review:
Let's dive deep into Curren watches review.
1. Men Leather Strap Curren Military Watch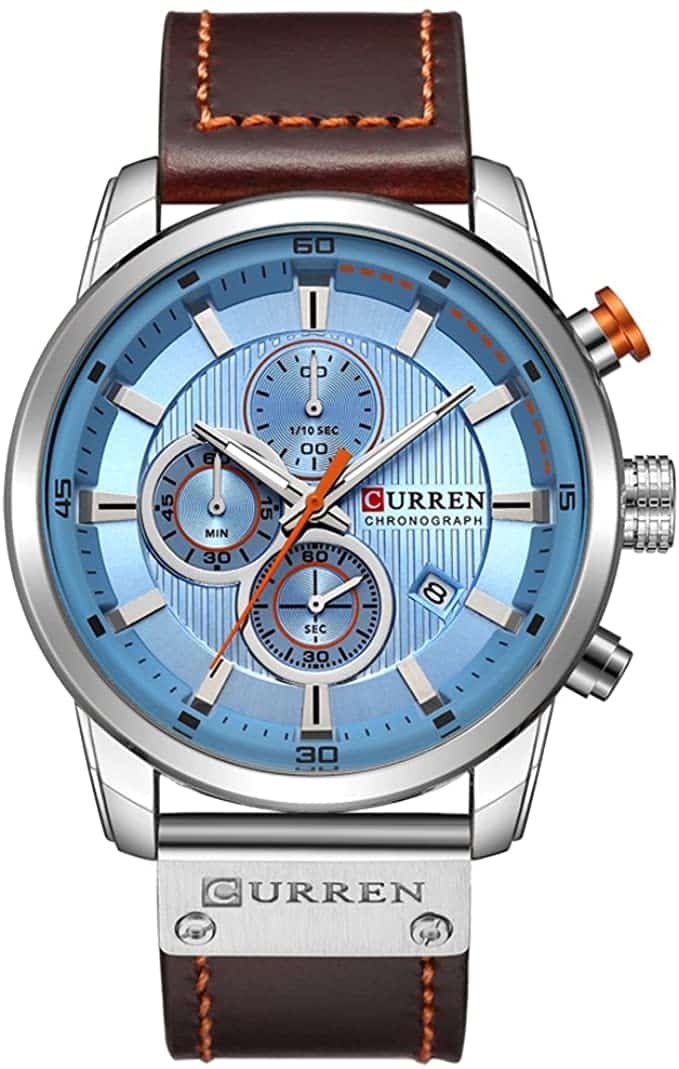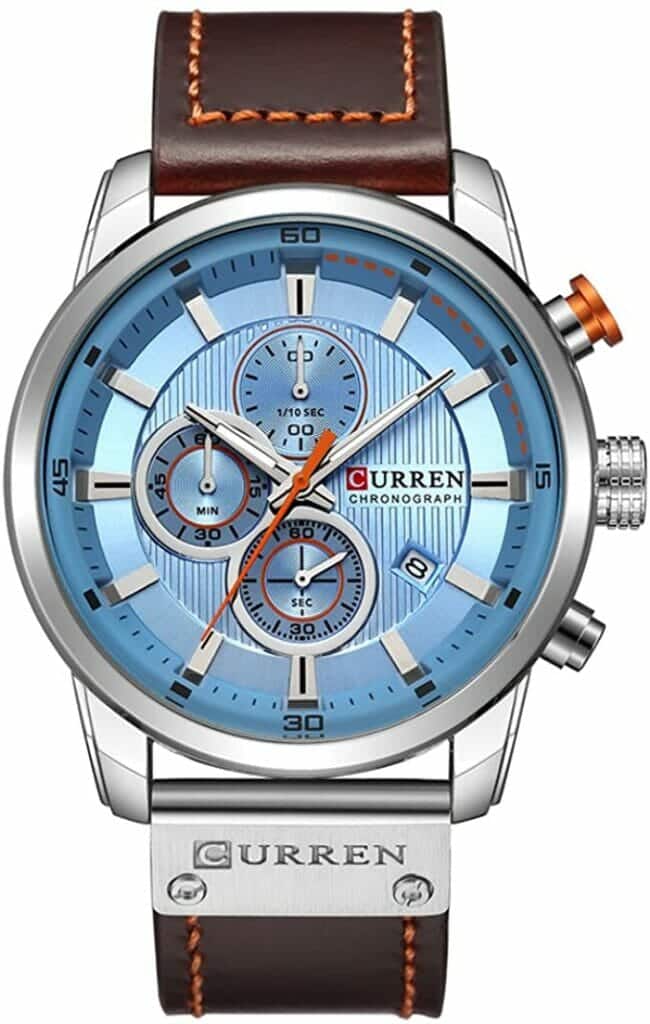 [wptb id=1841]
The price of this watch is definitely low, but looking at it, it seems very expensive and unique in design. Its blue dial is very exquisite and striking.
Straps:
The straps are made from Faux Leather, mostly this kind of leather is slick and shiny which makes it look cheap but in this watch, you will find its Brown strap color very decent and not flashy at all so it does not look cheap.
Faux leather is an artificial leather. This leather is made from plastic base and a wax is applied on it, to create the color and texture. However Faux leather is durable but less breathable. Also, it is scratch resistant and does not retain moisture. But it is not completely water resistant. You can read more about Faux leather here: Is Faux Leather Good Quality?
Dial:
The dial is covered with a scratch proof mineral glass. Even Timex use mineral glass in its watches. However the mineral glass is average in quality. It is not as hard as sapphire glass. But at this price point it is worth for money and best for entry level watches.
The watch comes with two dial color options. First is Brown and second is Ice Blue. The Ice Blue color is an eye catcher and gives a very soothing feel when someone looks at it. While the Brown dial is more bold and sturdy.
Movement:
A movement is the heart of a watch. In this watch Japanese Quartz movement is used. Japanese quartz movements have very low power consumption and better power reserve. Also they serve precise and efficient results. Most of the affordable watch brands use Quartz movements in their watches. Swiss vs Japanese Quartz Movements
Overall Verdict:
Overall the watch looks like an £300 – £400 watch. Material which is used is average in quality but durable. The watch comes with 30 days return and refund policy. It is a best seller watch on Amazon and many people have shared their valuable positive reviews on it. So it can be an ideal watch for daily wear as well as a good gift.
Pros & Cons
You can also read this amazing article: Timex Weekender Chronograph Review 2021
2. Curren Black Elegant Men Watch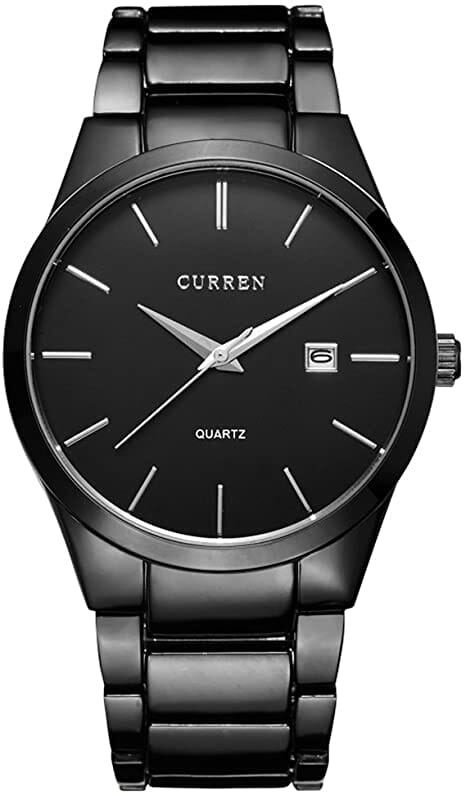 [wptb id=1843]
Seeing the looks of this watch, you will not believe its price. Even many people have compared the looks of this watch with Seiko high-end watches, on Amazon. Let's find out more about this watch.
The Black Watch Lovers are increasing rapidly as in 2021 the Black Color watches are in huge demand. I personally believe that Black color evokes power, luxury, and elegance. This watch has a stunning black finish with proper cuts and curves.
Apart from looks, is this watch also good in quality? Let's find out.
Dial:
The dial comes with a 1.57 inches case diameter so if you wrist is between 14cm – 18cm (small or medium size) the dial will look excellent on it. Even is you have big wrist 18cm and above, it will look fine on it. The dial is does not look bulky and extra large but it has an great average size.
The best thing about dial is, it is protected with Hardlex glass. The hardlex crystal is better than mineral crystal as it is much scratch resistant. Also, it is harder than mineral glass. Seiko also use hardlex glass on their watch dials.
The dial has strong metal case which is 1.57 inches in diameter and holds 0.39 inches thickness. The Black dial has beautiful silver slender stick hour markers which enhance the black color more. Also the hands and logo is in Silver color. It looks like perfect color combination and can match with any color clothes.
Strap:
The strap is built with strong stainless steel material. Most of the time the cheap watches use very bad quality materials in straps which badly impact your skin. But this watch has a soft feel stainless steel material which is also very light weight.
The band comes in men's long size. There is deployment case to adjust the size and also pins are easy to remove just follow the arrows on the band if you need adjusting, you can do it right at home with a paper clip and something to tap it out with.
Overall Verdict:
The watch has Japanese quartz movement which is well known for its accuracy. Also, it has 30 meter water resistance suitable for splash/rain resistance but not for swimming, snorkeling or deep diving.
Overall the build quality, looks and accuracy is very good according to the low price. If you are looking for a daily wear watch that is low in price and also durable, this is the best choice.
Pros & Cons
You also must read this article: Benyar Watches Review 2021-Best 5 Benyar Watches
3. Curren Men Sports Stainless Steel Quartz Wrist Watch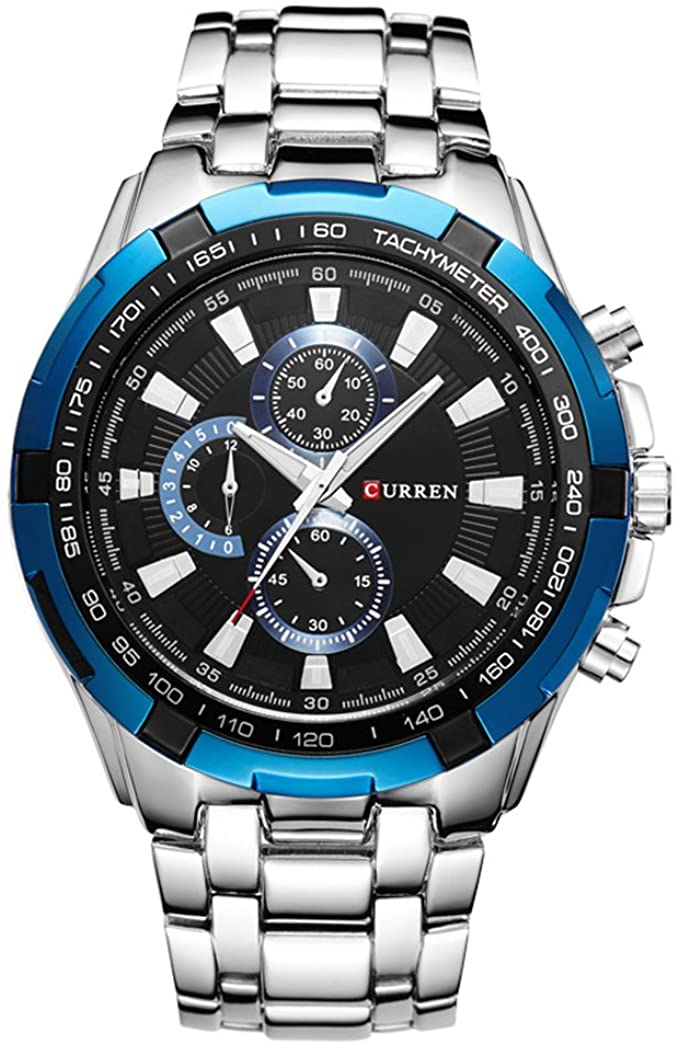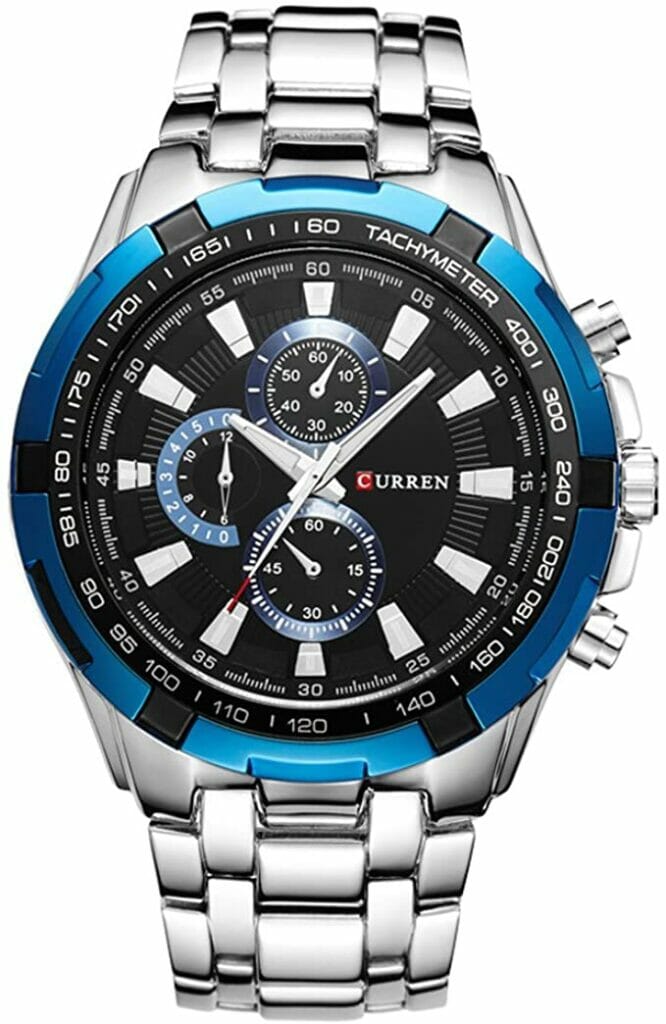 [wptb id=1845]
It is not only well made but also has elegant, sturdy and unique design. The price of the watch is quite surprising and also when you will read the users reviews on Amazon, you will be surprised with the quality that it has. It is a best seller lowest price watch on Amazon.
Dial:
The dial has a very robust look. It is protected by hardlex crystal glass window which is highly waterproof, anti-scrape and fire resistant. The sub-dials are for decoration only, they are not functional.
It has an Alloy case, alloy material is not easy to rust. It also does not fade even after very rough use.
The dial might look very big if you have small very small wrist size. For medium and big wrist size, the dial is perfect. It has a great color combination and very unique design.
Strap:
The watch band is made of Copper. The Copper is very skin friendly metal and durable as well. As the Copper is antimicrobial this is the reason it does not harm your skin. 5 Health Benefits Of Wearing Copper on Wrist The strap comes with 21cm length and 2.2cm width. You can adjust the band size according to your wrist.
Warranty & Guarantee
In this watch you are getting 1 Year warranty as well as 1 Year Quartz Movement guarantee.
Overall Verdict:
The watch has great Japanese quartz movement comes with 1 year guarantee. In terms of accuracy the watch performs really well.
The materials that are used in this watch are also good. Like the copper is good for health, as well as alloy case is very hard and not does not fade in the long run.
Also, the looks are stunning. There is 1 year warranty as well. According to its low price, the watch is surprisingly great.
Pros & Cons:
Read this amazing article: 4 Best Timex Solar Watches of 2021-[Under $50 Only]
4. Curren Gold Black Men Leather Strap Outdoor Watch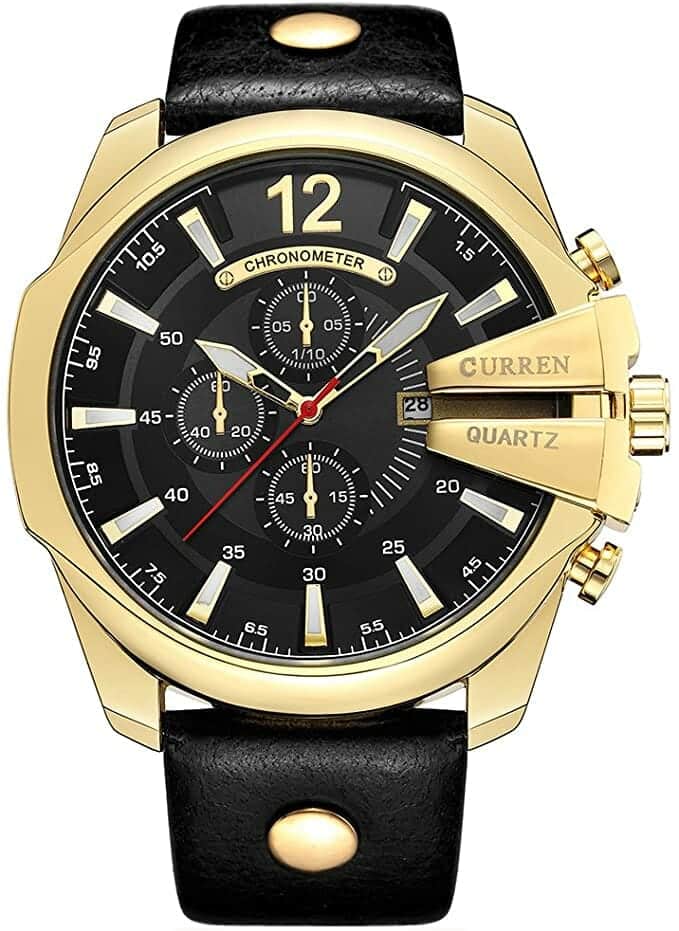 [wptb id=1847]
It is again a best seller watch on Amazon with a lowest price. For the looks and price it is worth buying. The leather band feels very premium. Also, The watch face has very unique design. The color combination of Black and Gold looks very bold and sturdy. Let me tell you the quality of this watch.
Dial:
The black dial is really big if you have small wrist, we do not recommend you this watch. It has a very unique gold design which looks attractive and catches the eyes of people around you.
The dial is protected with mineral glass window which is an average scratch resistant material and the alloy case strongly holds the dial. Alloy is used to give the watch best water resistance and it is also does not fade away in the long run.
The one drawback is, its chronograph sub-dials are just for the decoration purpose and they do not work at all.
Strap:
The watch has leather straps, it is not specifically mentioned which kind of leather has been used. But in Curren watches mostly the faux leather is used. Which is not a real leather and made with plastic base and a wax is applied on it for color and texture.
Faux leather is very less breathable and also it blocks the air because of plastic components. Faux leather can make your skin sweat but good for winter season. Also, it retains the moisture.
Overall Verdict:
Watch is worth for the money but as mentioned the real leather is not used in the watch as the cost is very low. Also, the chronograph does not work at all, it is just for decoration purpose. The accuracy is good because of Japanese quartz movement. The watch face is very big will not suit on small wrists.
Pros & Cons
You can also read: Couple Watches-Tempting Collection 2021
Conclusion
If you have a very low budget and looking for an stylish modern watch with a good quality then we will recommend you this brand.
In this review of Curren Watches we have mentioned 4 models that are not only low in price but also hold a reliable quality as they are best seller models. And lots of people have shared their satisfaction reviews about them on Amazon.
If you want me to suggest you any watch from the above 4 models. Then I will suggest the number 2 and number 3 watch. They hold great materials like hardlex glass, stainless steel, and copper.
Hardlex is considered a best glass for affordable watches. It is better than mineral crystal and provide best scratch resistance. Also, the third number watch has warranty and guarantee as well.
We do not recommend you to go with fake leather models as they might harm your skin if your skin is too much sensitive. The copper and stainless steel is best for the skin.
I hope you liked this review about Curren watches. Please share your valuable feedback via comments and let us know if you find this article helpful.
Thank you so much for reading.
Other Trending Articles: