When I first saw JBW Watches, I found them very interesting. These watches were much bigger and heavier than regular timepieces. These golden watches looked breathtakingly beautiful with glittering diamonds.
These flashing watches were taking my curiosity to the extreme. Now being a watch lover, I was trying to swill these watches again and again.
The more I went deeper into JBW the more layers opened up and the interesting story of the three generations touched my heart.
Today I am going to share with you JBW watches review and their top-7 watches. In the conclusion, I will share my honest opinion whether these bling watches are worth buying or not?. Let's get started!
Who laid the first brick of JBW?
JBW is not the discovery of an individual but the result of over 70 years of hard work by three generations. Yes, the Meghani family.
In 1950, Abdul Meghani first started the distribution of Edox and Favre Leuba Swiss watches in India. In 1952, Abdul Meghani's brother Noorani Meghani also started trying his hand in this business. The business went so well that by 1968 the two had opened four watch retail shops in Dubai.
By 1984, the second generation of the Meghani family took a vow to pursue this business and in 1984, Akbar Meghani, the son of Abdul Meghani, stepped into this business. Akbar was the Lead Distributor of Casio watches in Pakistan for 6 years.
In 1990 Akber Meghani moved to Dallas and began trading and distributing watches. Like father like son Akbar earned a lot of fame in Dallas and in 2005 officially laid the foundation of Grand Time.
By 2006, the third generation was also ready to take this business further, Akbar's son Amir and daughter Shabina joined Grand Time in 2006.
The third generation was new age and had the zeal to do something new so they gave a new look to this ancestral business and decided to establish a brand of their own. That's how the foundation of JBW was laid in 2008 by the third generation of the Meghani family.
You can also read: 11 Best Men's Rectangular Watches 2021-[Top Rated]
What was the Idea Behind JBW?
As Aamir has told in his interviews that when he joined this business in 2006, the trend of rap culture was on the rise. And many rappers used to come to his shop looking for heavy diamond watches.
in such a situation, watches used to be customized and sold by Amir according to the requirement.
Amir's customized watches were loved by rappers and watch collectors as it was quite different and luxurious. That's how Aamir got the idea of ​​Just Bling Watch. And in 2008 he laid the foundation of JBW.
JBW has a strong history but are they worth buying? or Do they hold good quality? It is a must to know. So for that, I will review here the top-7 best selling JBW watches. Before that let me tell you about the diamonds that JBW uses.
Are The Diamonds Real in JBW Watches?
Yes, the diamonds are 100% genuine extracted from the earth of India. The diamonds are "SI" clarity with G-H color. all the JBW watches come with a diamond authenticity certificate. Not only the diamonds they use certified Swarovski crystals in their watches.
You must be thinking if they use real diamonds then how the price is quite affordable?
They use a thin layer of diamond cut in the round shape, which weighs less than 1/5 carat and 1mm in size and is easily available in the market at a low cost. These diamonds are called Melee diamonds. This is the reason why JBW watches are affordable.
I hope now it is clear why JBW watches are affordable despite having real diamonds. Now is the time to review the 7 Best Selling JBW watches.
1. JBW Phantom Watch Review: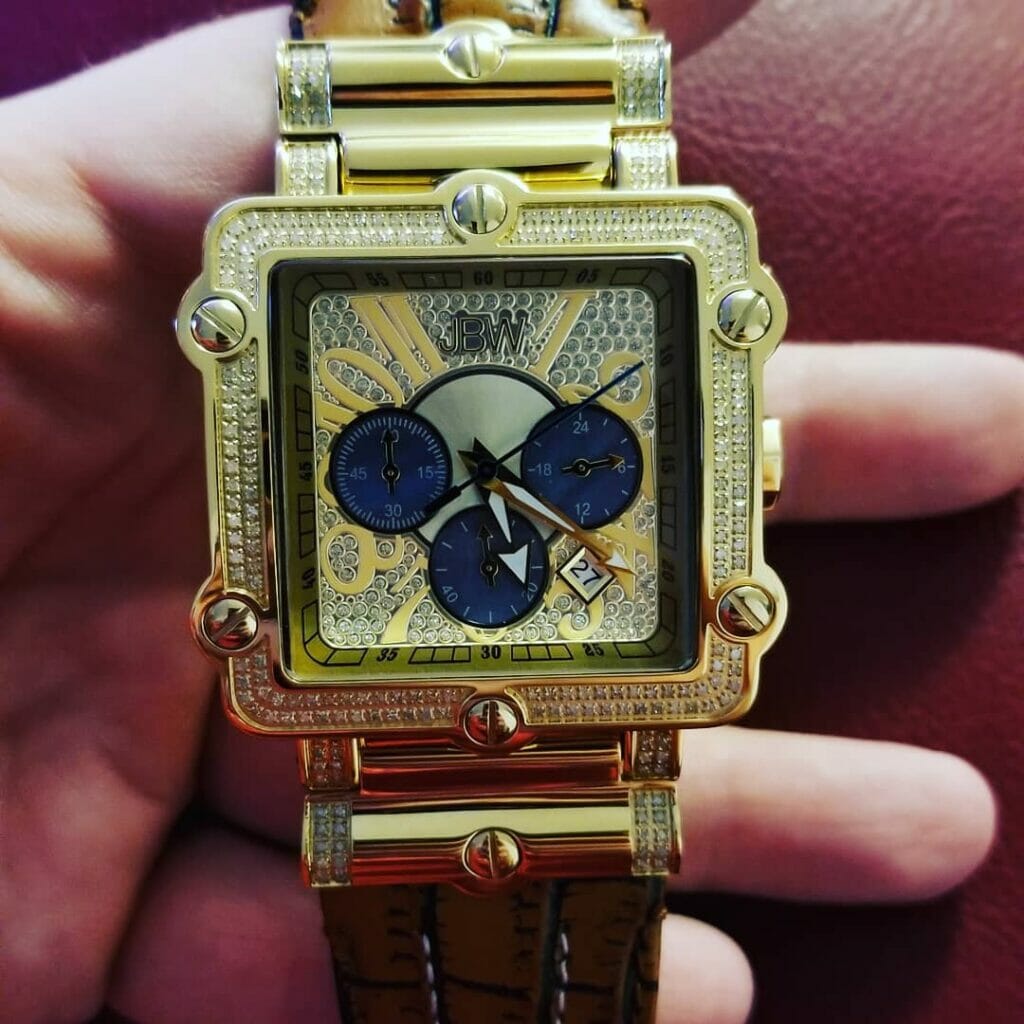 [wptb id=2299]
If you want to add something unique to your watch collection that can stand out then this watch is so perfect. It is distinctively designed with 238 real diamonds, 18K gold plated stainless steel and three mother of pearl sub-dials.
JBW's Phantom model is available in three variants: 18K Gold Plated, Ion-Plated, and Simply Polished Stainless Steel. Among them gold plated and ion-plated is quite popular.
This watch is absolutely not for people with smaller wrists as the case diameter is 46mm which is quite a big one. Not only this, but the weight of the watch is also 14.4 ounces, which is quite a lot if you like lightweight watches then this watch is not for you at all. But for those who like big size watches, this is a gem.
The center of attraction is the dial but you can not ignore very unique crocodile embossed leather band which is made from calfskin leather. Calfskin leather is considered as soft and durable leather also it retains the shape for long time. Although the bandh quality is quite good, its deployment clasp is of slightly average quality and some people have also complained about its quick loosening.
Overall the quality of the watch is average, the creative diamond design is what attracts the most, diamonds are quite noticeable but slightly small in size. Accuracy of the watch is good as it is a quartz powered. The water resistance is claimed as 50 meters only, you can not swim with it, you can consider it as splash proof.
Pros & Cons:
Don't forget to check this article: Are Rotary Watches Any Good? Unbiased Review
2. JBW Heist Watch Review: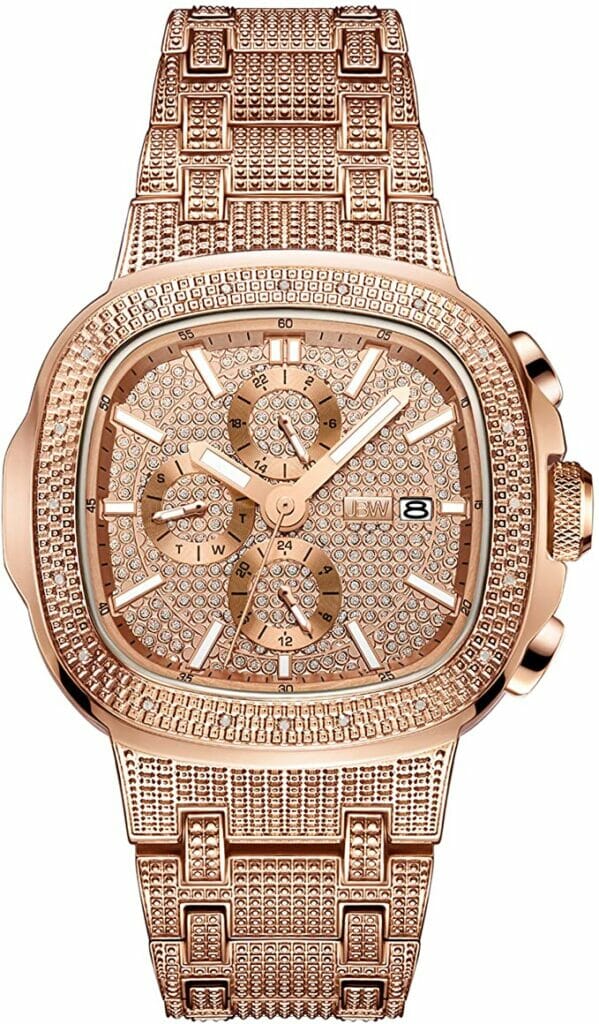 [wptb id=2289]
I found the JBW heist model very classic. If I compare it with the Phantom, its dial is slightly rounded while the dial of the Phantom is in a sharp square shape. It seems a bit better than the Phantom in looks. However, the Phantom uses 238 real diamonds while the Heist has only 20 diamonds on its bezel.
Look at the dials of Phantom and Heist you will find Heist more easy to read. Because the dial looks very clean, the hour sticks are clearly visible and the golden and light golden color contrast inside the dial adds to the beauty of the dial. Its small white date window also looks beautiful in the golden dial.
If I talk about case diameter, its case diameter is 47.5 which is bigger than Phantom but it doesn't look that big due to its slightly round shape. Its crown looks beautiful with a zig zag design that is for grip.
The case and bracelet of this watch use an 18k rose gold plate over stainless steel which gives a very luxurious look to the watch. There is no doubt in its purity but this material is quite easy to scratch.
Overall I found the looks of JBW Heist better than JBW Phantom also it is more easy to read. But if you want 238 real diamonds and mother of pearl sub-dials, you must go with Phantom. The quality of material is good, accuracy is best and price is quite affordable. The water resistance is 50 meters.
Pros & Cons:
3. JBW Orion Watch Review: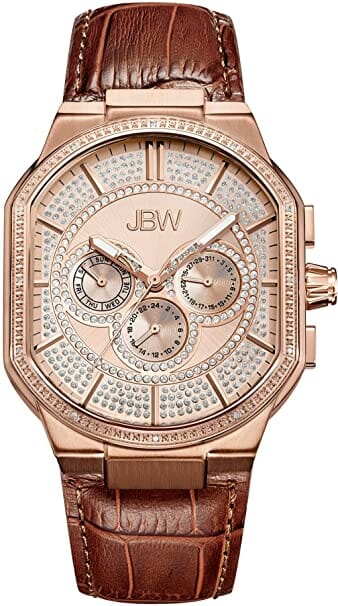 [wptb id=2288]
If you are planning to buy a bling watch but don't want a flashy one then JBW's Orion model is best for you. In the Orion the rose gold is descent while its golden variant is little flashy, not overly flashy. Not even a single JBW watch is overly flashy.
If you'll compare Orion with Phantom and Heist then Orion has only 12 real diamonds while Phantom has 238 and Heist has 20 diamonds. Another difference is their case diameter, Orion has 43mm, phantom has 46mm while Heist holds 47.5mm case diameter. So if you have medium wrist size you can go with Orion.
The shape of dial is quite unique it is neither square nor rectangular or octangular, it is very similar to cylinder shape. There are 12 diamonds on the bezel that are noticeable from a close view. The size of diamonds is too small. The watch is very less readable because of mostly rose gold color in the dial, there is no proper color contrast.
The leather band is same like Phantom, it has a crocodile design and made with Calfskin leather which is considered a genuine leather. Due to calfskin it feels quite soft and comfortable on your skin.
Another feature that I liked about JBW Orion is its 100 meter water resistance capacity while in Phantom and Heist it is just 50 meters so you can easily swim with it. Also, It is very affordable compared to Phantom and Heist.
Overall the watch is good according to its price. Although they should have given a sapphire glass like Phantom but they have given a mineral crystal which is not a good scratch resistance.
Pros & Cons:
4. JBW Jet Setter Review: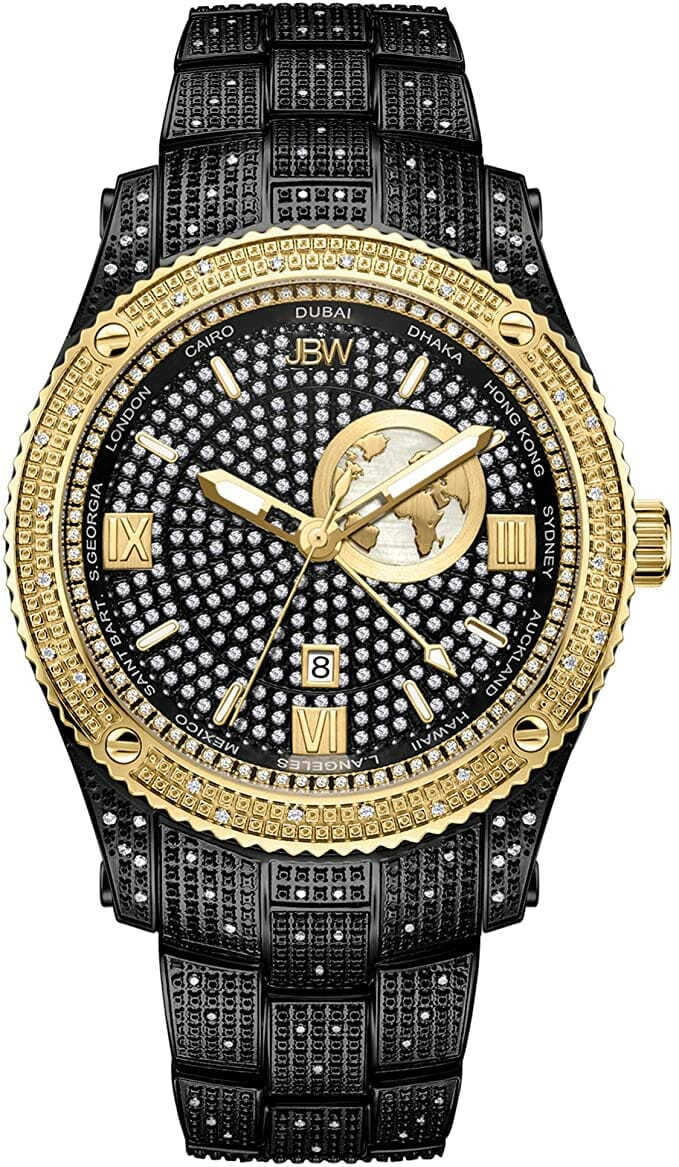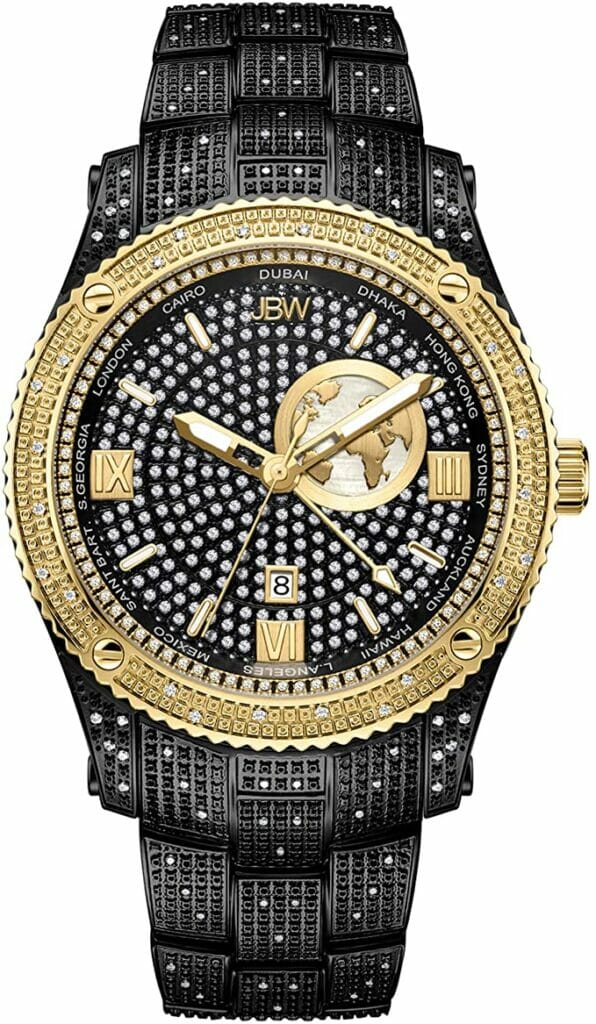 [wptb id=2291]
A bling watch looks more breathtaking in black and golden color combination. This watch holds an attractive color combination and it is beautifully designed with 100 real diamonds.
This watch is quite big with a 46mm case diameter. The diamonds are engraved very well so that they are noticeable from a distance. Diamonds have been used on the watch case as well as on its bracelet which gives a very unique look to the bracelet. The bracelet is made with 316L stainless steel, it looks very sturdy.
A lot of attention has been paid to the small details in its dial. If you look closely, above the hour sticks you will see the names of 12 countries where the JBW is being sold. Beautiful color contrast has been used on the hands and hour sticks which makes it very easy to read.
You get two variants in JBW's Jet Setter model one is black-golden and the other is silver but in silver variant the diamonds are not visible at all and the readability of the silver variant is quite poor. But still, many people have liked the silver variant too.
As far as accuracy is concerned, Swiss quartz movement has been used in this watch, which is very precise. This watch comes with a 50-meter water resistance capacity. Still, you can not swim or take shower with your watch.
Overall, because of its black-golden color combination and 100 real diamonds, I found this watch to be good for its price, but it would have been better if it had sapphire crystal and water resistance up to 100 meters.
Pros & Cons:
5. JBW Saxon Watch Review: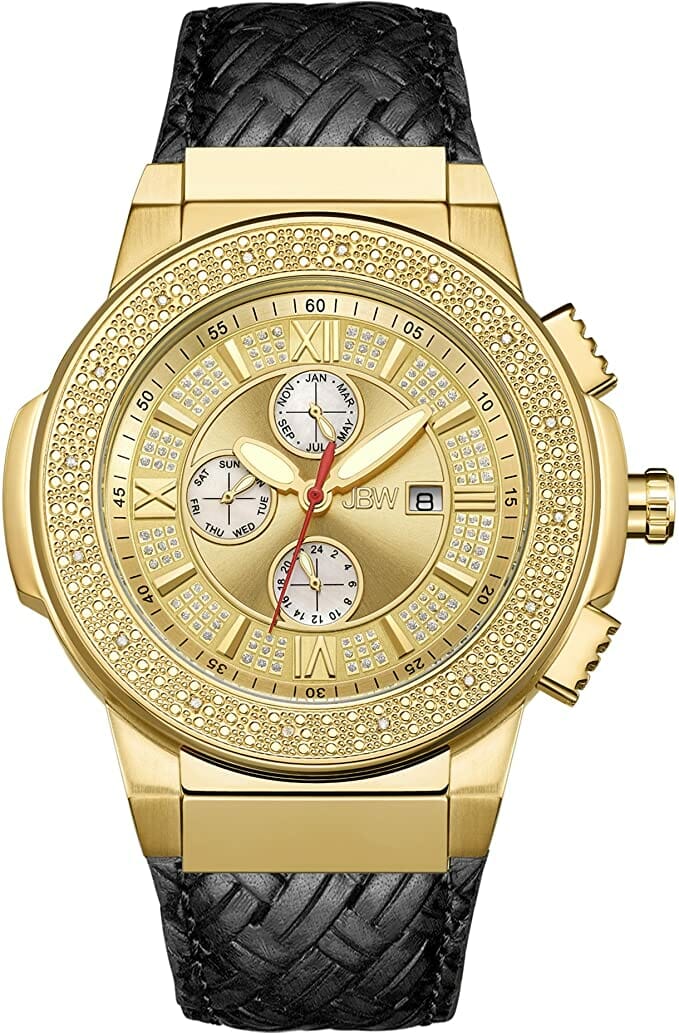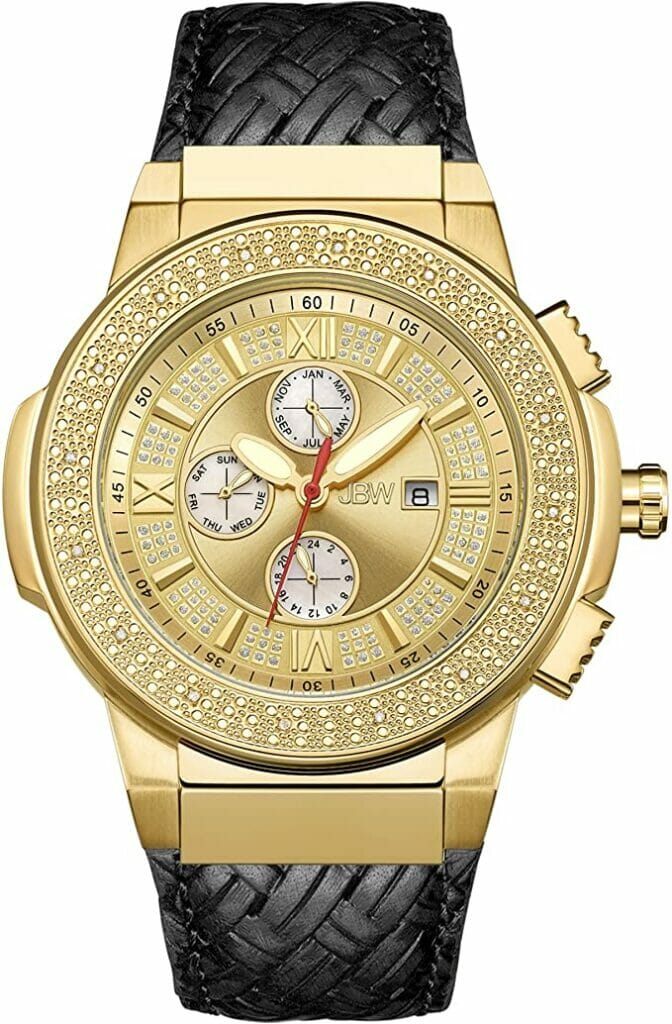 [wptb id=2293]
I liked the design of this watch, it looks like a heavyweight championship belt and is actually quite heavy, and weighs 1.44 ounces. I liked this watch in terms of looks because it is a bling watch but its golden color is not flashy and it does not sting the eyes either.
The dial is so deep, It gets the beautiful mother of pearl sub-dials with a sunray gold-tone backdrop and a small date window on its right side. The hour sticks of this watch are very clearly visible so that it does not strain the eyes to read the time.
Only 12 real diamonds have been used in this watch but still, it looks more luxurious than other JBW watches.
One of the great features of this watch was its braided leather band. This type of braided leather band is made manually and requires a lot of skill and practice.
It seems JBW has done all the experiments in this watch because neither mineral glass nor sapphire crystal has been used in its dial, instead synthetic sapphire is used, which is not as best as natural sapphire but better than mineral crystal.
Overall I loved this watch because of 4 important things first is the affordable price, second its beautiful braided style leather, third its soft golden look which is not flashy at all, and last but not the least, its 100-meter water resistance capacity. The only thing that made me think twice is the size of diamonds as they are not at all visible.
Pros & Cons:
6. JBW Women's Cristal Watch Review: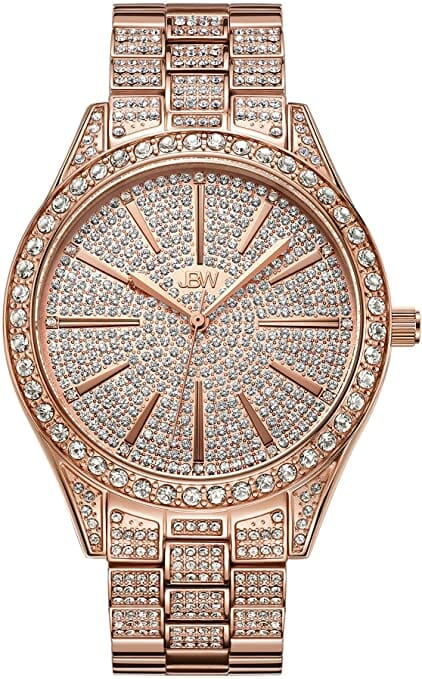 [wptb id=2295]
JBW's Cristal model is quite popular among women and its rose gold is fabulous. This beautiful watch comes with 12 round cut real diamonds fixed above the hour markers. The bezels and bracelet are also meticulously engraved with Swarovski crystals which look quite eye-catching.
The one little thing that annoyed me is that the 12 real diamonds are too small and not noticeable at all. But one of the best things that I found is that the size of its hour markers is bold and big, which makes it very easy to read.
Due to the gold layered on all four sides of the watch, it looks luxurious and does not give a cheap look at all. The 18k gold plate is used to make this look elegant.
But one thing to keep in mind is that its case dmeter is 39mm which is much bigger than the average so if you are the owner of thin wrist then I would not recommend this watch to you at all.
Overall I will definitely recommend this watch to my readers I forgot to mention that it also has a 50-meter water resistance but it is not suggested to swim or take shower with your watch. it is just splash-proof. As there is Swiss Quartz movement is used in this watch, the accuracy is top-notch.
Pros & Cons:
You can also read: 10-Best Women's Watches Under $100-[Latest 2021]
7. JBW Women's Mondrian Diamond Watch Review:
[wptb id=2297]
If you are looking to buy a beautiful bling watch at a low price that is not too flashy like many other cheap watches, then this watch can be the best choice for you.
This watch has 16 genuine diamonds beautifully engraved on the hour markers. And the paved style Swarovski crystals are placed right at the center of the dial which looks extremely eye catching.
It comes with 4 different color variants the very popular one is silver-gold, second is gold, third is rose gold and the fourth one is green-gold. I personally suggest silver-gold and green-gold they both look very elegant.
If I talk about the size, it is quite big, its case diameter is 37mm although it is smaller than the crystal model of JBW but still bigger than an average so you must keep this in your mind before buying.
Overall I found this watch built with good quality material and also it looks simply elegant. The diamonds visibility is better than JBW Cristal model. The water resistance disappoint again, it is mentioned 50m but can not stand with swim or shower so not happy with its water resistance.
Conclusion/Are JBW Watches Worth Buying?
When I compared JBW with other bling watch brands, I found that other brands were either overly flashy or looked cheap due to fake diamonds and low quality material. While JBW watches are actually the perfect example of a bling watch, their watches are neither worrisome flashy nor cheap.
All JBW watches come with a diamond authenticity certificate and also they use certified Swarovski crystals. Not only the diamonds are original but also the stainless steel they use is 316L which is considered good quality stainless steel for watches. The calfskin leather also seems to be made of good quality.
What disappointed me is the size of the diamonds which are quite small. If fewer diamonds are used in a watch, then those diamonds look absolutely unnoticeable. The rest is the best in terms of quality, accuracy, and looks. I will definitely recommend this brand.