Seiko SRPC93K1 Watch Review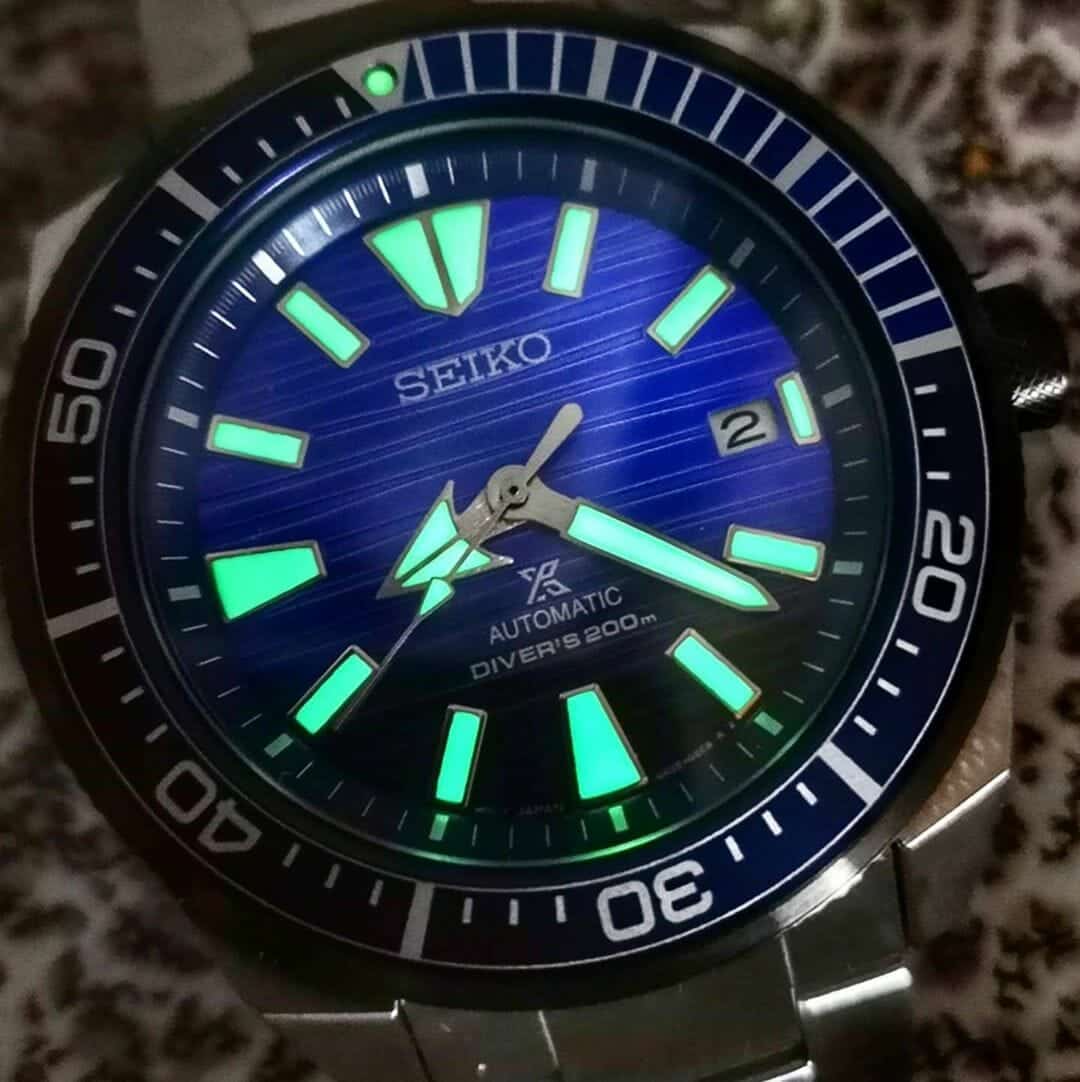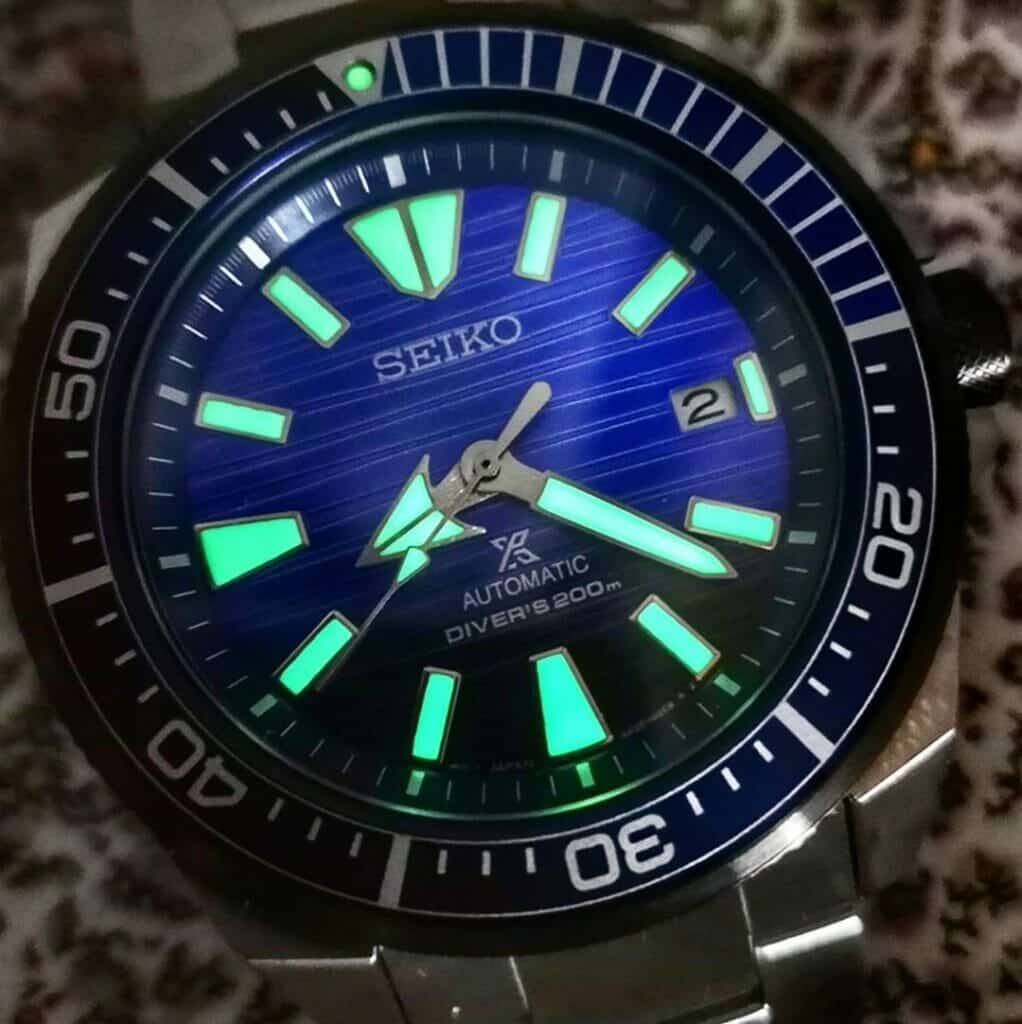 Friends, when it comes to dive watches, which brand name comes first in your mind?
There is no doubt that Seiko's name must have come to your mind. Do you know why this happened?
This is because Seiko has made a place in the hearts of the people through its quality, price, and technical excellence. Seiko holds more than 50 years of experience in dive watches and has a longer history than Rolex.
Today I am going to review one of the popular watches of Seiko. Yes, Seiko SRPC93K1, it's a very dear watch from the Seiko Prospex family. This watch belongs to save the ocean series. And if I take you in more depth, then this watch is very similar to its ancestor watches.
Through this review, I will take you to the depth of every feature of this watch and I will also reveal its pros and cons. We will compare Seiko SRPC93K1 with SRPC91.
In conclusion, I will tell you whether this watch is really worth your money or should you look for other models?
So let's dive into this exciting review of the Seiko SRPC93K1 watch.
Seiko SRPC93 Specifications:
The watch has a beautiful aquatic blue dial with a wave theme. The dial comes with a 44mm case diameter (13mm thickness & 48mm lug to lug measurement)
The dial is protected with Hardlex mineral crystal.
It has a screw-down crown to protect the case from dust and water.
The watch holds 600ft (200meters) water resistance capacity.
It is equipped with 23 jewels and 4R35 caliber automatic movement (Seiko's Own Movement).
The dial has a big date window at 3 o clock position.
Good bright Luminous hands and hour markers.
Seiko SRPC93 Looks:
Seiko has worked very closely in the overall looks of this watch. If I tell you, two themes have been used in its looks.
The first is the Samurai theme and the second is the Ocean theme. Now I will tell you how this theme combination is beautifully carved in this watch.
The Samurai Theme: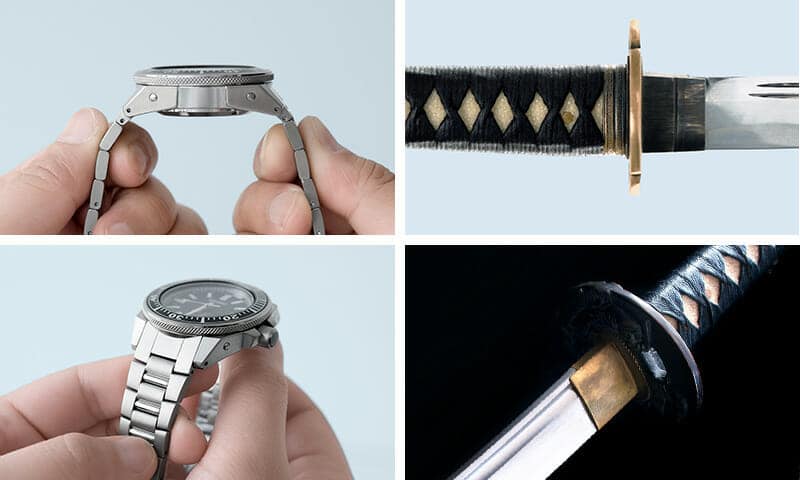 [wptb id=2032]
If you look carefully at the watch, you will find that every edge has a balanced sharpness. The watch shape seems like sliced off with a sharp sword. Let me tell you how it looks like a typical samurai warrior.
The watch case and angular lugs have a very sharp surface. It seems like someone has sliced it off with a sharp sword in one stroke.
If you will notice the watch from a side angle, it looks like a helmet of a samurai.
The crown of the watch uses a mesh pattern that resembles the leather wrapping done on a Japanese sword. And there is a sword rivets kind of design given on the left and right of the crown.
The case of the watch is designed in such a way that it looks like armor.
The hour markers have a narrow-down design that looks like sharp blades.
The hands of the watch also resemble a Japanese sword look.
There are many other small details that make this watch look like a typical Samurai warrior. So the name justifies the watch perfectly. This is the most unusual and unique design in a diver's watch. The watchmaker has tried its best to make the world feel Japanese-ness.
The Ocean Theme Dial: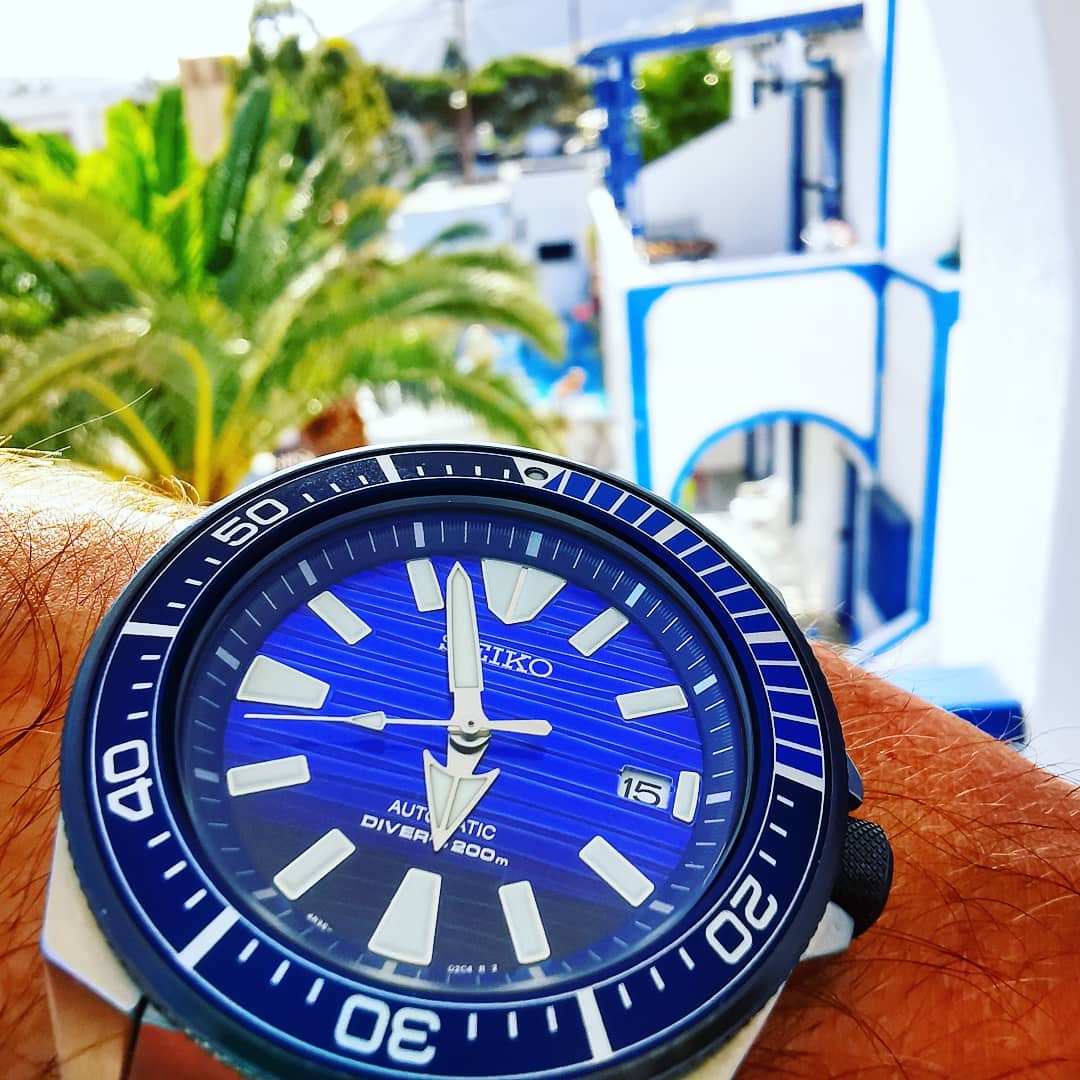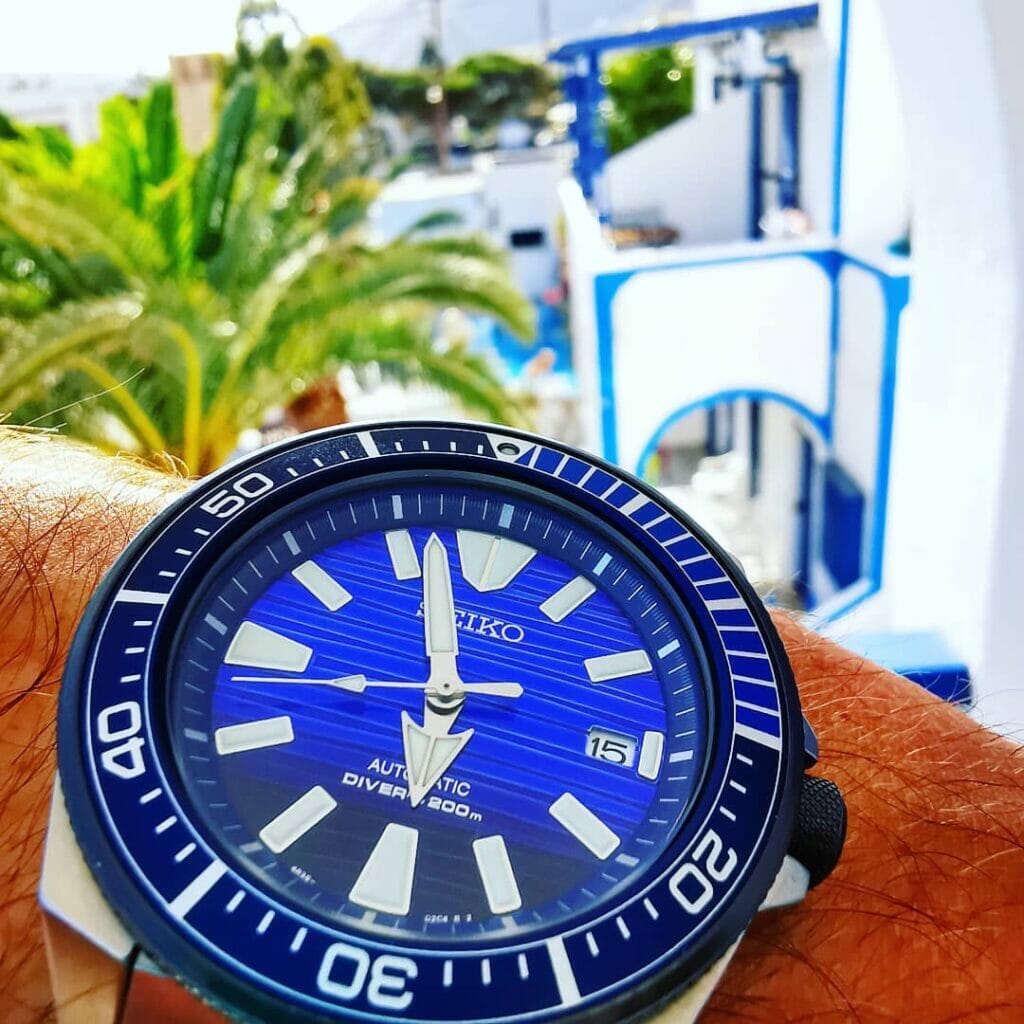 [wptb id=2032]
In addition to giving the watch a sharp look, Seiko has also given a deep feel to the dial through the Ocean theme. It is the main attraction of the watch.
The blue color is used in a very creative way in the dial. It has a light blue color on the top and while turning towards the bottom, it changes into dark blue. It mimics the deep ocean.
The horizontal wave design on the dial gives it a more distinctive look. Some reviewers also compared these wave types of lines to ventral pleats.
The dial of the watch is not only attractive in appearance, but it is also much cleaner and easier to read. The hour markers are enough thick and large to read it at a glance. Also, the hands are inspired by the design of Japanese sword which gives the dial a Samurai touch.
I personally like its Lumibrite luminous hands and markers. The brightness remains good for 3-4 hours but after that, it gets a little dull. Although this watch doesn't have a backlight like Timex Easy Reader Indiglo, but the lume works better than other watches.
Overall, the dial is astonishingly good-looking and an eye-catcher. The Seiko has really worked hard on each and every small detail in the dial. But, I would be happier if the dial had a sapphire glass instead of hardlex mineral crystal, it would have given more assurance towards scratch resistance.
Seiko SRPC93K1 Case: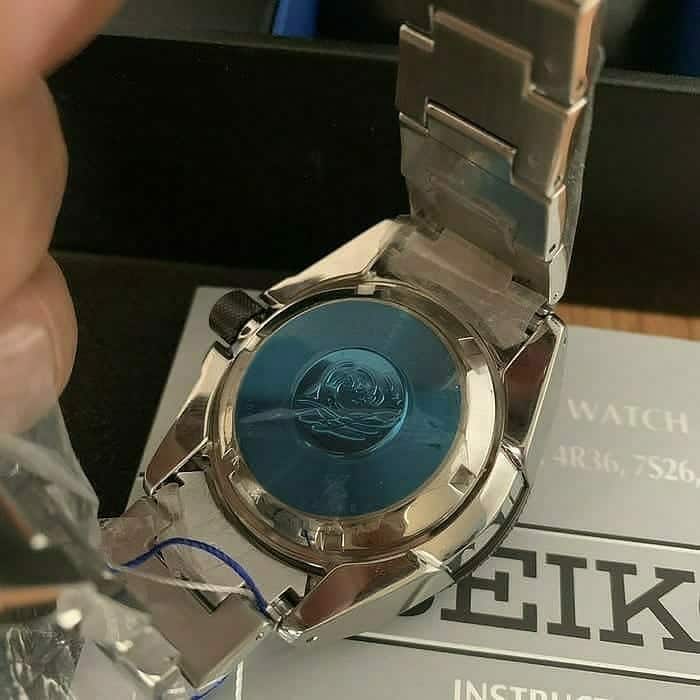 The stainless steel case also represents the Samurai look. The way it is sticking out makes it look like armor. It is not completely round like Seiko Turtle SRPC91K1, instead, it is slightly angular in shape.
You will find a very balanced sharpness in its case as it looks like, it is sliced off by a sword in a single stroke. I find the case very unique because neither it has a complete round shape nor a completely angular shape. It has given a slight armor shape.
Let me tell you now the measurements of the case. The case is 44mm in diameter, thickness is 13mm and it comes 48mm in lug to lug measurement. If you compare the case size it is smaller than Seiko Turtle SRPC91K1 that has a 45mm case diameter.
The watch has a beautiful mesh design down crown. It is tightly screwed into the case and protects the case from water leakage and dust. This kind of crown is mostly used in dive watches.
Overall I found the case very strong, sleek, and elegant. It also has a very balanced weight and doesn't seem heavy on the wrist. The Samurai armor kind of shape gives it a very different and unique look.
Seiko SRPC93K1 Movement:
Let me first tell you the features of this movement.
Features of the movement:
Winding Mechanism: Automatic/Manual.
Accuracy: +45 /-35 seconds per day.
Shock Resistance: Shock-absorber device.
Power Reserve: 41-Hours.
Hacking & Hand Winding: Yes.
Jewels: 23 Jewels.
Outside diameter: 27.40 mm
Casing Diameter: 27mm
Vibrations in seconds: 6
The Seiko SRPC93K1 is powered by Seiko's own automatic 4R35 caliber movement. It comes with accuracy between +45/-35 seconds per day (as stated by Seiko).
You can refer this article to have an in-depth idea of 4R35 movement accuracy. Seiko Caliber 4R35 Movement – Details and Review
This movement also has a hacking feature. Do you know what hacking refers to in a movement? This feature helps you to stop the second hand while setting the time in your watch. So that you get a perfect accuracy in your watch.
Its manual winding feature is also good. It helps you to manually power the watch movement by spinning the crown so it can run for a longer time.
This watch movement serves 41 hours power reserve. It means if you do not wear the watch, it will still keep running for 41 hours. It is not like a solar quartz movement that comes with 6 or 10 months power reserve capacity. Still many people like to wear mechanical movement watches.
If you want to know more about Seiko solar diver affordable watches, I have reviewed Seiko's best two sola diver watches. You can check the links below.
Overall I found this movement quite interesting because of hacking and automatic winding along with manual winding features. As far as accuracy is concerned, it can not beat a quartz movement watch but still I would say that under $300-$400, it is more than sufficient.
Seiko SRPC93K1 Bracelet: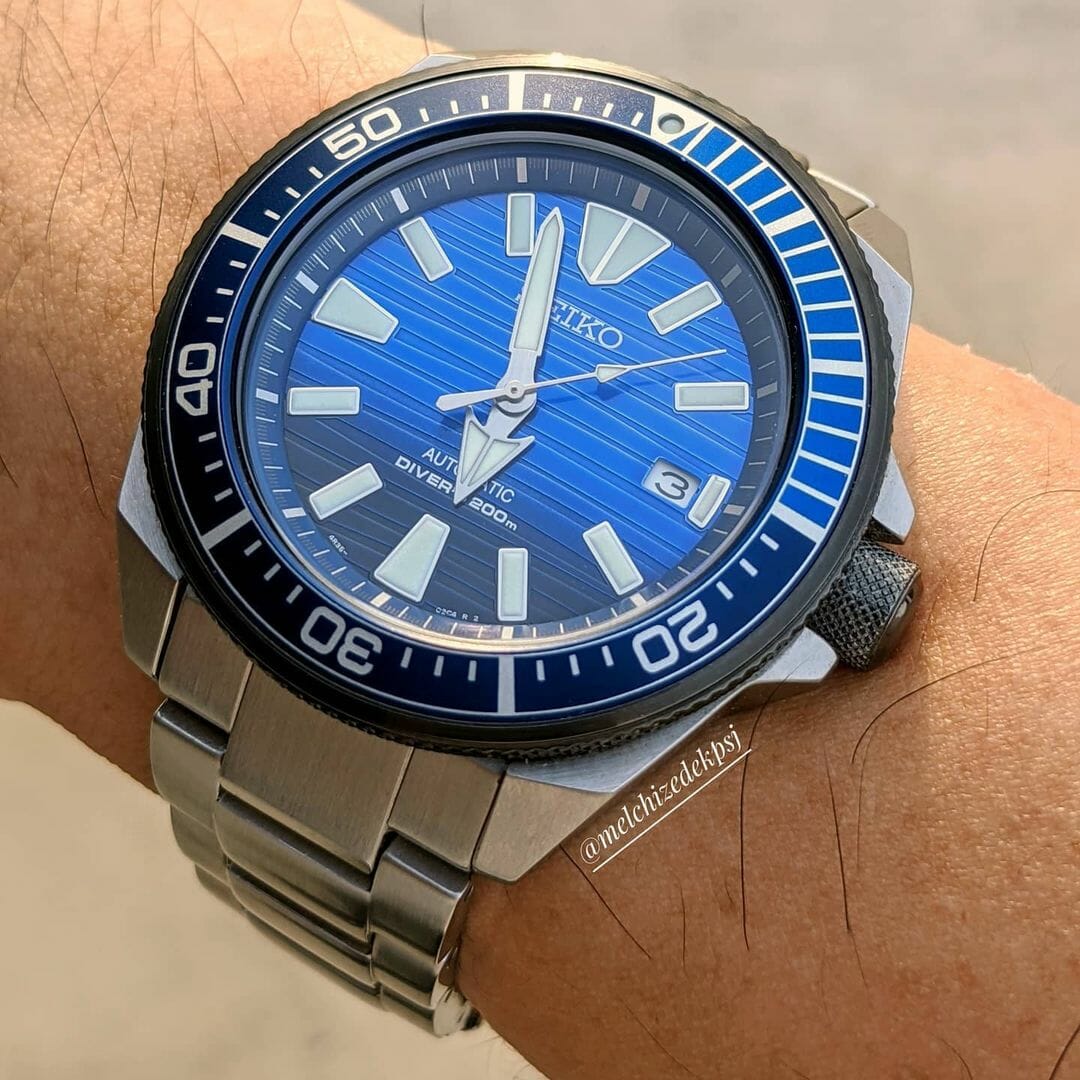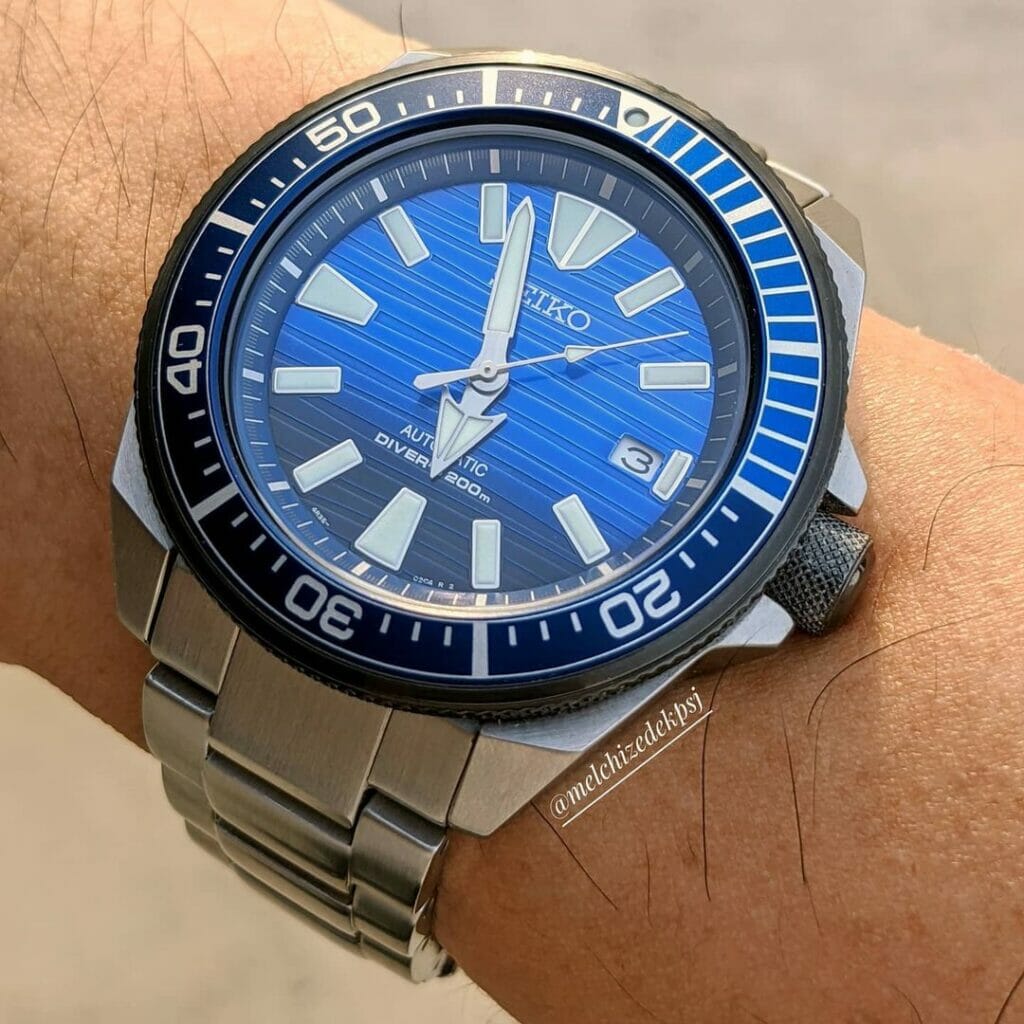 [wptb id=2032]
After the dial, a bracelet holds a significant role in the overall looks of a watch. Seiko never compromises on quality, and this bracelet is the finest example of quality.
The 22mm bracelet is made of brushed stainless steel. It is an Oyster-style heavy quality bracelet that has solid end links and a double-locking deployment clasp with a diver's extension.
The size and fit is pretty comfortable but as some people have complained that the bracelet clasp slightly digs into the skin. You can add an extra link to solve your problem.
Please note: The adjustable links use pins with collars; the collars are located on the "arrow" side of each inner link step, so take care not to lose these while sizing the bracelet.
Overall the bracelet seems to be made of high quality and perfectly hugs your wrist with good comfort. The bracelet weight is balanced not too heavy and not too lightweight. So it's a perfect bracelet under this price point.
Seiko Samurai SRPC93K1 Vs Seiko Turtle SRPC91: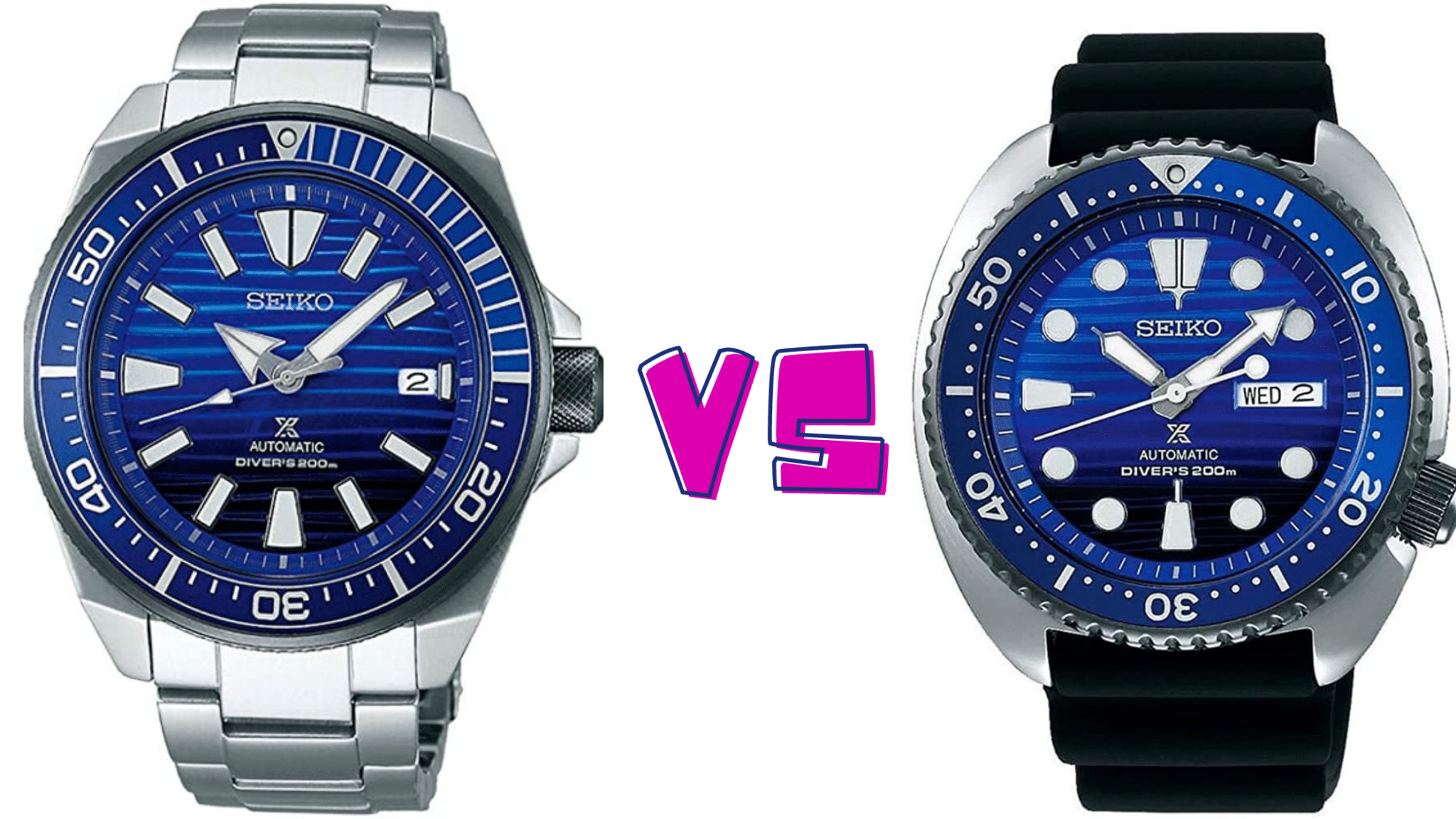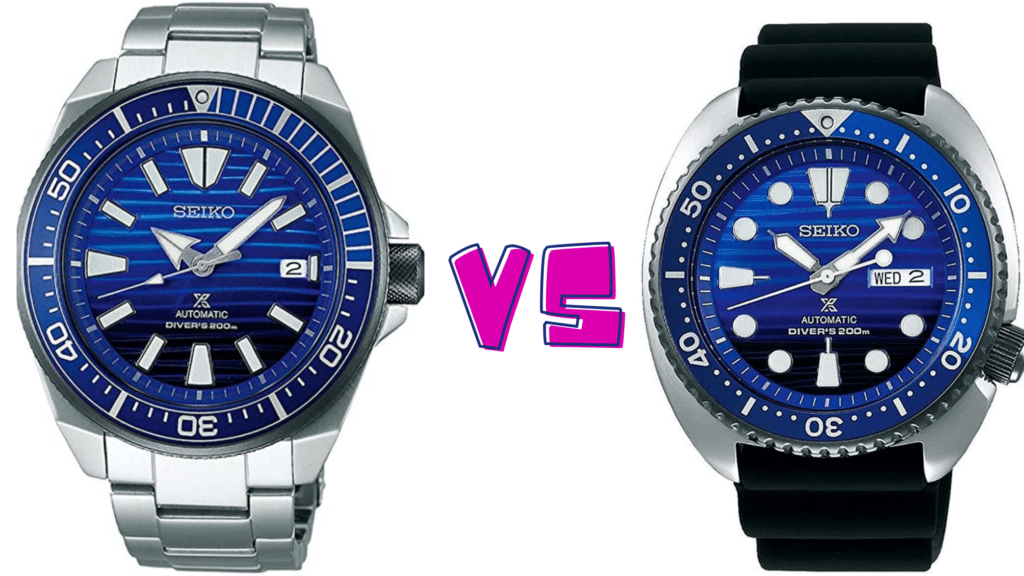 [wptb id=2035]
A lot of reviewers have described the Seiko Turtle SRPC91 as being similar to SRPC93 Samurai. But I saw only 5% similarity and 95% differences. There is just a slight similarity in the dial and it's not completely the same.
The ocean theme is the same in the dial. The differences are in the hand's shape, hour markers shape, the position of the crown, and the case shape, the day-date window difference, and lastly the difference in the caliber of movement.
The case shape of Samurai SRPC93 is angular while Turtle SRPC91 has a more rounded shape. The crown position in Samurai is at 3 o clock while it is at 4 o clock position in the Turtle.
You can see there is a day-date window in the Seiko Turtle but in Samurai there is only a date window.
The difference is in the caliber of the movement where Samurai SRPC93K1 has Seiko 23 jewels automatic 4R35 caliber movement. The Turtle SRPC91 has 24 jewels Seiko 4R36 caliber automatic movement. You will be surprised to know that both of them have the same accuracy that is +45 / -35 seconds per day (as claimed by Seiko).
Pros & Cons of Seiko SRPC93K1:
After an in depth review of each feature, this is the time to reveal its pros and cons. Pros and cons of this watch are based on my humble opinion.
Pros:
The dial looks very attractive and distinctive. It is also very clean and easy to read.
The lume is powerful and bright. It holds a duration of 3-4 hours after that it slowly gets dull.
As the watch represents Samurai look, it has a perfectly balanced sharpness on each edge. Looks like a sword of a Samurai.
It is 200 meters/600ft water resistant so no need to be afraid of water while wearing this watch.
The Oyster-style bracelet gives it a more premium look and feel. It hugs comfortably to your wrist.
The bracelet has a double locking deployment clasp for extra security.
The movement has hacking and manual winding features along with automatic winding.
The case of the watch is not heavy like other dive watches instead it has a sleek and elegant design.
Its unidirectional bezel perfectly lines up with markers. Also, I find that it has a good grip, it doesn't easily get loose.
Cons:
The accuracy is +45 /-35 seconds per day which seems below average according to its price.
The dial has only a date window while in SRPC91 you are getting a day and date window.
It doesn't have a power reserve indicator that can show its remaining power.
Less scratch resistance capacity with mineral crystal.
Conclusion/ Should You Buy or Not?
There is no doubt that the quality of the watch is top-notch. Also, the concept of Samurai and Ocean theme makes it look very different than other dive watches. The beautiful blue dial is the center of attraction. Let's now come to the comparison part.
The watch falls under $350-400 which is not an affordable price. I would recommend you this watch in two cases only. First, if you are specifically looking for a mechanical watch, and second if you are a collector and looking to add a unique type of watch to your collection.
But if you have a low budget of under $200 and looking for a regular watch that doesn't need a battery change in the long run. Then you can go with Seiko Solar Diver quartz watches. They are not only affordable dive watches but also hold great accuracy and you do not need to worry about battery replacement. You can have a look at these two Seiko solar diver watches. Seiko SNE441 and SEIKO SNE435P1.
I hope you would have liked this review on Seiko SRPC93K1 Watch. Please share your valuable feedback in the comment box.
Other Interesting Articles: