Benyar Watches Review 2021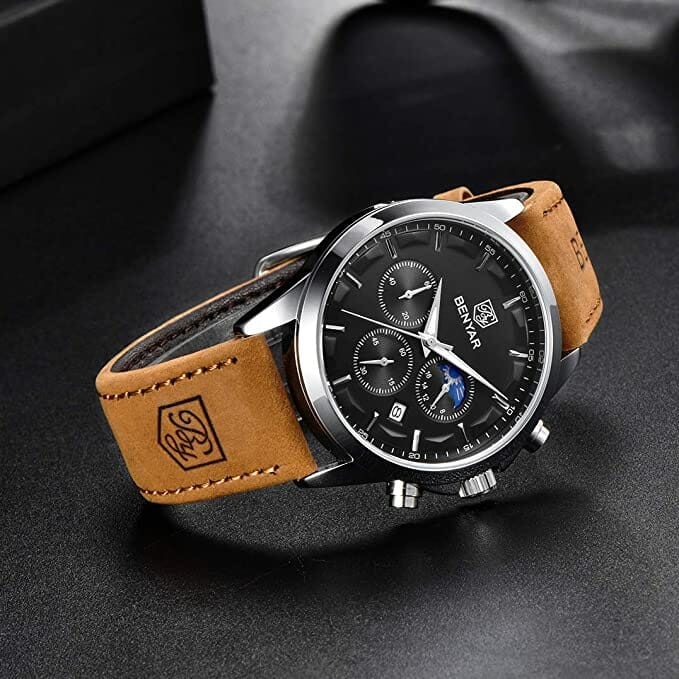 "Honesty is a costly thing, don't expect it from cheap brands" It's a very famous quote. You would be thinking, why I am using it here?
I strongly hate those fraud watch brands that draw the longbow about their watches using big advert budgets and set high prices for poor quality watches.
Does Benyar also do the same?
No! Let me tell you whether Benyar is a good watch brand or not?
I would say Benyar is an honest and reliable brand that does not do much advertising but tries to provide maximum quality at a cheap price point.
The Benyar is a new brand that was launched in 2012. The price of Benyar watches ranges between $30-$50 only. Let me tell you what you'll get at this price from Benyar.
Lets dive deep into the review of Benyar Watches.
What Benyar Offers Under $30?
It is hard to trust a brand that is new and selling cheap watches. But when I first saw Benyar Watches on Amazon, I was amazed to see people's reviews on it.
Let me tell you what features you are getting in Benyar Watches.
Band Material Quality: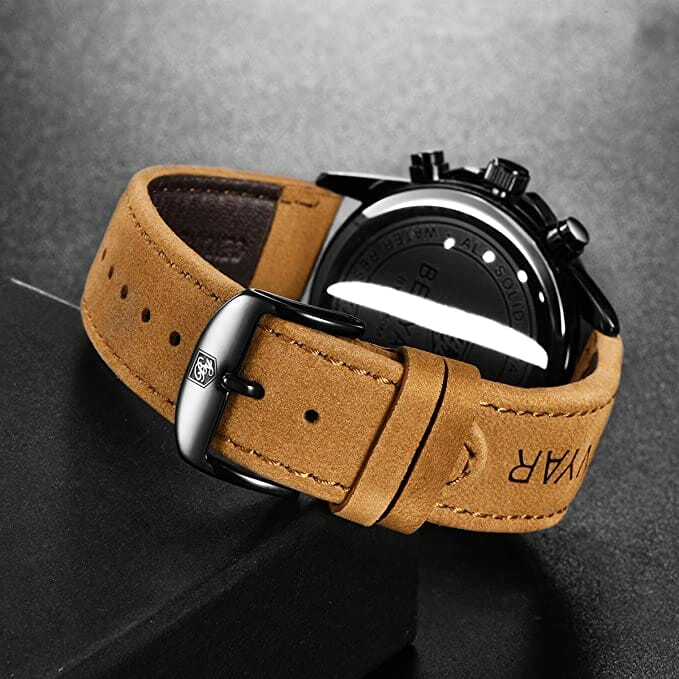 Benyar has tried its best to make its product look high quality at a low price.
While other brands offer cheap plastic or rubber straps for under $30, Benyar is offering you options such as Genuine Leather (with pin buckle) and Stainless Steel.
The stitching and finishing of the leather strap are very good, it does not look cheap at all. Also, it is comfortable.
Both material bands are designed in such a way that they complement the watch face.
Glass Material Quality: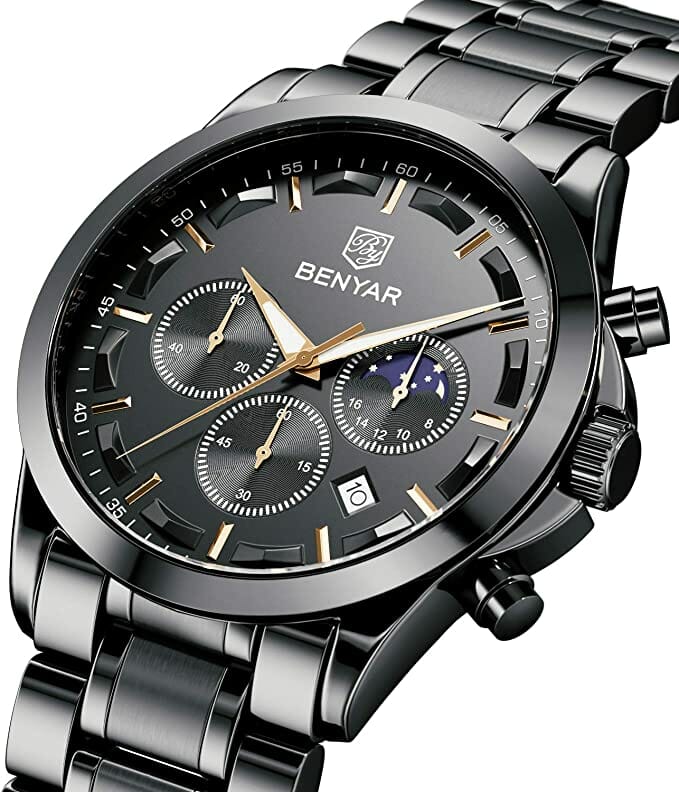 As I mentioned earlier this brand has tried its best to give its watches a solid look. Benyar is offering hardlex crystal glass for under $30.
Although hardlex is not as strong as the sapphire crystal, it is much better scratch-resistant than mineral crystal. hardlex vs mineral
Movement Accuracy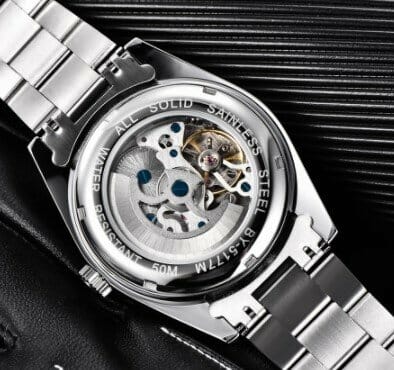 Regarding the movements it is mentioned on their website that they are using premium quality Japanese quartz movements.
They have also recently launched an Japanese G2666Z automatic winding movement watch that is a great deal under $50. This watch is on the third number in this list.
While it is not clear which Japanese movements they are using. But as the reviews are available on Amazon, people have found the accuracy good. Other reviewers have mentioned that probably it is a Seiko movement.
Weight of The Watch:
As far as weight is concerned, this watch is heavy. If you want to go with a light weight watch, you can opt for Benyar leather Watches which have a weight of around 2.82 ounces.
Stainless steel watches are around 5.22 ounces which is a little heavy. But in my opinion, a heavier watch seems better in quality.
Water Resistance:
Instead of water resistance, if we call it only splash resistant, it would be better. Because Benyar watches are waterproof only up to 3ATM (100 meters).
You can just wash your hands while wearing it or it can resist raindrops. It is not suitable for shower or swimming.
In this review about Benyar watches, its time to review their warranty & Guarantee policy.
Warranty & Guarantee:
Warranty and Guarantee shows how much a brand actually trusts its product. And Benyar says that customer satisfaction is their #1 priority.
Benyar will refund your if-
If you do not receive your product within the guaranteed time that is 45 days (not including 2-5 day processing).
In case, if you receive the wrong item.
If you do not want the product anymore. (The return cost will be paid by the customer only and the item must be unused).
*You can submit refund requests within 15 days after the guaranteed period for delivery (45 days) has expired. Check Benyar's return & refund policy.
You can also read this amazing article: [Are Rotary Watches Any Good]-An Affordable Swiss Brand
Customer Service Quality:
This is what a that reflects a good trustworthy brand. It is most irritating when you do not get any support from the brand if you have any issues with the product.
As Benyar mentions the customer satisfaction is their first priority so they respond all the customer queries within 24 hours only.
Chronograph Feature: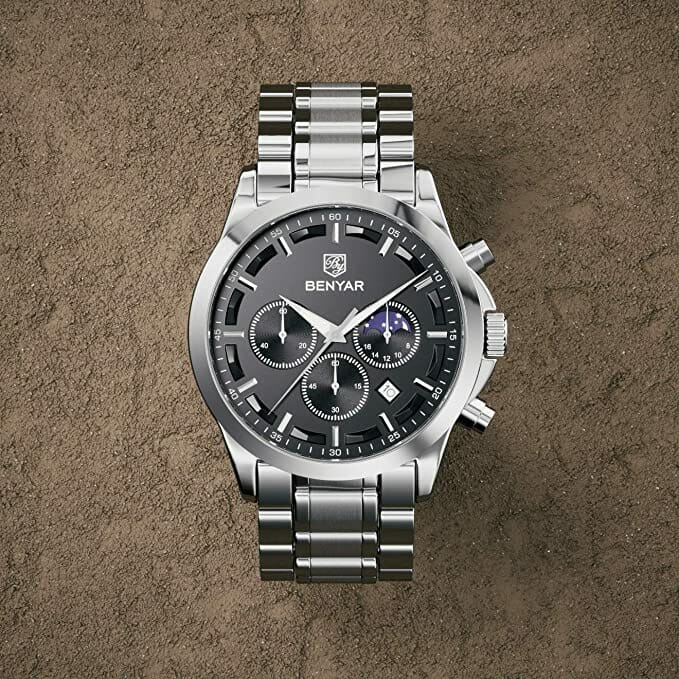 The best thing under $30 is their chronograph functioning is really well. Timex also offers watches under $50 but even their chronograph not as smooth as Benyar.
Also, they have designed the dial in such a way that every single sub-dial is very easy to read. You can read even small details at a glance.
further in this review on Benyar watches, I am sharing with you Five top rated Benyar watches as below.
You can also read this amazing article: [4 Best Timex Solar Watches of 2021- [Under $50 Only]
Best 5 Benyar Watches of 2021: Benyar Watches Review
I always try to select the top-rated and high-quality models that do provide good value for money.
After a lot of research, I found these 5 models to be the best value for money. Because they are not only low in price but also hold a reliable quality and accuracy.
TOP-1 Benyar Chronograph Leather Watch BY-5140:
Here are all the variants of this model:
This model of Benyar watches is Amazon's bestseller and is quite popular, more than 4000 people have shared their ratings on it.
Features:
Hardlex Scratch Resistant Glass.
Case Diameter 45mm.
Item Weight 5.22 Ounces for stainless steel and 2.82 ounces for the leather strap.
Water Resistant 3ATM.
Deployment clasp in Stainless steel band and pin buckle in leather one.
Genuine leather strap.
Pros of The Watch:
The watch has a nice weight, the chronograph works smooth & sweep. The watch has a very solid feel.
This watch does not look flashy and cheap at all instead it looks like a more expensive sports watch.
The watch face is not like some cheap monster watches. It is perfect for any wrist size (not suggested for too small wrist size)
The dial is clean and easy to read, even sub-dial numbers can be read at a glance. Also, the lum
The best part is, it keeps perfect time and serves the best accuracy.
The leather band quality is just unexpected at this price point. Also, the stainless steel band is heavy and seems to have good quality.
You get a hardlex crystal for better scratch resistance. It protects better than mineral crystals.
The watch comes with 3ATM water resistance and can bear sweat, accidental rain, or water splash. Not suitable for swimming or shower.
Both leather and stainless steel options are the best value for money.
Cons of The Watch:
The watch is just 3ATM waterproof.
Sometimes adjusting the time in the watch is a bit difficult.
Not suitable for very small wrist sizes.
Not suitable for people who prefer a lightweight watch.
The brand has tried his best to serve the best quality. If you are looking for a cheap daily wear watch or if you want to gift someone without compromising the quality at cheap price, then this beautiful timepiece is for you.
Lets check out the 2nd best watch of this review on Benyar watches.
You can also read: Vincero Watches Good or Bad? [Reality Exposed 2021]
TOP-2 BENYAR Men's Sport Military Watch:
Here are all the variants of this model:
This is Benyar's 2nd top-selling model on Amazon which has more than 3000 ratings. Let's find out the features & pros and cons.
Features:
40mm case diameter.
Hardlex scratch resistance glass.
Deployment clasp.
3ATM Water Resistant.
A genuine Leather strap option is also available.
Pros of The Watch:
Every cut and curve of the watch seems to be so perfect, that makes this watch look premium.
The watch is enough heavy not too much heavier. Very much comfortable on the wrist.
A highly detailed easy to read dial with proper finishing.
The precise quartz movement is very accurate. The company claims its accuracy rate less than 1 second per day.
The dial comes with a 40mm case diameter which looks perfect even on the small or medium wrist size.
The hardlex crystal protects it from scratches and makes it look good for a long time.
The genuine leather quality is also better than other cheap watch brands. It is comfortable and durable.
The chronograph is also fully functional and all the subdials work smoothly like a good expensive watch.
Cons:
The brand claims it to be 3ATM water resistant but it is not water resistant at all.
Not suitable for those who prefer a light weight watch.
Resetting the chronograph is little complicated.
I found this stainless steel design better than the first one because it looks more like a titanium kind of bracelet.
The watch is great in features, looks, quality and accuracy. It can also be an ideal gift for someone special.
TOP-3 BENYAR Self-Winding Movement Fashion Watch:
Here are all the variants of this model:
This model has recently launched on 8th March 2021. I found this model simply elegant and looks very attractive. Let's check out the features.
Features:
The watch uses a very accurate Imported Japanese G2666Z automatic winding movement.
It is 50m water resistant can withstand splashes or short-term immersion in water.
The case diameter is 41mm.
The watch has luminous hands.
The watch contains a gift box, 1 watch, 1 user manual, and 1 cleaning cloth.
Pros of The Watch:
The movement used in this watch is also used by Invicta and Stuhrling watches. Its auto winding uses the magic lever system pioneered by Seiko. It is very accurate and far better than old auto-winding reverse style mechanism watches.
The watch comes with a high-hardness synthetic glass. This kind of glass is more resistant to friction, abrasion, and scratches.
The dial is very clean and has enough size numerals that can be read at a glance.
The dial may look small in the pictures but it is big. It comes with a 41mm case diameter so it will look good even on big wrist sizes.
The watch has a good 50m water resistance capacity. You can enjoy a shower with your watch but I do not recommend it for swimming or water sports.
The luminous hands help you to read time in dark or low light conditions.
The weight of the watch is not too heavy and not too light.
The build quality is very strong.
Cons:
The white dial color variant has a bad color contrast that make it difficult to read at a glance or in low light conditions. Rest blue and black colors have great readability.
If you are looking for a simple but stylish watch then this is for you. This watch comes under $50 and the best thing is it has a good automatic winding movement.
The watch is using high-hardness synthetic glass that serves not as best as sapphire but better than mineral and hardlex. The watch is worth for the money.
Do You Know This Amazing Brand? Check This Out: Bering Watch Brand Review 2021-[Is It Worth Buying?]
TOP-4 BENYAR Men's Sport Fashion Watch:
Here are all the variants of this model:
This is another great model by Benyar. I personally liked the dial of this watch. Not only it looks cool but also if you see each and every detail is clearly visible even from a distance.
Secondly the band design which is very attractive in this watch. This is also a bestselling Benyar watch on Amazon with more than 600 ratings.
Let's check the features of this watch.
Features:
Hardlex crystal for better scratch resistance.
The case size is 43mm in diameter.
Stainless steel bracelet with 21mm width.
3 ATM water-resistant.
Black, Green, Blue and different color options.
Pros:
Very well made watch enough heavy that show a good quality material is used.
The watch holds perfect cuts and finishes. It does not have sharp edges like other inexpensive watches.
You get a too to remove links from the bracelet and it is quite easy with this watch to adjust the band.
It is very accurate and keeps the time perfectly.
The watch has a perfectly balanced weight and good stainless steel material that makes it more comfortable than other inexpensive watches.
The watch looks like a very expensive watch.
The chronograph is all functional and best under $30.
It has 3 ATM water resistance.
Cons:
The watch is heavier and large not suitable for small wrist sizes. (Good for medium and big wrists)
Under $30 what else you can expect? You are getting not only a good heavy watch but also an accurate quartz movement. And the best part is the watch does not look cheap at all.
Personally, I liked the black color dial with chronograph features. It has very in-depth details and good readability. It is good for daily wear as well as an ideal gifting option.
TOP-5 Benyar Genuine Leather Strap Watch:
This model has two variants:
The best thing that makes this watch an another top rated inexpensive watch by Benyar is its unique looks and brilliant leather quality at a cheap price.
This model of Benyar is also highly appreciated by customers on Amazon. The watch has great looks, stunning quality at low price and best comfortable feel on the wrist.
Let's check out the features.
Features:
Genuine Leather Quality.
Hardlex Crystal Glass.
45mm case diameter.
30meter water-resistant.
Japanese Quartz Movement.
Pros:
Very much comfortable on the wrist. Because of genuine quality leather.
The looks are very unique and stylish.
Properly finished and does not look cheap at all instead it looks like a very expensive watch.
3ATM Water Resistance.
Smooth Chronograph Functioning.
Very accurate and precise quartz movement.
It is perfect for bigger wrist sizes because it has a very large 45mm case diameter dial.
Serve more value than money spent (under $30).
Cons:
The dial numbers are easy to read but the chronograph sub-dial is little difficult to catch in the low light conditions.
Only 3ATM water resistance.
Conclusion/ Is Benyar Worth Buying
After reading this review of Benyar watches, you would have a clear understanding that this brand is reliable and worth customer's trust.
I have put lot of efforts while researching about Benyar, because I found this brand worth sharing with my readers.
There are many inexpensive watch brands in the market, but their watches do not work more than two weeks or even two days.
The popularity and the huge people's satisfactory reviews on Amazon itself express how amazing this brand is.
I have shared Benyar's five selected models which I found worth sharing. These five models are the best popular models of Benyar because they are not only good with looks but also hold great quality and accuracy.
If you are finding a watch under $40 or $50, then Timex Weekender Chronograph and Timex Easy Reader are also great options for you.
I hope you liked my review on Benyar watches, please share your valuable thoughts in the comment box, thank you.
Other Trending Articles:
Timex Weekender Chronograph- A Best Quality Watch Under $50
Timex Men's Easy Reader-Simply Elegant Watch Under $50
Are Rotary Watches Any Good- An Affordable Swiss Brand