Best Smartwatches for Teenagers (Boys & Girls)
When I bought my first smartwatch for myself the biggest advantage that I found was, that it reduced my phone addiction a lot. Because many of the small tasks that a smartphone does was easily done by my smartwatch.
Also, it improved my health with various health-related features that a smartphone does not provide. In the era of gadgets, the trend of smartwatches has increased a lot among teenagers. There are mainly three reasons behind it.
They look very cool and youthful.
They help you with your fitness goals and improve your health. Which a smartphone does not have.
It reduces phone addiction a lot. Because it can perform many of the tasks which a smartphone does.
Features and functions are very easy to find in a smartwatch but you know what is hard to find in a smartwatch?
The quality and accuracy of features are very hard to find if you have a small budget.
Most of the time people end up with the question "What is the best smartwatch for a teenager?
In this article, we will find 9 such smartwatches that are best for teenagers and provide you with affordable prices, good quality, and almost all the features that a top-line smartwatch holds.
So let's start with the most popular and affordable smartwatch for teens.
1. Willful: Overall Best at Cheap Price
[wptb id=721]
Features
[wptb id=716]
When you will see the price and its reviews on Amazon, you will also be surprised. In today's time, you get a lot of functions in a low-cost smartwatch but it is very difficult to get good quality.
Is Battery & Strap Quality Good?
In this watch, you are not only getting all the features that a top-line smartwatch carries but also getting good accuracy and quality at a very cheap price.
Let me tell you about the battery life now because teens have extreme use of smartwatches so battery life really matters a lot.
The battery life is amazing, also gets charged quickly. Once it is charged it will run for 7-8 days without any hassle. Also, magnetic charging is quite easy and cool.
The standard rubber strap quality is average because if it is too vet, it may harm your skin. However, it is very comfortable, soft, and easy to fit any wrist size because it can be stretched. If you are looking for better strap quality you can opt for the second watch which is YAMAY.
How Good Are The Features?
The health features like pedometer, activity tracker, heart rate monitor and breathing guide work as accurately as any expensive smartwatch does. But the sleep monitor comes with a gimmick performance as if you move a lot in sleep, it considers as you are awake. However, it provides you with information about your sleep patterns, deep and light sleep data also how much sleep you have taken which is very useful for teenagers.
The features like call, message, and social media notifications work really well. So even if you are occupied somewhere and can't reach your phone you can respond to the notifications easily. You can also control your phone's music with this smartwatch. I enjoy this feature while taking shower.
You can also adjust the brightness according to the requirements. Find your phone works great when you leave your smartphone alone somewhere and forget it. Your phone starts ringing once the watch comes into its range.
What Makes It to Buy?
This watch is designed in such a way that a nontech savvy can use it. Because it has a pretty simple interface with easily understandable features.
This smartwatch is a bundle of quality features at a very low cost. The health features are very useful for teenagers to keep them active and healthy. Such features are not provided in the smartphone. I will suggest, you must go with this smartwatch if you have a low budget and looking for a stylish smartwatch with accurate features.
Pros & Cons
2. YAMAY-Best Gym Watch for Teens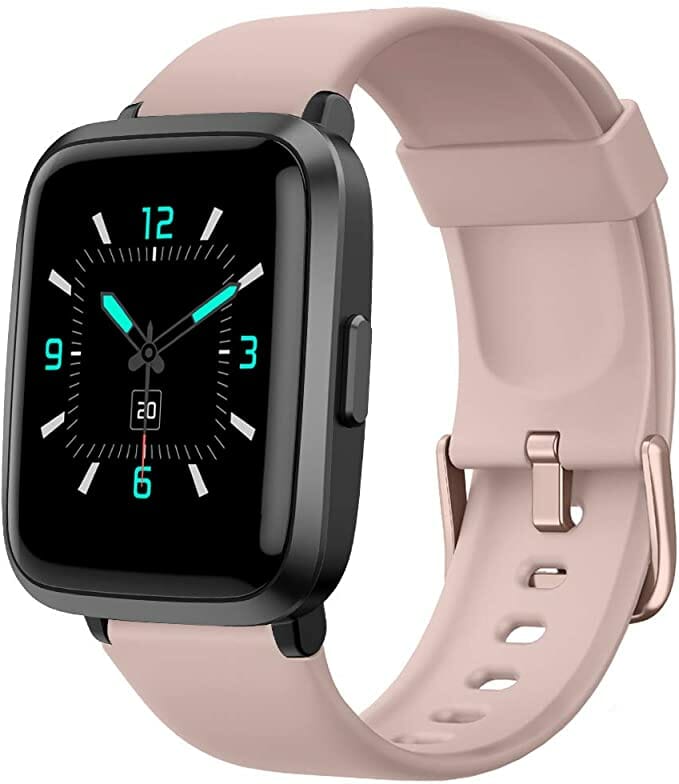 [wptb id=783]
Features
[wptb id=725]
This is another top trending, most favourite, and best smartwatch for teenagers. Which offers great features, and good quality at an amazing price.
Is Battery & Strap Quality Good?
The watch consists of a lithium polymer battery. It is a non-explosion and very safe kind of battery. Also, it has higher capacity delivery which turns it to be long-lasting for a smartwatch.
Such batteries are currently used in cheap smartwatches because of their long-lasting quality. They get charged quickly and survive more than 8-9 days with extreme use.
When you will read the reviews on amazon about the battery you will find 100% of people have appreciated it.
It has adjustable straps which are very comfortable. It is a gel kind of straps which makes it very lightweight and flexible. Although you have to wear them fairly tight to read the heart rate, blood oxygen, and blood pressure and sometimes it leaves a mark.
How Good Are The Features?
If you're a fitness enthusiast, then this watch will make you enjoy it. It helps to bring a bit of fun into the morning run. This smartwatch, which doubles as a fitness tracker as well will be your friend who will help you monitor your heart rate, speed, step counts, and sleep patterns.
The Accurate fitness tracker smartwatch will accurately track your all-day steps, calories burned heart rate, etc.
The best smartwatch for your smartphone, it can be iPhone or android.
Advance sleep tracker.
Battery life up to seven days.
IP68 waterproof certificate.
What Makes It to Buy?
This watch consists of great features with the average build quality. That simply means it is not for rough use. Also, the blood pressure monitor is not that accurate but the rest of the features like the heart rate monitor, pedometer, and fitness tracker are amazingly accurate and work best at this low price point.
Apart from all that the battery life and strap quality are worth the money. The looks are cool and stylish. If you are going to buy your first smartwatch this can be the best option for you.
Pros & Cons
3. Apple Smartwatch Series 3 & 6- Is An Apple Smartwatch Good For Teenagers?
Apple smartwatches are best known for their good strong build quality and sleek, stylish design. However, the battery life is a maximum of up to 48 hours in both Apple Series 3-6. Let's know they are good for teenagers.
Apple Series 3 Vs Series 6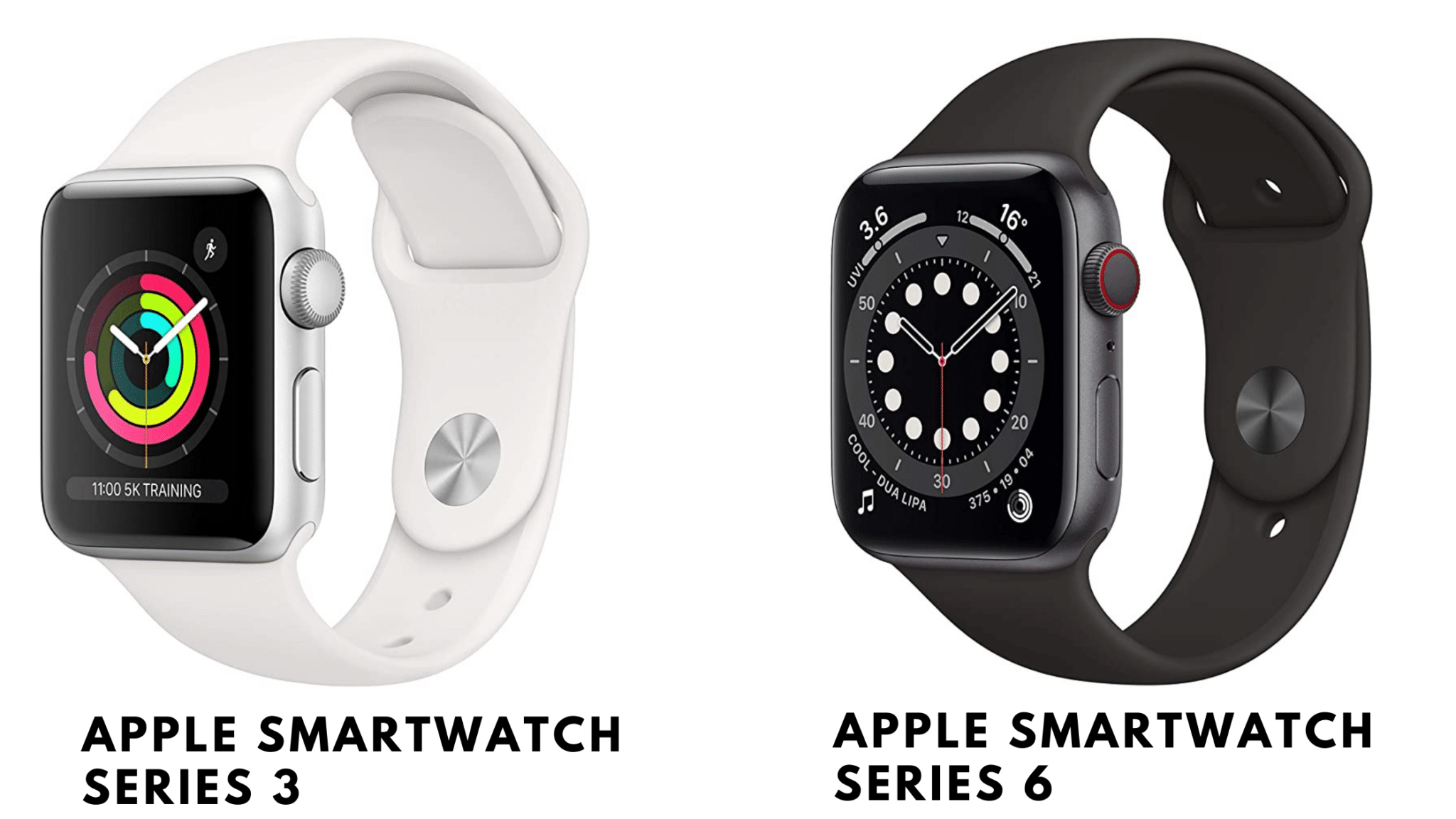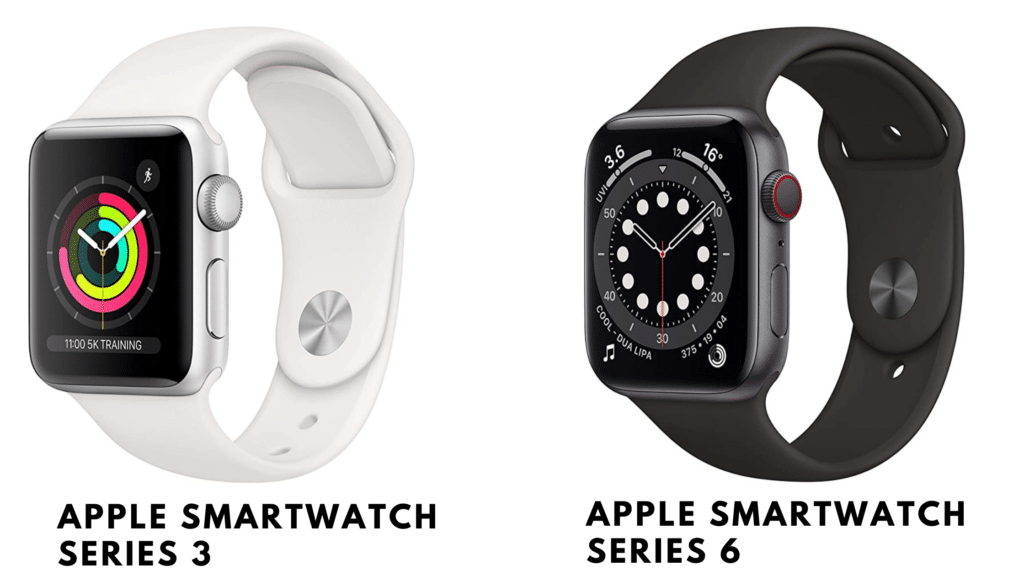 [wptb id=738]
Is An Apple Smartwatch Good For Teenagers? Know the Facts
Yes, an Apple smartwatch is good for teenagers. Let us explain to you with following facts.
Parents now do not need to panic about what teenagers are doing on their watches because apple smartwatches have great parental controls.
Teenagers can track their health and activity level with the health features that keep them active and healthy.
With the family tracker app using GPS, parents can track the location of their children and also track each and every move. Which is a great feature.
The apple watch is compatible with the apple pay through which you can buy anything with a push of a button and you do not need to have a physical card. It is very safer and easy. But a teen should have "responsible buying habits."
Pros & Cons of Apple Smartwatch
Should You Buy an Apple Watch or Not?
If you are going to experience the smartwatch for the first time and have a low budget. We would suggest you go with either Willful or YAMAY which are number one and two in this list. Both are highly featured and hold nice quality and accuracy. But you cant make or receive calls on them.
If you are looking for a watch that can make and receive phone calls, has strong build quality, durability, good parental control applications, and sleek design. And if you have a good budget then go with the Apple smartwatch.
For teens, the Apple smartwatch series 3 will be good. But remember the Apple smartwatches are not compatible with Android phones.
4. HUAWEI Smartwatch: Good Brand, Good Quality, Great Features at Affordable Price.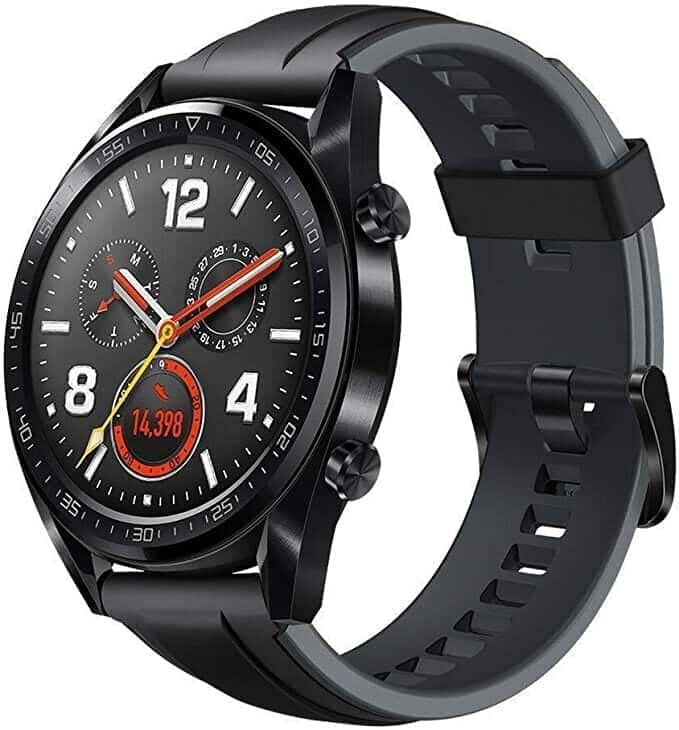 [wptb id=787]
Features
[wptb id=744]
If you are looking for a decent affordable smartwatch that is not so cheap and not much expensive then this is for you. Let me tell you about the battery life, build quality, and other features performance of this watch.
Is This Watch Really Have 2 Weeks Battery Life?
Yes, it is correct that the watch runs for 2 weeks without any hassle once it is fully charged. It is because of the double chipset architecture and low energy consumption algorithm.
Because teens have extreme use of different features and functions so they require a long battery life. And this watch fulfils that need.
How is The Build Quality?
This watch has an AMOLED screen which you do not get in any cheap smartwatch. The benefit of AMOLED display for teens is, that it is safe for the eyes and also comparatively strong than LCD displays. Amoled Vs LCD.
The watch is very sleek and lightweight, the screen size is big enough. Also, the looks are very stylish and cool. It seems to be a very expensive smartwatch.
The ceramic material is used in the bezel and stainless steel in the shell which makes it very strong and resilient to accidents.
However, the straps are made of leather rubber which is average in quality. Also, not recommended for regular swimming while the watch is 5ATM waterproof. So there will be no use, you will have to change the straps to silicone if you are a regular swimmer.
Features Performance
The watch has all the features which a mainstream smartwatch holds. It has modern GPS which supports 3 satellites positioning system which is very precise and faster.
The watch is using very efficient TruSeen 3.0 heart rate monitoring technology. It is an advanced heart rate monitoring technology that helps in reading your heart rate in real-time with great accuracy.
The personal coaching feature is really great in this watch. This watch coach you for basic to advance running courses while providing guidance training and giving time-movement effect feedback.
You can sync the watch with your phone to play music from your phone's library. If you want to store the songs then the watch has a capacity of storing 500 songs. but that must be downloaded either from amazon music or google music.
Apart from that, all other features like an all-day activity counter, step counter, heart rate monitor, and fitness tracker are accurate and good. And all the notifications of calls, messages, and social medial work well.
Pros & Cons
Should You Buy This or Not?
The battery life is 2 weeks, the price is affordable, the build quality is good, the looks are stylish and sleek, and features accuracy is great because of advanced technology. The problem is with the straps that are not recommended for regular swimming and the app syncing is not that great. However, it can be a good watch for a teenager if he looking for a durable smartwatch.
5. Fitbit Versa 2- The Most Popular Smartwatch of Teenagers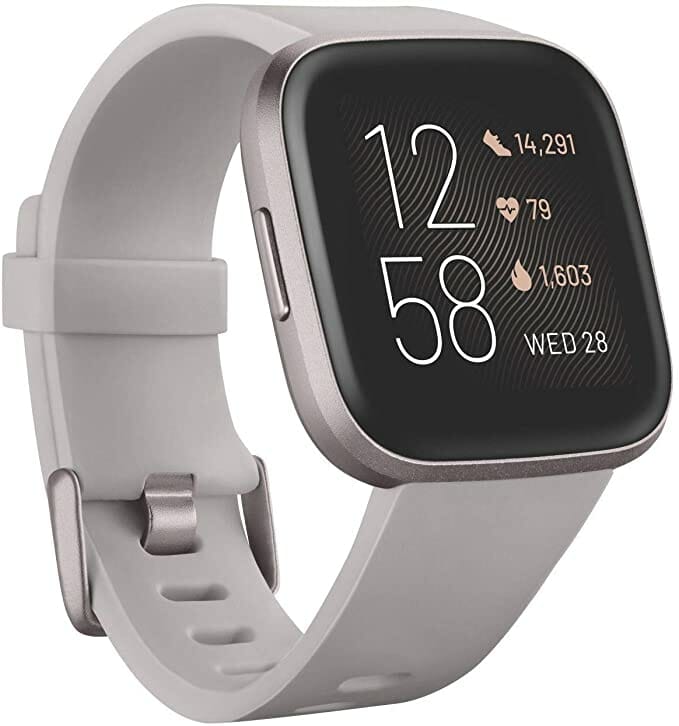 [wptb id=791]
Features
[wptb id=745]
This smartwatch is now breaking records and reached more than 90000 reviews and ratings on Amazon. Let us tell you why?
Why it is So Popular?
There are some amazing features that make it a highly popular smartwatch. First is the built-in Amazon Alexa feature, through which you can command the watch with your voice. So if you want to set the alarms or bed reminders, or if you want to know about weather forecasts, any information, or news it is just one order away. Also, it helps you control your smart home devices.
It has a very new sleep score system that compares your daily sleep quality on various parameters and shows you the results in a singular number.
The watch looks very expensive. The screen size is not very big but it is enough for proper readability. Also, with the AMOLED display, you get a good contrast of colours and brightness. It is also very safe for your eyes.
Apart from these features, the heart rate monitor, step counter, fitness tracker, and sleep tracker are very much accurate. Also, you can control the Spotify app and add Deezer playlists with this smartwatch and store more than 300+ songs. The watch is waterproof as well.
Pros & Cons
Should You Buy This Watch?
Definitely, if you have a budget of around £199 or $165. This watch is really great and very popular in 2021. But if you are looking for a watch that helps you to make and receive calls then this is not for you. Then you can go with the Apple series 3 which is on the third number in this list.
6. Fitbit Versa 3 Vs Versa 2: Which is Best for Teenagers?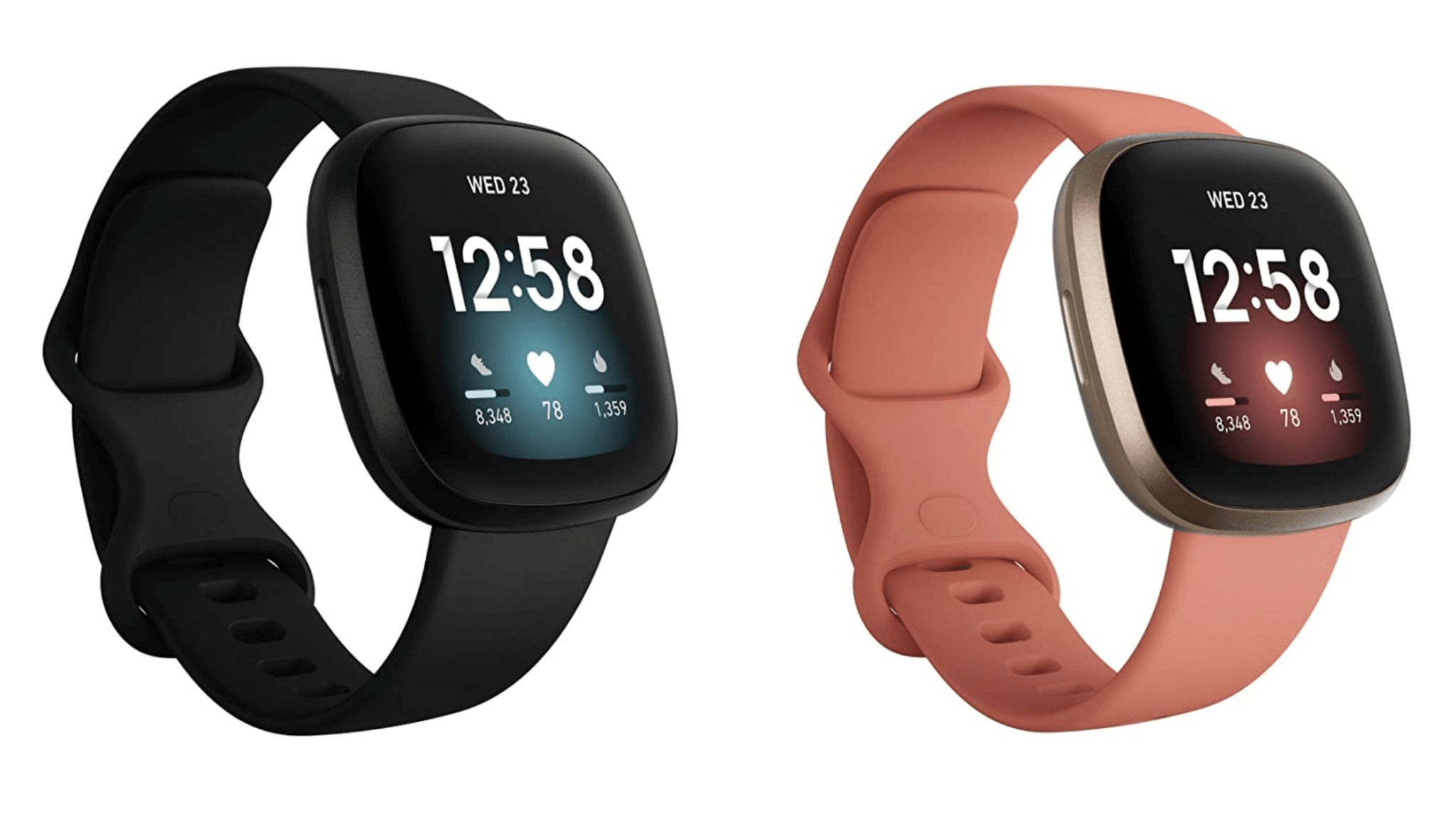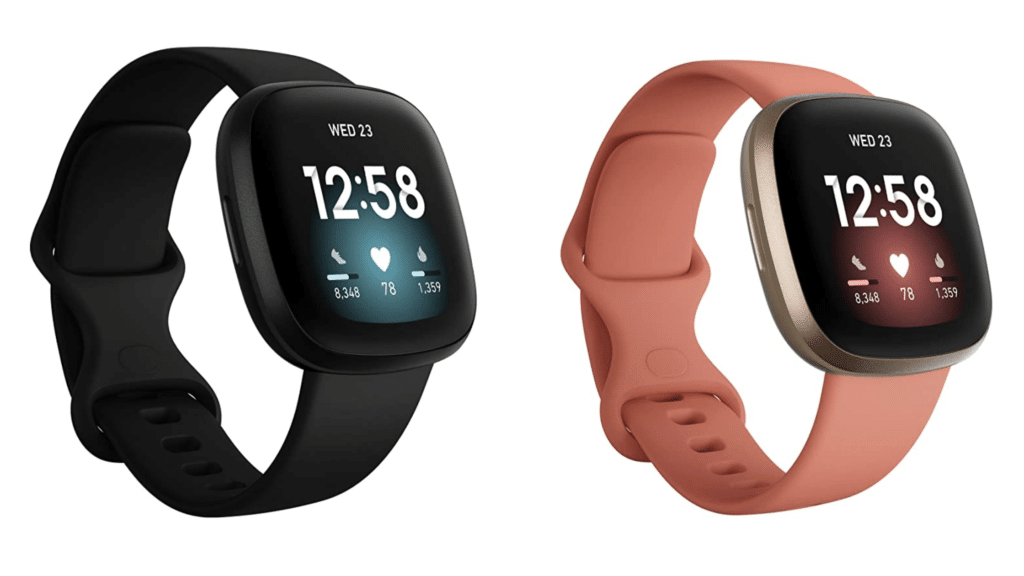 [wptb id=799]
After the massive success of Fitbit Versa 2, the Fitbit recently launched Versa-3 with more upgraded features. And its popularity is also reaching the sky.
Lets find out the difference between both.
Fitbit Versa 3 Vs Fitbit Versa 2
[wptb id=747]
Which One is Better for a Teenager?
If you want to go with a non-calling watch, then Versa 2 is the best, Versa 3 is a calling watch on which you can comfortably receive calls and even talk.
All other features in Versa 3 are similar to Versa 2, only some advanced features have been added such as Google Assistant, built-in GPS, advanced PurePulse 2.0 heart rate sensor, and battery life is 6+ days while Versa 2 has 4+ days.
Both the watches are good but Versa 3 has more advanced features while the price difference is not much. Only if you do not want to go with a smartwatch through which you can make & receive calls, then you can opt for Versa 2, else Versa 3 will be the best.
7. Xiaomi Mi Band 5: A Value For Money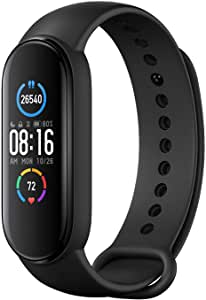 [wptb id=802]
Features
[wptb id=750]
If you are looking for a cheap smartwatch that delivers good quality and style with some health and fitness features then this is for you.
The battery life is 7+ days with the extreme use of applications. If you have limited regular use of apps and features then it will survive even longer.
The watch has a beautiful dynamic colour display which offers a crisp and sharp colour. Also, it is very safe for the eyes of teens.
The watch will make you enjoy your sports activities with 11 advanced sports modes. The sleep tracker helps you to measure your sleep intensity. And The 24 hours heart rate monitor and fitness tracker improve your workout efficiency.
Pros & Cons
8. Samsung Galaxy Watch Active2: A Perfect Watch for Teenagers
[wptb id=807]
Features
[wptb id=751]
The watch looks very sleek, slim, and expensive. It has an AMOLED touchscreen display with sizes 40mm and 44mm. The AMOLED display due to its high contrast level and per-pixel light-emitting diodes is the best for the eyes. Also, serves the best user experience.
The watch has all the advanced fitness features of an ideal smartwatch. The real-time running coach works as a real coach. It guides you in setting up the targets and prompts you to keep on track.
It also has suit your style features. You just need to take a snap of your outfit and the watch will come up with a matching face on its dial. The Flagship ECG feature is not yet activated but hopefully, it will come soon.
The fit and feel are also very comfortable and soft. It seems like you are wearing a much more expensive watch. If you compare the build quality it is far better than other watches in this price range. Some variants have stainless steel and leather whereas some have aluminium and silicone.
Overall the design, looks, features, price, build quality, and feel can not be compared with other watches but there is one drawback which is the battery life which is just 24 hours with extreme use.
Pros & Cons
9. Garmin Forerunner 35: Perfect for Fitness Freaks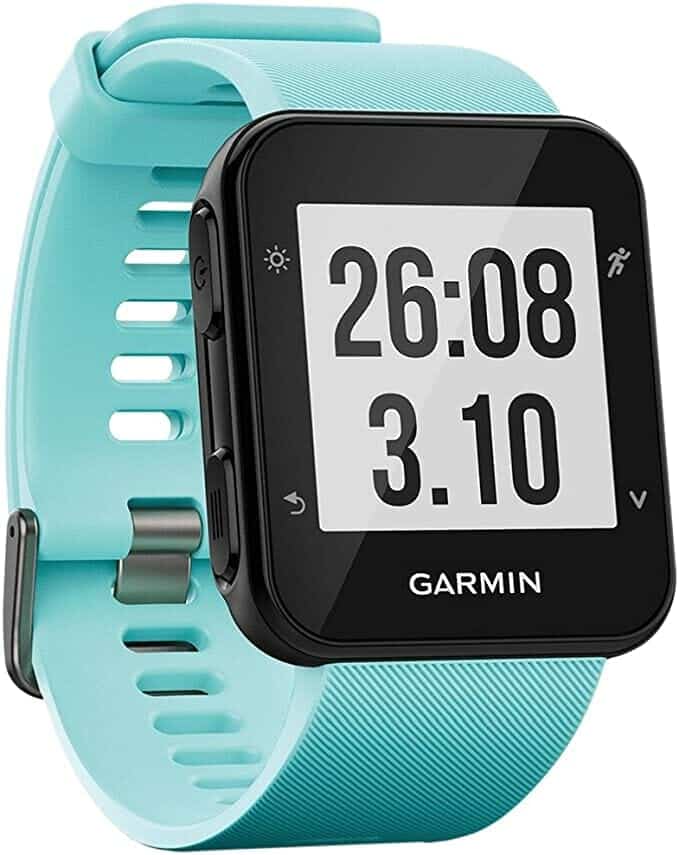 [wptb id=812]
Features
[wptb id=754]
Yes, you read it right. This watch adds more fun to your workout and works as a personal coach. The built-in GPS works stunningly great. It very well tracks the data of your running for example how fast, how far and where you run. The best thing is you do not need to carry your smartphone while running.
Another amazing feature is the elevated wrist heart rate tracker which tracks your heart rate accurately without even wearing a chest strap. And with the help of an all-day activity tracker, you can measure the calories burned and the level of your activity in a day. With a sleep tracker, you can measure how sound sleep you have taken and also know about your sleep patterns.
Now the question is what is the battery life? It is again very shocking because it offers 8+ days of battery life once charged. The high-resolution display is very attractive with crispy colours. Although the screen size is only 1 inch which is comparatively small than other smartwatches.
The silicone straps give you the best feel on your wrist also they are very lightweight and built specifically for running and workout purposes. The silicone straps are also better than leather straps for swimming as they do not get damaged or stained.
Overall the watch has nice features, affordable price, stylish design, and strong build quality. The battery life is also top-notch. But the drawback is you can not make or receive calls in this smartwatch also it is not a touchscreen smartwatch.
Pros & Cons
Conclusion/Which One is the Best?
All 9 smartwatches are best for teenagers and super popular in 2021 whether boys or girls. Now the question is which one you should buy?
If you are just buying your first smartwatch and your budget is very low then I would recommend you either go with the Willful or Yamay which is on 1st and 2nd number in this list.
If you have a little more budget like between £80 – £100 then the Huawei smartwatch will be the best choice. If you have a budget between £150 – £200 then go with Fitbit or Apple Smartwatch series 3 or 6 with closed eyes as both the smartwatches are top-notch quality and features.