When you buy a beautiful leather watch for yourself, you want its beauty to remain intact at all times. But over time, leather watches get stained or gets dirty. And sometimes it smells bad too.
Today in this article I will tell you all the important things so that you can keep your leather band watches well maintained over time.
It really feels embarrassing when your leather band smells bad and someone taunts you. Do not worry I will tell you how you can clean your leather watch band that smells bad? and also how you can prevent it from smelling?
There are many people who own White leather watches and due to their white color they get stains quickly and that looks very bad. I will guide you step by step on how you can clean your white leather watches as well.
At the end of the article, I will recommend one leather band cleaning kit that I personally use to clean my leather watches.
So let's get started!
How to Clean a Leather Watch Band that Smells?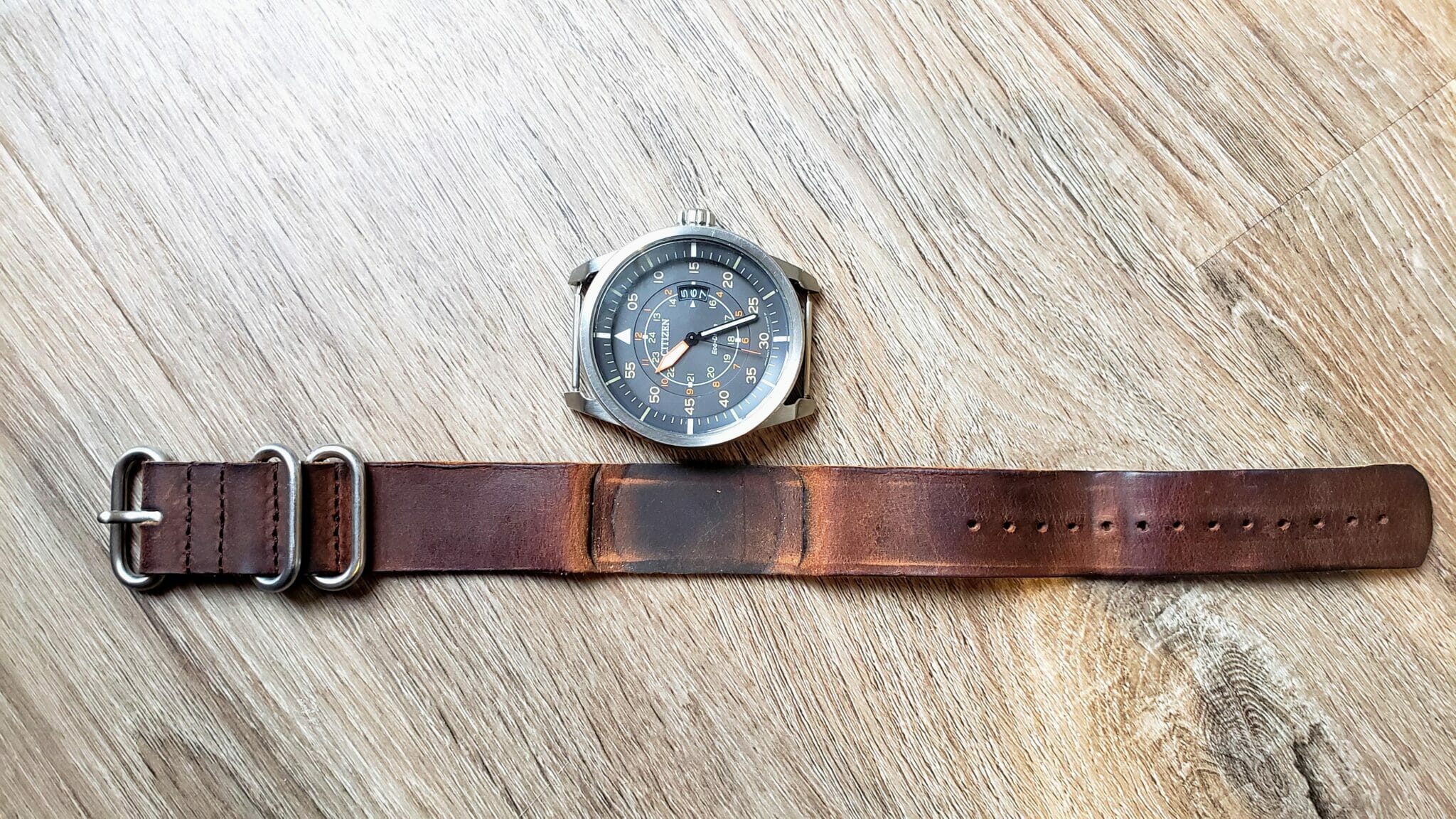 A lot of people have a question that why do leather bands smell? The lather is made from animal skin and when it comes in contact with your sweat, some bacteria grow in it, which causes it to smell. It is very important to keep the leather bands clean or else they can cause skin problems.
Steps:
First, you have to detach the straps from its dial so that no mark or smudge can ruin the dial. Read this article to know how you can remove the leather strap?
In the second step, you have to take a clean dry cotton cloth and wipe both sides of the straps. This will remove the tiny particles of dust and prevent scratches when you will do the wet cleaning process.
Now take a microfiber or jewelry cloth or a clean cotton cloth and moisten it then apply gentle soap to it in a small amount or you can take two drops of moisturizing hand soap. It should be damp not sopping wet to avoid water damage to the leather.
In step 4, you have to gently rub the damp cloth on both sides of the strap in circular motions to create suds.
Now you have to gently wipe all suds and residue from the strap with another clean cotton cloth.
Once the residue removed you can naturally air-dry the strap. Do not use a hairdryer, it will damage the leather. Also, do not expose the strap to direct sunlight, it will cause a smell due to moisture.
Once the strap dried, you can apply a leather conditioner to it and gently rub the strap with a cloth and let it dry. Make sure to use it according to the quantity specified on the conditioner. The conditioner should be applied occasionally not in every cleaning. I recommend this conditioner, it is available on Amazon.
If you regularly wear your leather watch, it is recommended to clean the strap once in two weeks. It prevents the strap from smelling and keeps it clean.
Note: Do not use furniture or any other conditioner like Kiwi or Lexol, it may damage the strap.
How to Prevent Leather Strap from Smelling?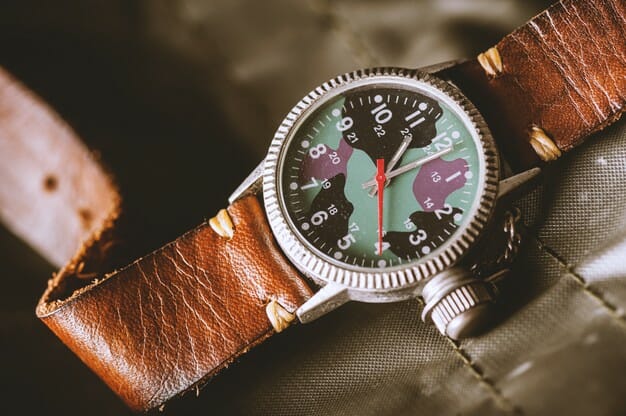 Sweating occurs the most during workouts and in such a situation, if you wear your leather watch, then sweat gets absorbed by the leather, and the strap starts smelling.
During the workout, I would suggest that instead of wearing a leather watch, wear a fitness watch or you should take off your leather watch. I recommend you wear this fitness watch while workout. Fitbit Versa 2 Amazon.
Another way to prevent your leather watch from smelling is if you get sweat just remove the watch. Keep a clean dry jewelry cloth in your pocket and wipe the straps in a circular motion. Keep the watch in natural air until the sweat dried from the straps.
How to Clean Dirty Leather Strap or Leather Strap With Stains?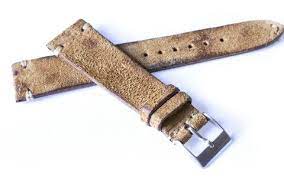 If the strap is not much dirty you can apply the above steps. But if it is too dirty, then you can follow the approach given below, this approach not only helps in cleaning the dirty lather but also removes its smell.
Steps:
The first thing you have to do is to mix 1 tablespoon of baking soda in 1 tablespoon of water. You have to stir the solution well so that it mixes properly in the water.
In the second step, You have to apply this paste on both sides of the leather strap. And leave it on for 15 minutes.
Now you have to take a clean jewelry cloth or cotton cloth and soak it in lukewarm water, it should not be too wet. Now you have to gently remove the paste from the straps with this cloth.
In step 4, take a dry rag and wipe the strap until it is dry enough.
Now you have to keep it in a well-ventilated room for the whole night. Do not use a hair dryer to dry the strap.
This method will remove even the most stubborn stains from your leather straps. Now I will tell you how can remove the the stains and clean a dirty white strap.
How to Clean White Leather Watch Strap?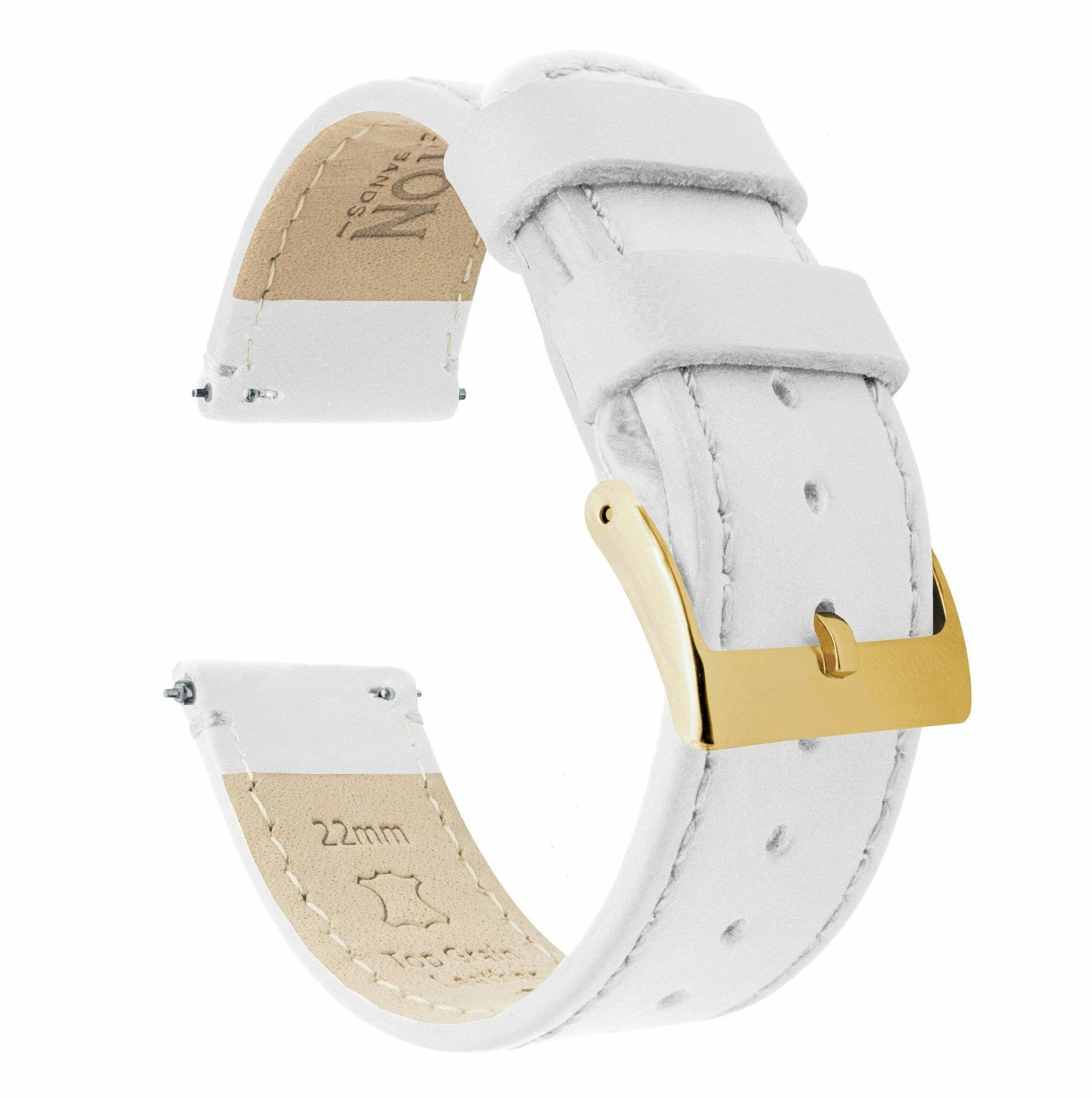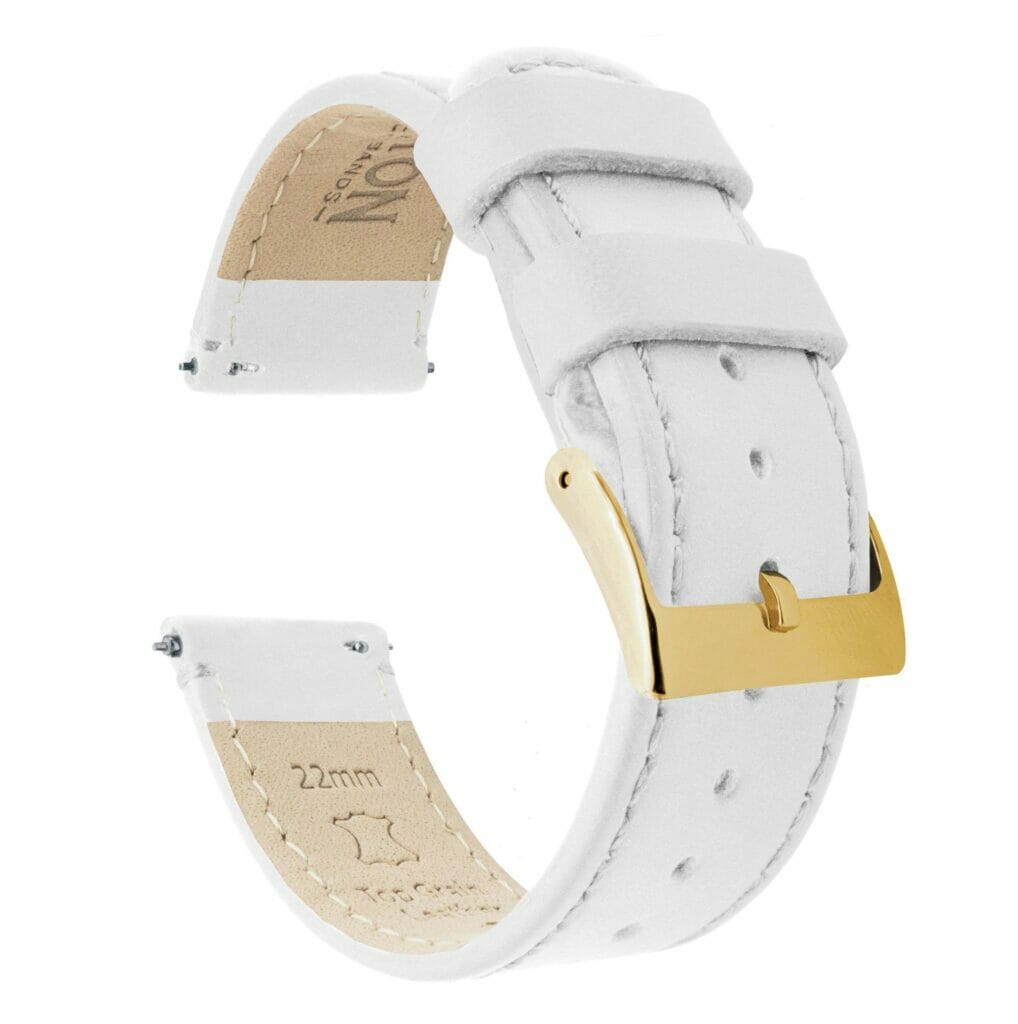 As beautiful as the white leather strap looks, it also gets dirty very quickly. That's why white leather straps are a bit difficult to maintain, but today I am going to tell you the method that will completely clean your white leather straps and remove stubborn stains from the root.
Steps:
Take a clean dry cotton cloth and wipe all the dust gently from the surface of the white leather strap.
Now you have to take one part of distilled white vinegar and three parts of warm water. Add vinegar to water and stir until it is well mixed.
In step 3, take a clean cotton cloth and dip it into vinegar water. It should be slightly damp not too wet.
Now gently rub the cloth on the strap and use cotton for areas where the cloth can not reach. Cotton should be dipped in vinegar water.
Take another cup of warm water and add 2-3 drops of mild liquid soap and stir it until you get suds.
Now take another clean cloth and dip that into soapy water. It should be slightly damp not too wet. Wipeout all the vinegar solution with the help of a soapy cloth.
It's time to air dry your leather strap in a good ventilated area overnight and make sure it is fully dried before storing.
What is the Best Leather Watch Care Kit?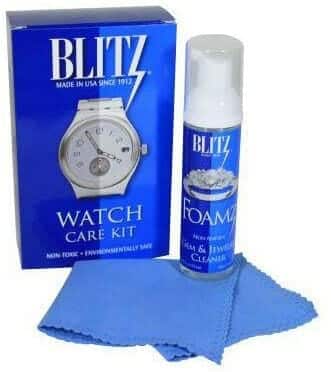 [wptb id=2463]
Although there are many leather care kits available in the market, very few that work for leather watch straps.
Those who are unaware sometimes use kits like Lexol and Kiwi, but in reality, it is for items like furniture, bags, and shoes. Lexol and Kiwi both are harsh and can damage the thin leather straps of your watch.
This care kit from Blitz is made in the US and the brand has been in existence since 1912. It does not contain any harsh chemicals and this kit is completely non-toxic, I myself use Blitz to keep my leather watches tip-top. Check it here on Amazon, Blitz watch care kit.
FAQs:
Can I use hair dryer to dry the leather straps after cleaning?
Ans. No, a hairdryer can damage the leather strap. It is better to keep it in a naturally ventilated place after the cleaning.
2. How do you get the smell out of a leather watch band.
Ans. Check the steps in the first process of this article.
3. Why does my leather watch band smell?
Ans. Leather is made of animal skin and once it comes in contact with your sweat it creates some bacterial fungus that causes smell from your leather strap. It is advisable to clean your leather strap once every other week. You can apply the first process steps of this article.
4. What should you not use on leather strap?
Ans. It is advisable never use petroleum made cleaning products, and bleach, waxes, alkaline etc.
5. How to maintain leather watch strap?
Ans. Never expose your leather strap to direct sunlight for a long time, it will damage the straps and cause a change in color. Also, keep cleaning your leather strap in every other week to keep the stains away. And never use harsh chemicals to clean the leather.
You can use a good leather cleaner to maintain your leather watch over time.
Conclusion:
I have covered almost everything about how you can clean your leather watch band and keep it well maintained over time. All the process which I have shared in this article can easily be done at home and without any investment. But I would recommend you if you really have a small budget go with Blitz watch care kit which is available on Amazon at an affordable price. It is a non-toxic conditioner that keeps your leather watch young.
I hope this article helped you a lot. If yes, please share your valuable feedback in the comment section.
Other Trending Articles: