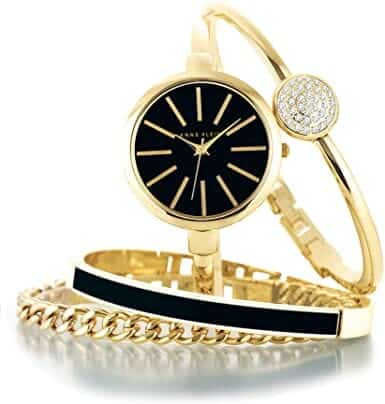 Anne Klein's watches look gorgeous. But our mind knows that everything that shines is not gold.
So this question "Is Anne Klein a good watch brand?" must have come to your mind.
I do not call any brand good or bad unless I do a detailed analysis based on the facts.
The first thing I need to tell you is that Anne Klein definitely makes watches, but it is not a watch-specific brand. If it is about popularity, it comes on the number 100 in the most popular clothing brands.
Mainly Anne Klein is more involved with the clothing and footwear industry. And if we talk about watches, this brand is popular among women for Affordable Designer Watches.
Anne Klein is not an expansive watch brand, its watches can easily be found on Amazon for between $50- $100.
As I can read your mind, you would be thinking it is very cheap in price but does Anne Klein's watches hold any quality?
For this, I will have to take you to a little depth of this review where we will know that does Anne Klein watches hold any quality? or they are just fake shining diamonds.
I will take 5 popular Anne Klein women's watches and tell you whether they are actually worth your money or not.
1. Anne Klein's Diamond Watch Review: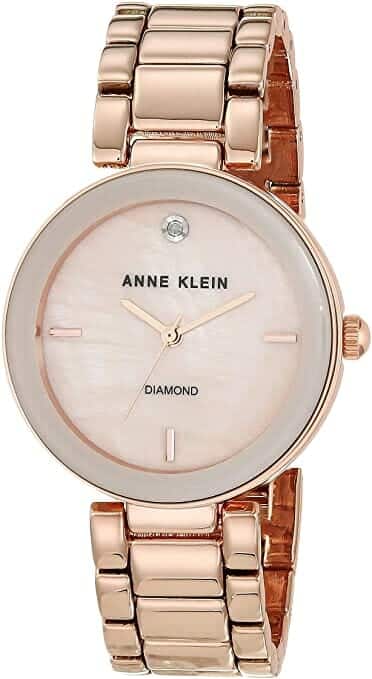 [wptb id=2094]
Anne Klein's diamond-accented watch is quite popular among women. It is the best-selling Anne Klein watch over Amazon with more than 6000 reviews.
The watch is enough pretty that you can't take your eyes off once you look at it. The diamond at 12 o clock marker looks decent but it is too small that they have put a silver ring around it which I didn't like.
It has a beautiful blush pink mother of pearl dial with attractive rose gold hands. The dial comes with a 32mm case diameter which is an average size dial. On the looks, I would rate it 4.8 out of 5 removed 0.2 because of the silver ring around the diamond.
The comfort quality is average as the metal band is not high-end in quality. It looks good but can cause harm to your wrist if it is very sensitive (as per many buyer reviews on Amazon). The accuracy is fine as it is a quartz watch.
The bracelet is 7 inches long even after opening the extender it will fit perfectly on a 6″ inches wrist. Even if you have 6 1/2″ it will be a little snug fit. If you need extra links the company may send them for free you will have to call them.
I won't recommend you this watch if you are looking for something for daily wear. Because this is not even water-resistant and also due to mineral crystal it has very little scratch resistance capacity. It is better for occasional purposes only.
Pros & Cons:
2. Anne Klein Ceramic Watch AK/1018 Review: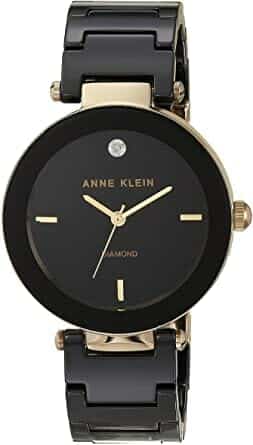 [wptb id=2128]
This is the second very popular Anne Klein women's watch. I would definitely recommend you this watch. You know why? Let me explain to you.
The watch has a Ceramic band. Ceramic is considered a good scratchproof material. Also, it doesn't get fade because it is unaffected by ultraviolet sun rays. Ceramic is used in many dive watches also as it can withstand chemical erosion and does not rust.
People also love to wear Ceramic band watches because the material is hypoallergenic. It does not contain any allergic materials so people with sensitive skin can also wear it.
Being a ceramic watch it has a balanced weight and does not make your wrist feel weighed down.
You can read about ceramic band watches in more detail in this article. Ceramic watch band performance.
The watch has a case diameter of 30mm and a 7″ inches long band. Although the band doesn't come with an extender and it is too small in size. So if you have even a little big size than 6″ wrist you might need extra links to add.
The overall looks, comfort, and quality are amazing. Also, the dial is very easy to read. It can be an ideal daily wear watch but one drawback is, it is not water-resistant.
If you are behind fashion watches then Armani is also a good women's brand. You can check this article here: [5-Tempting Armani Watches For Girls in 2021]
Pros & Cons:
3. Anne Klein Bangle Watch Review:
[wptb id=2129]
I found this watch the most beautiful one out of the collection of Anne Klein's watches. It is a bangle watch means it will work like a functioning bangle that tells time.
The black glossy dial is the big eye-catcher. The golden hands and hour sticks add more beauty to the black dial and make it look like an expensive watch.
Along with the bangle watch, you are getting 2 extra bangles and one chain bracelet. Out of the extra two bangles, one is embellished with 36 Swarovski crystals and the second one is an enamel inlay kind of bangle.
The watch has an allow case of 32mm in diameter and 7.5 inches long brass band. Both the materials are non-hypoallergenic so they can cause harm to your skin if it is sensitive.
You can refer these two articles to know more about alloy and brass to know more about them.
The adjustable bangle is quite comfortable with one extender. It is 7.5″ long so if you have a wrist size up to 7″ inches it will fit comfortably. If you have a very small wrist size you can easily remove the links.
Overall the watch is pretty, comfortable, and affordable. But on the quality scale, I would say it is not a very high-quality watch and not made for rugged use. Also, it is not water-resistant at all.
Pros & Cons:
4. Anne Klein Leather Watch Review: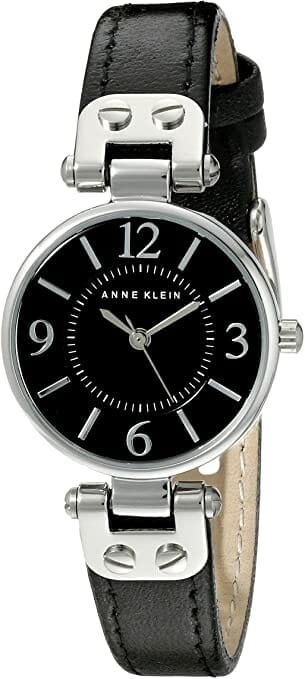 [wptb id=2130]
The watch has a very unique kind of dial. It is called the Champagne dial or "Pie Pan" dial because it has a shape like a "Pie Pan". Rolex Datejust watch has the same kind of dial.
The dial has a 26mm case diameter, it is very small in size. The best thing about the watch is the large size of hour markers that make it very easy to read. Also, the color combination is very hard to find.
The watch is surprisingly lightweight (just 1 ounce). If you like small dial lightweight watches, this is the perfect watch for you.
The Honey brown leather band is super comfortable and very soft. Also the length of the band is 8.5″ inches long and 12mm in width, perfect for all wrist sizes. It comes with buckle closure.
All the three watches mentioned before this watch were not water resistant but this watch is 30meter (100 feet) water resistant. You can wear this watch while washing hands or it can bear rain splashes but can not withstand shower or swimming.
Overall I call this beautiful watch a multipurpose watch. It is not only perfect for daily wear but also looks attractive with your professional as well as occasional attire. This watch is also available on Amazon with other beautiful colors as well.
Pros & Cons:
5. Anne Klein Bracelet Watch Review: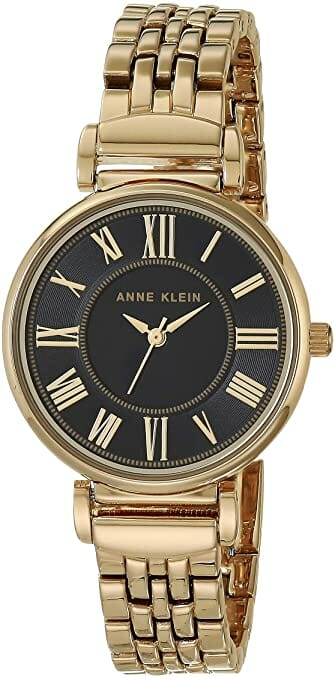 [wptb id=2131]
This is a bracelet style Anne Klein's watch. Bracelet watches are highly popular among women nowadays as they look quite modern and classy.
There are many other color variants that this watch has but I have filtered for you 4 best selling colors and out of these four the silver and rose gold color is very popular.
It has a 30mm case diameter, the size of the dial is average not too big or not too small. The dial looks very enticing with Roman numerals. Also, the dark dial is comparatively better to read than the light color dial, you can easiliy find the difference.
If I discuss the material then it is not mentioned which material is used in the case and bracelet. I believe it has an alloy case and brass bracelet like other Anne Klein watches.
The watch band has a 7.5″ inches long bracelet, it is an average women's size. The best thing is the bracelet comes with extender so you can adjust the size easily without spending anything to the jeweler.
The watch is 30meter water-resistant you can wear it while washing clothes or in daily activities. It can be a good option for a daily wear watch. But I am not sure about the material if it is brass or alloy it will cause itching or skin allergy if your skin is sensitive.
Pros & Cons
Warranty Period:
Anne Klein watches come with two years limited warranty. The two-year warranty is against all defects in material or workmanship. This warranty does not apply to normal wear and tear or abuse and excludes batteries, case, strap, crystal, or bracelet. You can read the official warranty statement here.
Anne Klein Vs Michael Kors:
Michael David Kors and Anne Klein both are American fashion designers. Another similarity is both sell fashion watches and not specifically into watchmaking.
There are main two big differences in both the brands. First is the price where Michael Kors watches starts from $150 and Anne Klein start from $50.
Another difference is the quality you will find strong quality stainless steel in Michael Kors watches where Anne Klein uses Brass & Alloy. The Ceramic material Anne Klein watches are better than their brass and alloy material watches.
[wptb id=2123]
Conclusion/ Is Anne Klein a Good Watch Brand?
Anne Klein is no doubt an excellent designer brand of clothing and footwear. But in watchmaking, Anne Klein has not done something that makes it better than its competitors.
If you are looking for a daily wear watch, I would suggest you either go with Anne Klein's ceramic watches or leather watches (mentioned on numbers 2 & 4 in the above list). Both these materials are good in quality and durable as well. These two material watches can also be used in different occasions as well as with your professional attire.
I won't suggest you Anne Klein's brass material watches as they are non-hypoallergenic as well as built of average quality material that is not long-lasting. Also, these watches are not water-resistant so they are just built for occasional purposes. If you are looking for something cheap that you can wear on different occasions or parties you can refer them.
At the end I would say it is an average quality brand there is nothing apart from looks that make Anne Klein's watches stand out. So if you would ask me to rate Anne Klein's watches, I would rate it 3.5 out of 5.
Thank for reading and I hope you liked this article, please share your valuable opinions in the comment box below.
You can also read these trending articles: