Seksy Rocks Watches Collection & Review 2021:
Are Seksy Watches Really Sexy? When you have heard this name for the first time, this question must have come to your mind too? Let us tell you something about this brand.
Seksy is a fashion face of the Sekonda brand which was launched in 2004. However, Sekonda laid its foundation in 1966 as a British Brand and started dealing in mechanical watches. These watches were originally manufactured in Russia. Later on, they started making fashion watches and that's how Seksy Watches came into existence.
In 2004, with 11 models, Seksy Watches entered the market and its trend spread among people like fire. Let us tell you the reason for its success.
The reason behind the big success of Seksy Watches was its iconic design which was inspired by the jewelry and catwalk trends of that time. Seksy watches were followed by style, glamour, and elegance according to the trend.
The latest trending venture of Sekonda is Seksy Rocks Watches Collection. In this collection, Sekonda has done some experiments which are highly liked by people. Let us tell you about those experiments.
In Seksy Rocks Watches, high-quality innovative Swarovski stones are used. Also, crystal fine rocks with crystal fabric give an enticing look to the watch. These watches are showcasing captivating sparkle and innovative designs. Which is a big reason for this collection's trend in 2021.
Are Seksy Rocks Watches Any Good?
Seksy Rocks Watches set to be the next big trend in the fashion watch arena. The iconic unique design of these watches is highly appreciated by people. With innovative Swarovski stones, crystal fine rocks, and crystal fabric, these watches catch the eyes of people around you.
Women who wear Seksy Rocks Watches always make an impression. Also, these watches are very affordable. Here are FAQs
10 Best Seksy Rocks Watches-Trending Collection of 2021
Here we have filtered 10 such Seksy Rocks Watches that are in trend in 2021 among women. This collection consists of Rose Gold watches, watches with Swarovski Crystal Designs, and Blue Seksy Rocks Watches.
1. Rose Gold Plated Wristwatch with Swarowski Crystals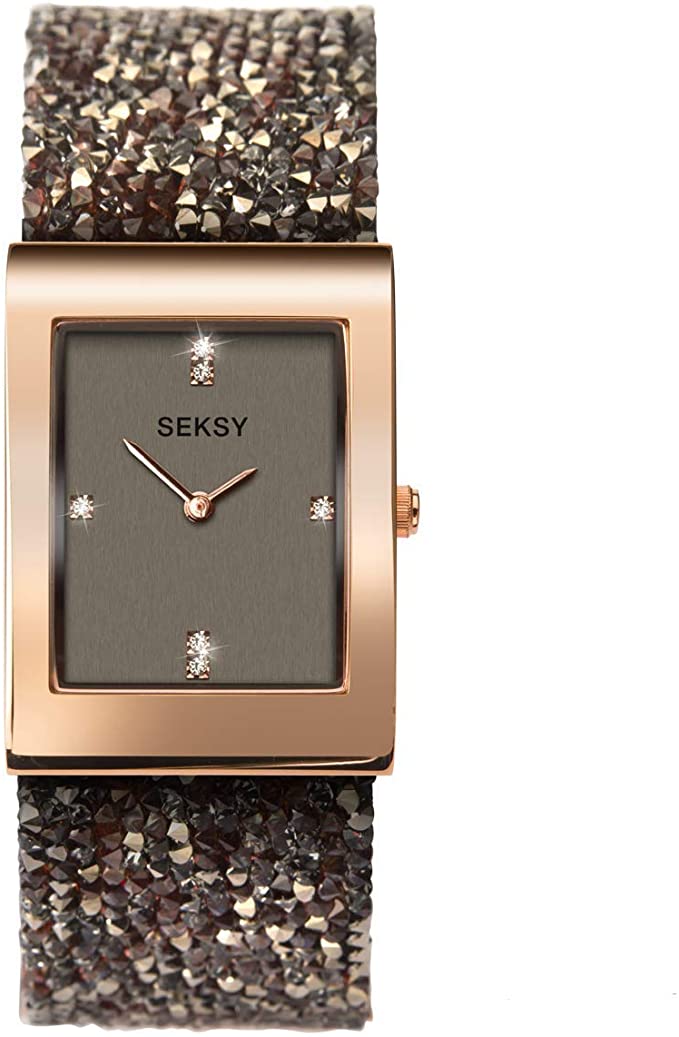 [wptb id=1102]
The Rose Gold watches are considered a romantic metal due to their beautiful pinkish-red color. This color suits all skin tones. The color looks very feminine and premium. Also, Rose Gold color watches are in trend in 2021.
When you will wear this watch you will fall in love with its design. There are two reasons this watch is most being loved by women in 2021. The first reason is its beautiful Rose Gold color blended with the grey slate stone set dial looks very unique and stylish.
The second reason is it is well crafted with genuine Swarovski crystals fine rock setting on a black leather strap which makes this watch look like an expensive watch.
This Swarovski watch is very decorative, sparkling, and eye-catching and best for your formal, casual, and party wear. The dial comes with a 25mm case diameter and the length of band is women's standard.
The watch comes with a deployment clasp and you can easily adjust the straps according to your wrist size. There are removable ladder clasps for self-adjustment. The length of the strap is 15cm.
Overall the quality and style of the watch are good. The crystals do not fall off but it is suggested not to wear this watch while showering or swimming as it is splash resistant and provides water resistance up to 90feet (30meters) only.
2. Blue Women's Watch with Swarovski Crystal 2758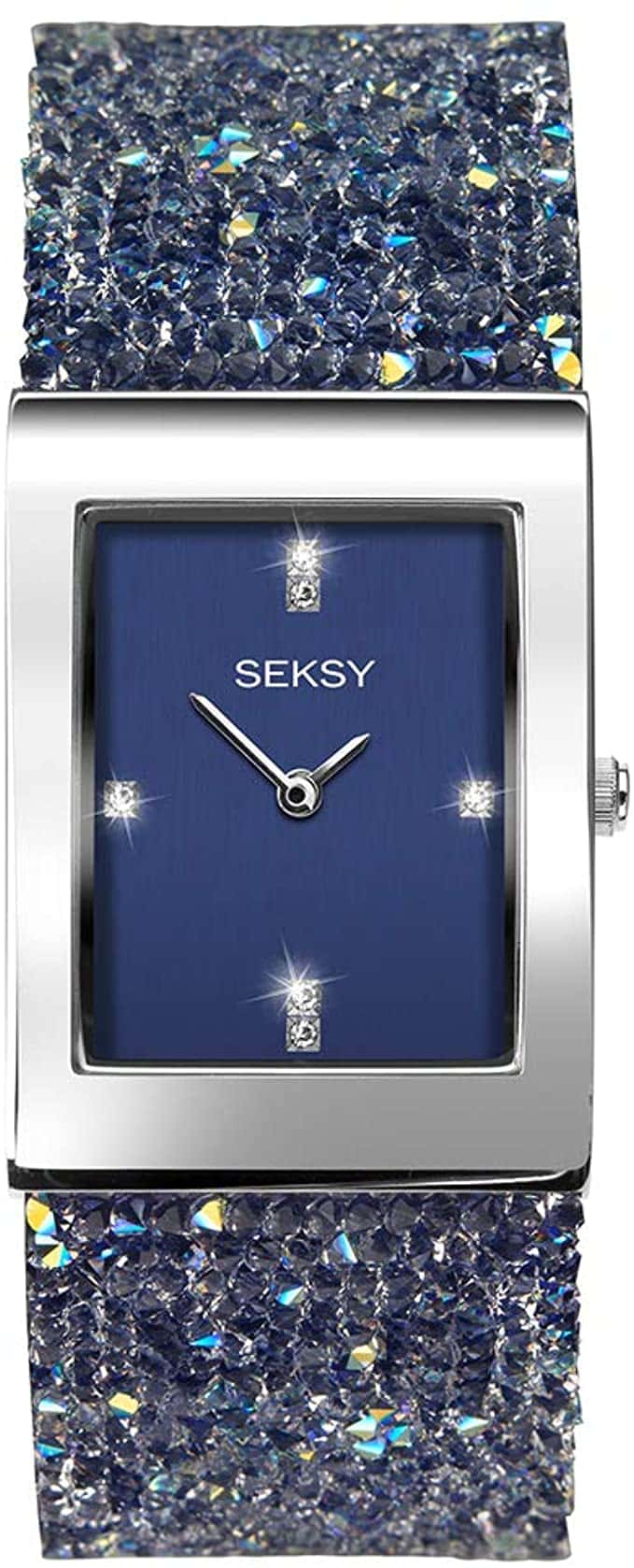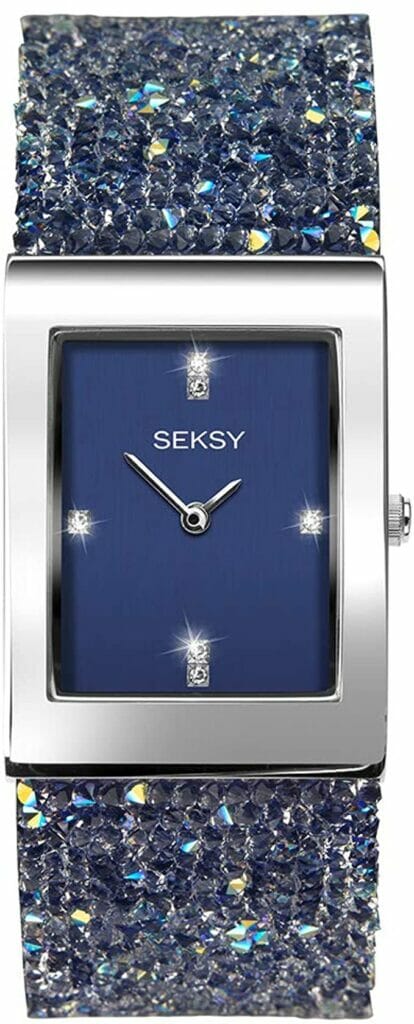 [wptb id=1104]
There are some women who just like to keep a collection of blue watches because it looks very different and stylish. Blue watches match well with any of your outfits.
This watch comes with a beautiful midnight blue dial and a 25mm diameter stainless steel case. The case is rhodium plated which is a very premium and expensive material.
The soft leather strap has a very eye-catching design of blue Swarovski Crystals rocks. This is a bangle kind of strap. There are more than 600 Swarovski crystals rocks used in the band which makes this watch look sparkling and expensive.
Also, the strap is easily adjustable at the back with two integrated foldover clasps. Each clasp has an additional groove to adjust the size smaller or larger so you can get the most comfortable fit on your wrist.
This is a quartz movement watch and have a good accuracy. The watch comes with a 99feet water resistance capacity but actually it is splash resistant and not suitable for swimming and bathing.
Overall the quality is good and very modern in looks. This watch is best for your professional or casual attire and can be an ideal gift for any woman.
3. Seksy Rocks Silver Women's Watch with Swarovski Crystal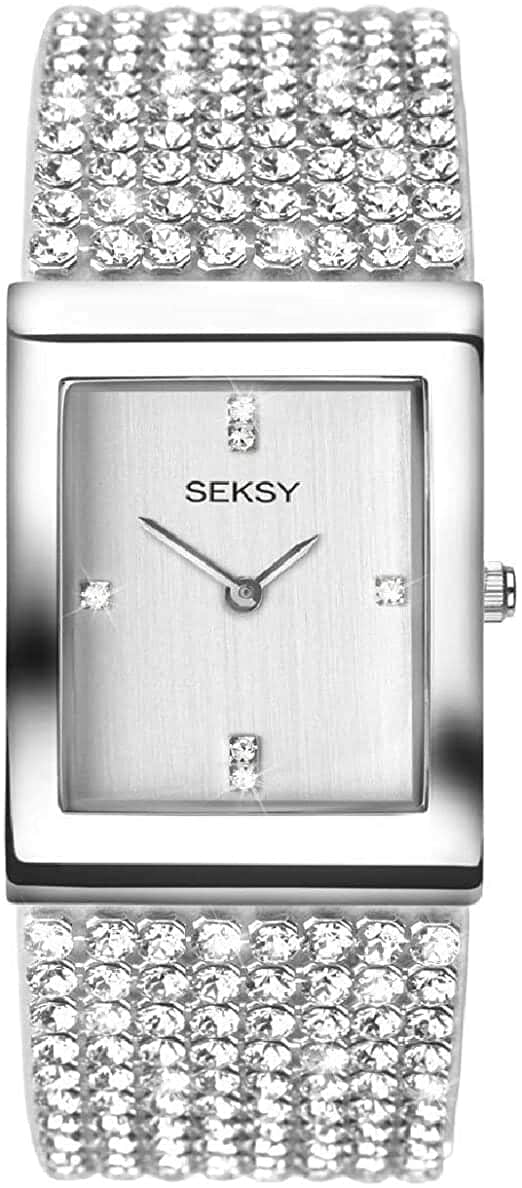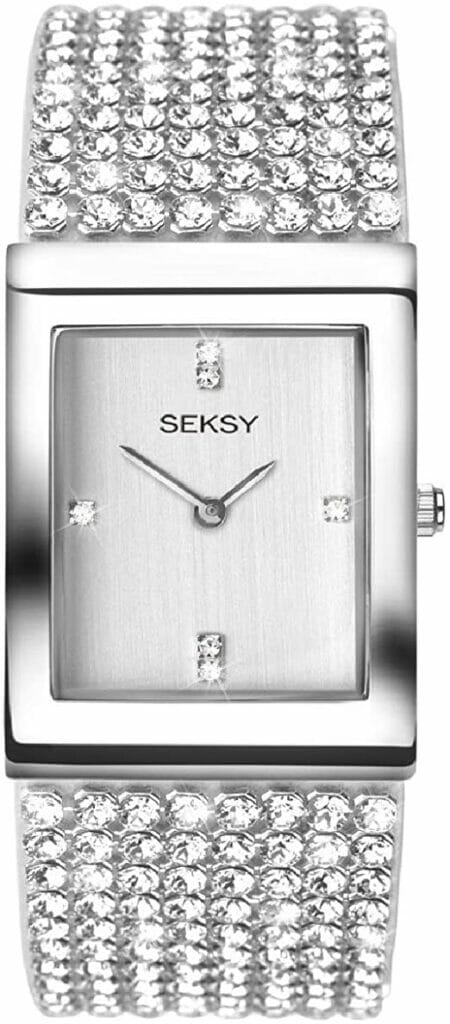 [wptb id=1106]
This is another hot-selling watch of the Seksy Rocks Collection. The watch comes with an elegant white dial and a 26mm case diameter. This watch will look amazing with black, grey, and blue shade outfits.
This silver watch comes in a combination of white and silver such color combination looks very premium and expensive. But the best thing is it is very affordable watch with good build quality.
The same design is there but in this watch silver Swarovski crystal stones are used. In other brand's watches you will see that the crystals easily fall off after some days. But in this watch the crystals are properly elevated on the band and do not easily fall off as lots of customers have appreciated this on Amazon.
The straps are easily adjustable, you can make the straps smaller or larger according to you. If you need extra links then also Sekonda will send you extra links and that will be free of cost.
Overall it is best selling and trending watch of 2021. The build quality, the looks, the style is just amazing and very enticing. It also can be an ideal gift for a lady.
4. Sekonda Seksy Rock Black Swarovski Crystal Watch 2581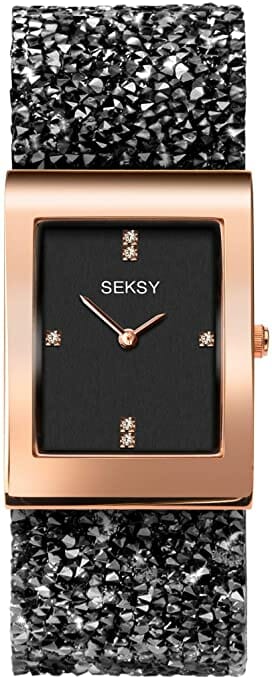 [wptb id=1111]
Black watches matches up well with pretty much anything. This watch really looks sexy. The reason is its color combination which is Black and Rose Gold. Such color combinations are very unique and hard to find.
The watch comes with a beautiful rich black dial with very luring Rose Gold case. The case diameter is 25mm and it is 9mm thick. Lets discuss about the strap now.
The Black soft leather strap is 24mm wide and beautifully encrusted with Black Swarovski crystals rocks. There is a beautiful Rose Gold plated metal snap clasp. The strap is easily adjustable according to the wrist size.
The watch is powered by quartz movement and accuracy is good. There is just one drawback that it is not at all water-resistant even not splash-proof. So it is suggested to keep the watch away from water.
Overall we personally suggest you this watch because the color combination of Black and Rose Gold is just beyond the expectations. It will grab the attention of people around you. This color combination looks very expensive.
5. Sekonda Women's Rose Gold Watch
[wptb id=1115]
The above 4 watches are rectangular in design. If you do not like rectangular shape watches then this round shape Sekonda watch is best for you.
The design is very unique and stylish. The dial comes in beautiful rich Rose Gold color with Rose Gold hands. The watch case comes with a 33mm diameter. The watch has a flawless rose gold metal band.
This watch is powered by quartz movement and comes with a nice accuracy. There is one minus point in the watch that it is 0 water resistance capacity. We suggest you to keep watch away from the water.
Overall the build quality is best according to the price and if we consider the looks, it seems to be a very expensive and premium watch. There is no doubt that it is a value-for-money product.
6. Sekonda Seksy Rocks Ladies Pearl & Rocks Bracelet with Mother of Pearl Dial 2949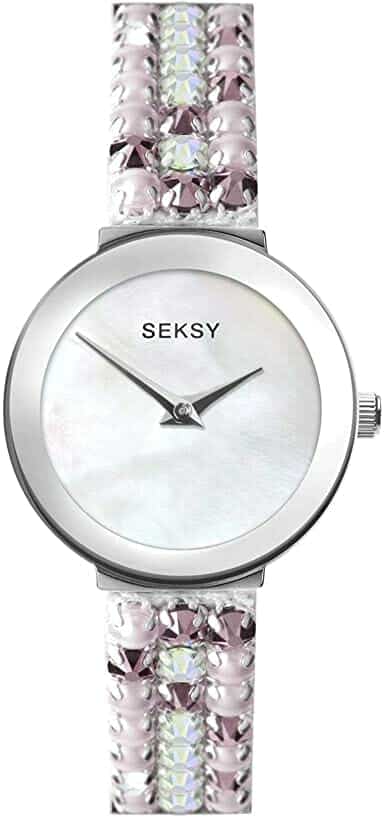 [wptb id=1113]
If you do not like shiny watches and looking for a daily wear simple Pearl rock design. Then this watch is best for you.
The watch comes in a combination of elegant ivory white and light pink color. This color combination is also very unique and catches the eyes of people around you.
The dial has a clean ivory white color with two silver hands. The dial comes with a 28mm case diameter. The case is build of good quality metal and has a beautiful silver finish.
The main attraction of the watch is its beautifully designed leather band. This band has a combination of pink and silver pearl stones. The pink is very light and premium not too flashy. The overall watch looks very expensive.
Also the band is comes with pretty adjustable technique. You do not need to go to any jeweler to make any adjustments in the strap. It has hook over clasp fastening bracelet with removable links and variable fastening for easy self fitting
Overall the design, quality and looks are amazing and its a simple and beautiful watch. The only drawback is 0 water resistance. Otherwise this watch is really a value for money and can also be an ideal gift for a woman.
7. Sekonda Seksy Rocks Ladies Silver Bracelet Watch 2583

[wptb id=1117]
This watch comes with a very unique and eye catching design. This watch looks like an expensive watch though it is very affordable.
The rich black sleek rectangle dial has beautiful silver hands. On the border of the dial, there is wing style stainless steel case that looks very unique. It has a very small case diameter and that is 18mm only. On small wrists, this watch will look amazing.
The watch has easy adjustable metal band. It is very stylish and embellished with black and silver crystals. It looks like stars twinkling on the band.
The watch has quartz movement and serves best accuracy though it has zero water tolerance capacity.
Overall the design is very unique and premium and the best part is, it is very affordable. The quality of the watch is also very good and durable.
8. Seksy By Sekonda Rocks Ladies Watch 2722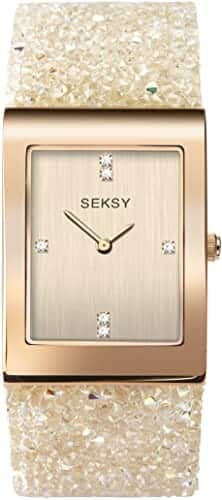 [wptb id=1119]
This is an another hot selling watch from Seksy Rocks Watches collection. This watch comes in the color combination of Beige and Rose Gold. This is a very unique color combination which is usually seen in the high price watches.
If you look at the case of this watch, it is very elegant and perfectly polished. There is a beautiful rose gold color crown on the right side of the case.
The metal strap is beautifully embellished with beige color Swarovski stones. This looks a perfect occasional watch.
The strap is also easy to adjust and you can make it smaller or larger according to your wrist size. The strap is not only easily adjustable but also very comfortable while wearing.
The quartz movement is used in this watch which offers nice accuracy but unfortunately it is not a waterproof watch.
Overall the design and quality of the watch is good and also it is an affordable watch with great modern style. The watch will match your occasional as well your party wears very well.
9. Seksy Rocks Women's 2667 White Crystal Bangle Wrist Watch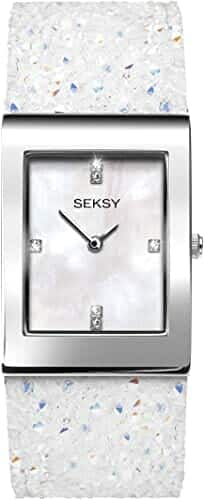 [wptb id=1121]
The one who will look at the watch will keep looking at it. Because of its sexy white unique design. It's a complete white Swarovski crystal watch. with an attractive silver finish 26mm case.
This watch grabs the attention of passersby with its beautiful white metal band which is nicely crafted with White Swarovski crystal stones. The band is not completely white, it has very tiny blue and orange crystals as well. There is beautifully balanced color contrast in the band which makes this watch look very amazing.
The metal band is very easy to adjust and also very comfortable. You can change the size according to your wrist. The width of the band is 26mm.
The watch is not water resistant and we suggest you not let the watch come in the contact of water as there are high chances that the watch can be damaged.
Overall this is a trending watch. The things that make it trending in 2021 are its design, looks, low price and good quality. It is powered by quartz movement.
10 Seksy Rocks Ladies Gold Plated Bracelet Watch 2716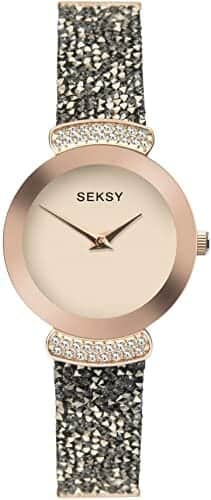 [wptb id=1123]
This is again a simply beautiful Rose Gold, round shaped Swarovski Crystal Watch. This is again comes with a very stylish color combination of Black and Rose Gold.
If you look at the dial, it is very simple and clean. There is a beautiful rose gold color inside the dial. It is outlined with the same color case. The case diameter is 26mm. This watch will look nice on small and medium writs. It has a band width of 12mm.
The clean easy to read dial looks very premium with black leather bands. The leather band of this watch has a beautifully textured design of Swarovski Crystal stones. These stones are perfectly crafted on the straps so they do not easily fall off.
The watch comes with a deployment clasp and very easy to adjust on a wrist. Also, the leather quality of the band is very soft and durable. It is very light in weight and comfortable.
Overall the watch design and quality is nice. Also, it looks like a very premium watch but it is available on a very affordable price. The watch uses Quartz movement. Unfortunately, this watch is not waterproof.
Conclusion
These 10 Seksy Rocks Watches of Sekonda are very beautiful and iconic. Seksy, is a part of Sekonda who has mastered fashion watches. Because this brand has expertise in Catwalk Jewelry for a long time.
The craftsmanship of these Swarovski crystal watches is tremendous. It looks very expensive and luxurious. Also, these watches are built in such a way that their Swarovski crystals do not fall apart in long term, it is just you have to keep them away from water contact.
It is very difficult to select one out of these 10 as all the watches are very much enticing. We have shared some round face watches as well as rectangular in this article. If you are buying a watch specifically for an occasional purpose, we would suggest you to go with rectangular one and if you are looking for a watch which you can wear in the office as well as in the regular use then you can opt for round face watch.
Please comment below and let know if you liked our article. Thank you for reading. 🙂