Understanding how to pick the best smartwatch can get you a useful smart device and also save your money from getting wasted. Whether you want a Samsung Galaxy Watch, the Apple Watch, a Fitbit, or one from any other brand, this smartwatch buying guide will help you understand the different factors that you need to consider to choose the right smart device for your wrist.
Smartwatches are not one size fits all. From big tech brands to traditional watchmakers, dozens of companies are making smartwatches that allows you to have apps, receive notification and do much more on your wrist.
Samsung Galaxy Watch 4 and Apple Watch 7 are two of the new models that are reaching new heights. While you will find variations in the design and features of smartwatches, they can help keep better tabs on your health and save your time.
Most of these watches come with GPS, a heart rate sensor, and even a blood pressure monitor. Some smartwatches are marketed as health-monitoring devices, while others can work as a phone extension.
Nonetheless, if you want something to take a break from all your notifications, then fitness-tracking smartwatches might be the ideal choice for you.
With this lesson on how to pick the best smartwatch, you should be able to point to the right wearable for yourself regardless of whether you are on a budget, want to be more productive, or have specific fitness goals in mind.
How To Pick The Best Smartwatch? (Quick Tips)
Is it compatible: Before you decide on any smartwatch, first make sure that it is compatible with your smartphone. For example, you can use Apple Watches only with iPhones.
Battery Life: Check the rated battery life of the smartwatch you are choosing. Hybrid smartwatches that have an appearance like an analogue timepiece tend to offer extended battery life.
Fitness Features: If you want to use your smartwatch to keep yourself fit, then look for a watch with fitness features such as GPS (to track your run) and a heart rate monitor.
App Selection: The availability of apps is an important factor. You should get one that provides you with an excellent selection of helpful apps. However, compared to compatibility, design, and other features, app availability is not that important.
Changeable Bands: Make sure the buckle or clasp of the watch band is easy to swap and use. And you might also need to or want to replace it sometimes, so make sure that you also have that option available.
How To Pick The Best Smartwatch?
Compatibility
Device compatibility is a must because most smartwatches are made to work as companions to smartphones. So, if they are not compatible with each other, they won't be able to work together.
For example, the Fitbits such as the Fitbit Versa 2 and Fitbit Versa 3 work with a number of Android and iPhone devices. Although there is an extra perk for Android users, they can quickly reply to incoming texts and has the option to answer the phone call.
The new Google Wear OS is only working with Samsun Galaxy Watch 4 right now. But it is going to support all smartwatches that are powered by the Qualcomm Snapdragon 4100 chipset.
And as expected, the Apple Watches are only compatible with the iPhone. The iPhone has a preinstalled Apple Watch app where you can get the watchOS App Store.
From there, you can install the watch version of the iOs apps. The store also features fitness-tracking apps as well as extensions of your productivity apps. This helps you receive Slack notifications or view your lists.
You can read this amazing article about benefits of smartwatch: 10 Striking Benefits of a smartwatch
LCD vs. OLED
Smartwatches mostly come with a colourful AMOLED display or LCD screen. This allows you to view photos and other content in richer colours. They also tend to be brighter.
However, this takes time off of your battery life. Some devices can last for a few days to even weeks. If you want the longest running time from your watch, opting for a black-and-white display would be a good idea.
Instead of LCD display, high-end smartwatches come with crisp OLED display so that they can make the design slimmer. In order to make the first generation of Apple Watch thin, Apple developed its first OLED display.
However, the first-ever OLED smartwatch was created by Samsung in 2013, called the Galaxy Gear.
Touchscreen Or Touchless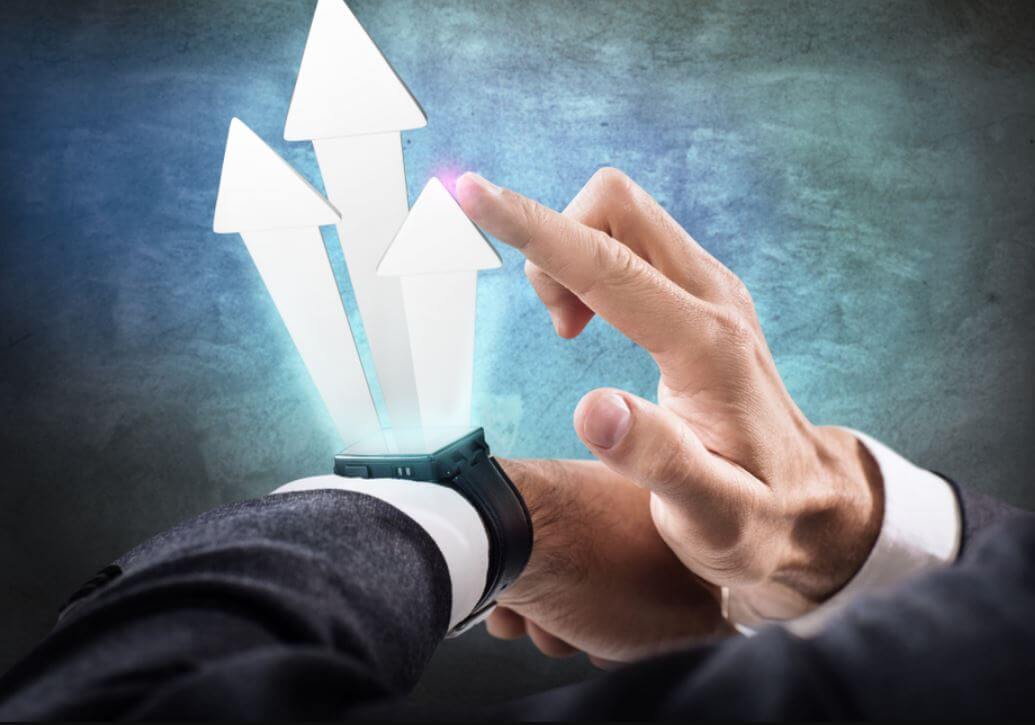 It is a no-brainer when it comes to the choice between a touchscreen and a touchless screen. However, with a small touch display, it can be difficult to select items on the screen, and one might even find it difficult to comprehend some of the gesture-based interfaces.
Card-based notifications are provided by the Wear OS that allows the user to just swipe to dismiss them. A lot of swiping is required to go to other apps and go deep into some apps.
Nonetheless, you can just flick your wrist and switch between cards.
For the Apple Watch, the brand went with a combo approach. It offers a touch display as well as a digital crown, and there is also a side button on the right side.
You can zoom in on content or scroll using the crown. The screen is integrated with Force Touch, which understands the difference between a long-press and a tap.
You can go to the dock of your frequently used apps with just a press of the side button.
The latest Galaxy Watch 4 and the original Samsung Galaxy Watch, Samsung Galaxy Watch 3, have a bezel that you can rotate to scroll through menus. These work in combination with touch.
Personalization and Design
Quality smartwatches allow you to choose between the strap and also swap them with other options. You will find it appealing if personalizing the look of your device is important to you.
Before you purchase any companion for your wrist, you will find plenty of customization options in most smartwatches.
For example, you can choose the band material, colour, and face colour, as well as the size and finish for the Fossil smartwatches and Apple Watch.
Keep in mind the comfort you desire. Consider how easily and quickly you will be able to fasten the watch to your wrist. Avoid smartwatches that come with bulky clasps, requiring too much effort to open and close.
The good news for you is that most of the latest watches use standard buckles.
More and more smartwatches are offering round faces now in an attempt to make them appear like traditional watches. The new ones are also getting smaller and thinner.
Traditional smartwatches are also becoming part of the advancement with Wear OS devices that has both the smarts of Google's watch operating system and the style of an analogue watch.
However, smartwatches from traditional watchmakers tend to be expensive. That's why devices from Samsung, Apple, and Fitbit are the ideal choice.
Selection Of Apps
Smartwatches are becoming more and more advanced. Some models now can accommodate hundreds or even more apps.
So far, with more than 20,000 available apps, the Apple Watch offers the most well-rounded app selection. The apps include MapMyRun, Rosetta Stone, and even Uber. You can now control your smart home devices from your wrist and even order food with Seamless.
In the Apple Watch for iOS, you will have a dedicated Apple Watch App Store from which you can install those apps.
The Wear OS from Google also offers thousands of apps that you can have on your wrist. You do not have to go through your smartphone to install those apps; you can install them directly on the watch.
Wear OS offers many of the similar apps that watchOS has, including WhatsApp, which allows you to reply to messages with your voice, and Lyft, which helps you schedule rides.
Battery Life And Charging
The latest smartwatches come with colour screens, and because of that, they tend to last one to two days between charges. Sometimes they might run out even before. So, you need to consider how many times you are willing to plug in your watch.
Watches that have voice capabilities will last even less if you use them as phones. On a single charge and of mixed-use, the Apple Watch lasts about 18 hours.
Most smartwatches like the Samsung Galaxy Watch 4 and the Apple Watch use wireless charging. It is a really convenient feature as you don't have to plug the watch into a charger. You can just leave it on a charging puck.
Fitness Features
Keeping track of your fitness and health is one of the primary reasons to have a smartwatch. So to enhance the user experience, makers of the smartwatch are integrating more activity monitoring functions.
While most smartwatch comes with a built-in pedometer for step tracking or step counting, some depend on your smartphone for keeping track.
If your primary use for a smartwatch is to work out, then you may want to think about fitness trackers that offer smartwatch-like features.
Some devices even offer female health features that allow users to log periods, compare cycles against health stats like activity and sleep, and record symptoms.
Most smartwatches nowadays come with a heart rate monitor; however, all of them are not very reliable.
Besides heart rate monitors, some models offer GPS. GPS is really useful for users who want to track their pace and distance when they go running or biking outdoors.
While GPS is a great feature to have on your wrist, it can have a significant impact on the battery life.
Some models also offer other important features such as SpO2 monitoring and ECG. Samsung, Apple, and Fitbit are all equipped with FDA-approved ECG sensors in some of their new additions.
SpO2 monitors and reads your blood oxygen level to detect signs of sleep apnea or any other respiratory conditions. An ECG can find out signs of atrial fibrillation.
Mobile Payments And Calling Features
Being able to call from your wrist is a great convenience. Some of these phones come with built-in LTE that allows you to call someone without your phone.
For this, your phone doesn't have to be near you or turned on, although you will have to pay for another data plan for your smartwatch.
NFC chips are included with many smartwatches that allow you to pay for things with your smart wristwatch and without your phone.
All Apple watches have Apple Pay, so you can pay with them without having a phone nearby. WearOS watches support Google Pay, and Samsung has its own mobile payment system called Samsung Pay that works on all the latest models.
Pricing
Budget devices can cost you around $100, and high-end devices can go up to $1,600. Depending on accessories and features, you should find a good-quality smartwatch in the $200-$500 range.
Final Thoughts
A smartwatch is a great accessory. It can help you with many tasks and make them more convenient for you. But to be able to get the best out of a smartwatch, you need the best smartwatch.
With all these brands and models available, it is not easy to get the one that will serve your needs. That is why we have created this guide on how to pick the best smartwatch to help you find the right one.